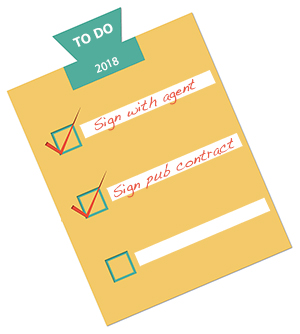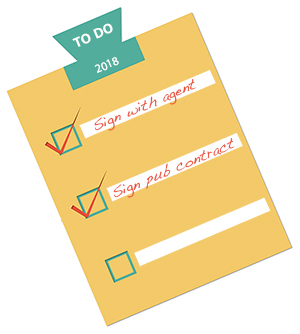 I have some big news. A few weeks before Christmas, without wrapping or fanfare, I received the best present ever: a signed publishing contract. Yes, it's official: in the spring of 2020, Ferry to Cooperation Island will be available in a bookstore near you!
Signing a publishing contract ticks a huge goal off my to-do list—and even more importantly, it is a major step toward getting this next book out of my brain and into your hands at last. The actual process, though, was a complete anti-climax. Densely printed contract pages were emailed back and forth to clarify a few mind-numbing details. "What does this paragraph even mean?" I asked April. "No idea," she responded, adding, "Let's just take it out." Finally, signatures were added and a paper copy duly filed away in a drawer—where, unless something goes belly-up, it will remain. "Now comes the fun part!" she promised.
Three years ago, I dusted off a story idea from 2010 about an imaginary island and its ferry captain. Two years ago, I thought I had completed a first draft. (I was wrong.) One year ago, I pared down the manuscript from 129,000 to 89,000 words and shared it with a few readers—for which I now apologize.
Looking back, I can only conclude that the three months I'd spent searching for an agent had sucked away my perspective along with part of my soul. But how else would I have learned what kind of publishing teammate I really needed? By the time April rolled around (both literally and figuratively), I knew enough to appreciate her fresh approach. So I stopped querying and started editing again, eventually polishing that second draft into a story (95,000 words, for those of you keeping score) that she would be proud to represent. We signed a contract in September, and a few months later the manuscript was accepted by our first choice of publisher. Yeah!
Signing this contract now seems like the inevitable conclusion to a decade of effort—writing and editing, publishing with a small press, self-publishing, querying, more editing. Living through it, though, I was never sure of where each step would lead. So before the next phase begins, I'm taking time to be grateful. Grateful for my imagination, without which none of this would be possible. Grateful for the readers who gave me such positive feedback on various drafts—even last year's hot mess. Grateful to April, for taking me on and for finding such a good home for this next book. And especially grateful to my family and friends, for supporting me while I chased this crazy writing dream.
Happy 2019—especially to the many authors who are still struggling to find their perfect publishing path. I can't wait to share the next phase with you all.