The time between Christmas and the New Year always feels like a luscious interregnum: a chance to take a few deep breaths and look ahead at what's next. Last week I spent more time gazing in the rear view mirror than looking forward, because 2018 was such a watershed year that I wasn't quite ready to let it go. Here's why.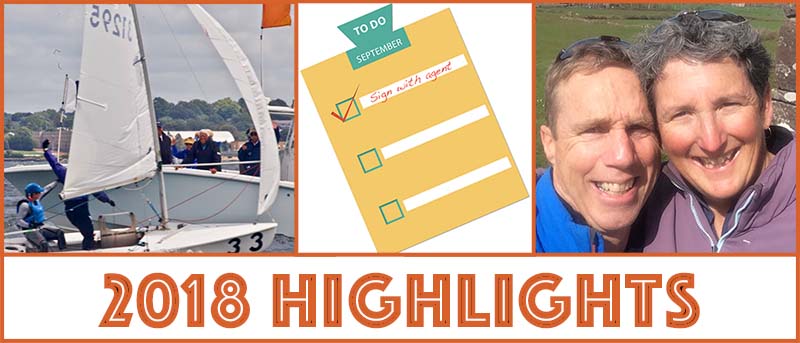 In 2018, I…
Won a World Championship
In August, Kim Couranz and I won the Snipe Women's Worlds by one point, the reward for eight years of sailing together. Frankly, if I'd done a better job on the starting line, we probably would've moved into first place well before the last leg of the last race. Instead, we had to use every single skill we'd learned to get the best out of each other (and lean heavily on our third teammate, coach Paul Cronin), and it came right down to the wire. Much more agonizing to live through—and therefore much more memorable.
Landed an Agent
In early September I signed with April Eberhardt, adding a new member to my book production team. This was also the culmination of many years of hard work; learning the publishing industry and how agents work, and also editing what was actually a not-quite-finished story into something that was ready for the world. April had both the vision to see what the book could become and the patience to read it again once I'd made most of the changes she suggested. I also have to thank editor (and author) Kate Racculia, who walked me through a developmental edit with so many smiles that I (almost) wanted her to find more to fix.
Celebrated our 20th Wedding Anniversary
Although the actual date wasn't until June 12, Paul and I spent the first week in May in Dingle, Ireland (before the sailing season started up at home). We made friends that felt like family (thanks to the "other" Carol Cronin), visited places that felt like home even though we'd never been there before, and brought back both memories and photographs that will recapture the week for us for years to come.
Thanks for everything, 2018—I know you didn't treat everyone else nearly as well, so I'm especially grateful for these three reasons to celebrate. Here's to 2019… and get ready for more exciting news very soon!