It's winter, and unlike most years I won't have the luxury of a February Florida escape. Instead I've been escaping into books—and apparently, many of you are too. (Did you know book sales increased more than 8 percent in 2020?)
With gray on gray the theme outside my window, I've been craving technicolor stimulus. So when a book about A Caribbean Interlude surprised me in the post (a present from cruising friends), I instantly pulled back its water-blue cover and dove in. Now that I've finished, I strongly encourage you to do the same.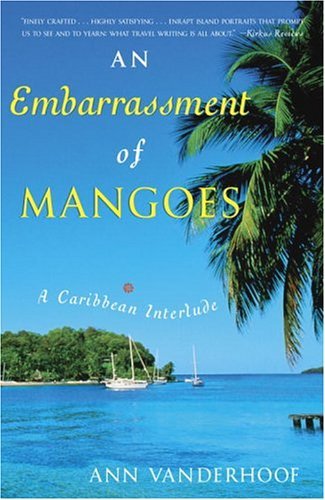 The book follows 40-something author Ann Vanderhoof and her husband Steve as they follow their dream and leave Toronto for a two year cruise to the Caribbean. Ann is quite new to sailing when they first set out, and Steve has only a little more experience. Still, they feel their way through buying and provisioning a boat, pay down their debt and rent out their house to make sure the cruising kitty doesn't run dry, and head down the Hudson River (mast on deck) until they reached the Atlantic. Along the way, they learn what they need to know, mostly through the school of hard knocks.
Their route follows the east coast cruiser path designed to minimize offshore miles rather than time to a final destination: "Down the ditch" to Florida, a hop to the Bahamas, and then a series of island hops interspersed with upwind slogs across the Mona and Anegada Passages. They make it as far south as Trinidad and spend the summer watching for hurricanes south of "the box" (a wide band from 12-35 degrees North, where their insurance will not cover named storms during hurricane season). Along the way they learn to adjust their expectations of island phrases like "jus' now," and experiment until they come up with their favorite versions of various local dishes. Vanderhoof is a food writer, and she learns about local culture through cooking with the locals (just like Jane Sigal!). A great example is 'ti punch:
"The before-dinner drink of choice in the French West Indies, 'ti punch has the same mystique there that the martini does in North America. In Martinique and Guadeloupe, it's said you can judge the qualify of a restaurant by its 'ti punch. And, like the martini, it demands a glass all its own—a small, squat tumpbler that often bears a colored decal advertising the brand of rum the drink contains."
Vanderhoof learns to make 'ti punch from an expert, the self-proclaimed Minister of Rum. Though he's a cruiser rather than a local, he's a lifer in the islands who's written books about the various island rums. He even brings along a proper swizzle stick when he comes to their boat: "One of his trimmed twigs with a "propeller-like end for stirring."
Though they spent time in many islands, they really settle into Grenada (which was also my favorite in 1986, and I didn't appreciate or explore it nearly enough). They get to know the locals more than most cruisers do, embracing one family in particular. We also meet other cruisers, a random mix of lifers and other couples who are enjoying an extended yet temporary break from "real" life.
Vanderhoof doesn't hide the lows or try to oversell the joy of the cruising life; she simply shares their adventure in a series of easily digested and carefully themed chapters. At the end of each is at least one recipe, usually based on whatever's freshly available. When life gives you an Embarrassment of Mangoes, make Mango Crisp.
So if you, too, are missing your usual tropical escape this year (or using this time-out to plot a cruising escape of your own), read this book. Originally published in 2004, many of the specifics are probably out of date… but the inspiration and technicolor stimulation of a Caribbean Interlude will be the perfect escape from our long winter of gray on gray.
PS Are you on Facebook? If so, join the Coastal Fiction Book Club! Every week, I offer up an example of coastal fiction (and sometimes non-fiction, like An Embarrassment of Mangoes). Discussion often ensues, a nice distraction that usually teaches me something. All you need is a good attitude! Here's how to join