I love where I live, but I must admit: I'm pretty tired of my own cooking—and definitely missing the unexpected tastes and scents of travel. So, as my own personal holiday treat, I decided to ask my neighbor, Jane Sigal, a food writer for the New York Times, to share her own culinary inspirations and travel adventures. I never expected our masked backyard chat to give me a fresh insight into two of my best regatta memories.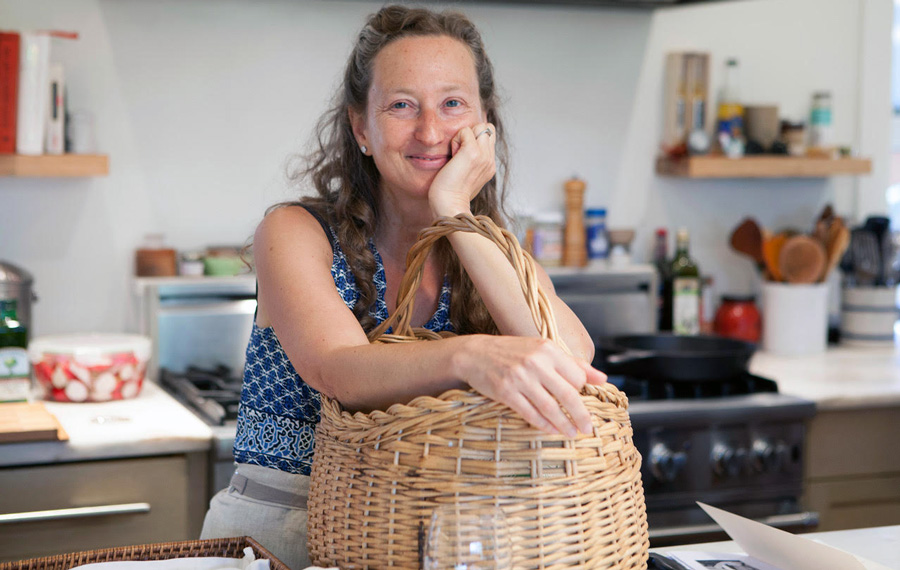 Here in her adopted home of Jamestown (which she describes, accurately, as a small island town with "around 5,000 people and one traffic light"), Jane is best known for her 2009 story about a trendy post-Thanksgiving leftovers party. (In case you're wondering, I've never scored an invite.) New York Times readers were introduced to a wide variety of prominent locals (many of whom had happily ditched big city life), all food-ified by descriptions of the elaborate refashionings that turned each leftover into a dish worthy of the annual event. "That was really, really fun," Jane says, "because I got to interview everybody in Jamestown. It was so local, and yet it was in the New York Times!" (Read The Remains of the Day, with apologies if there's a paywall.)
Off the island, she's known as "the hamburger lady" because of a 2008 article (In Paris, Burgers Turn Chic). "Now you find [hamburgers] everywhere," Jane explains. "But then it was this kind of mysterious foreign thing, and they were eating it with a knife and a fork. It was just hilarious. Americans think of the French as so high-brow… it was really about the two clashing cultures." The article has since been translated into several other languages, and years later it is still widely read and shared.
Eating to understand
Jane went to cooking school in France and has translated and written several cookbooks, but her favorite projects involve immersion in a local culture. "What's interesting for me is to talk to other people who are really talented or have some interesting history, and then translate it." A literal translation, usually, but always a cultural one; by helping us to understand how others cook, she also helps us understand how they live.
The best and most personal example comes from a more recent article in Food and Wine—which unexpectedly stirred up memories of two of my favorite regatta meals. Here's how Jane explains barbecue's prominence in Argentine culture:
"Multiple weekly cookouts are the norm—on Sunday afternoons with the family, in a friend's backyard, on the way to the beach at a roadside joint, at work as a team-building exercise, or even on a building site, urban gaucho-style, using construction discard for fuel."
(Italics mine.) Read more
A Feast of Memories
The best barbecue I ever ate wasn't at a building site, but urban gaucho-style definitely applies. After a particularly windy day of sailing at the 1996 Snipe Western Hemispheres in Montevideo, Uruguay, Team Argentina somehow cobbled together a few grills in a nearby boat yard and grilled up a feast for their forty competitors. I will never forget leaning against a boat stand in the dark, munching on fresh-charred ribs and sausages, licking my greasy fingers (and then likely wiping them clean on my shorts). Yum.
Twenty years later, a new generation of Argentine sailors showed up at a cookout hosted by my teammate Kim and her husband. They were carrying a huge slab of beef and asked, casually, "Do you have a grill?" The resulting feast inspired a running joke: "If an Argentine ever asks to cook, tell him yes!"
Dreaming of Travel
With no international adventures available right now, Jane's not sure what comes next. "What I'd really like to do is travel to Mexico and work in a kitchen there, so that I can really learn the food vocabulary. Last year, right before COVID dropped, I was actually living in Oaxaca and going to school, but I think it would be better to learn in a real environment where everybody is speaking Spanish and they're not paying any special attention to me." (She also admits to another dream: "I just can't even believe the freedom that you would have as a fiction writer!")
When I ask for a recipe she'd be willing to share with all of you, she isn't sure at first that she can select just one. Then she remembers the recipe below from Backroad Bistros, Farmhouse Fare: A French Country Cookbook. "I've never seen it in this country… it's so simple and so good." I agree! You can find additional recipes (and much more about Jane and her many books) on her website.
Thanks Jane Sigal for taking me on a travel and cooking adventure—all without leaving our island!—and for giving me fresh insight into two of my best travel memories. Intriguing neighbors are all the more reason to love and appreciate where I live—even if I never manage to score an invite to that post-Thanksgiving leftovers bash.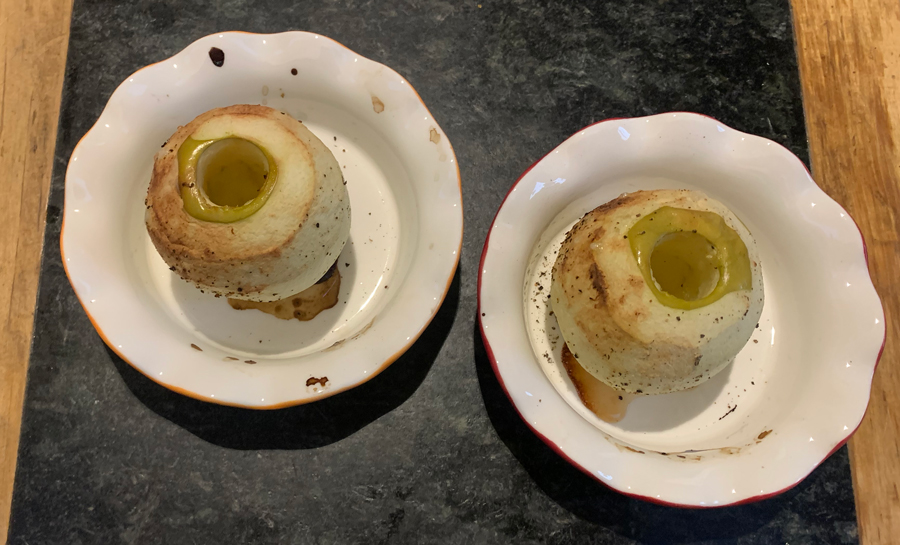 Pommes Cuites au Four (Savory Baked Apples)
4 servings
4 green apples, peeled and cored (or peeled, cored and halved lengthwise)
1/2 lemon
Salt and pepper
Heat oven to 425°. In a gratin dish just large enough to hold the apples, squeeze the lemon juice over them. Season with salt and pepper.
Bake until the apples are tender when pieced with a knife but still hold their shape, about 30 minutes.