Whenever I'm invited to join a discussion about one of my books, I really try hard to say yes—because it's the best way to see my own creations from the end-user's point of view. A literary focus group!
So when the Cottage Park Yacht Club book club in Boston announced they were reading Ferry to Cooperation Island, I braved Boston's famous rush hour and showed up in person for their evening discussion. Last fall, I'd given one of the members a copy of FERRY as a thank you for letting me stay at her house; several months later, that gift ended up giving back to me in spades. For over an hour, I got to listen in while readers chatted about my characters—as if they were real people, folks who might one day bring a boat alongside the Cottage Park Yacht Club docks.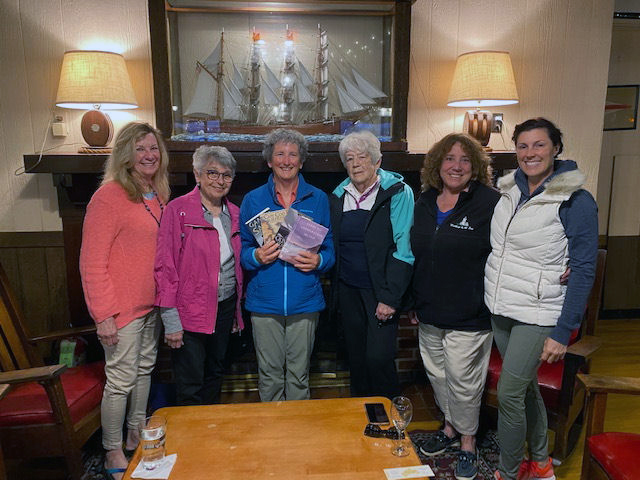 Because each book group is different and every reader brings a unique perspective, I always learn something new from these chats that will help with the next book. With my own group, it was how a myriad of characters could inspire a new cocktail. At Seven Sailing Association, I learned that my own regrets about the Olympics had probably sparked the excellent sense of smell that I gave a main character in Game of Sails. And Newport's own Literary Lasses provided me with five gifts, including a sign that still hangs proudly within view of my desk.
Gathered in front of the fireplace at Cottage Park Yacht Club, my most important lesson was about Joe—who has, quite unexpectedly, worked his way into FERRY's sequel. "Of course he has, he's the soul of the island," one reader said—in a tone that implied, well, DUH. Then another member reminded me about the "papers" Joe had left behind… and all of a sudden, I couldn't wait to figure out: what treasures lie within that forgotten stash?
As I plod my way through the next book and focus on what happens next, it's so hard and yet so valuable to pause for a look back; to listen in on what my readers remember best from the last one. Plot matters, of course, but people matter more—whether they are the characters inside my head, or the ones who gathered around a favorite yacht club fireplace on a spring evening to discuss my imaginary island.
Thanks CPYC book club for your insights and perspectives. I'll keep you posted on the next one!
If you know of a book club looking for the next great read, please consider Ferry to Cooperation Island. Click to read the first chapter; if you've already read the book, here are 10 discussion questions. And if you're in driving range, I might even drop by!