Inspiration, meet cooperation. Tonight (come hell or high virus) we're having a launch party for Ferry to Cooperation Island. It's my best book so far—partly, of course, because it took so damned long.
368 days ago, I summarized an eight year publication journey into six acts. Since then you've read about cover reveals, edits, more edits, and several great early reviews. Now, tonight, we get to celebrate the final product at last. I have to admit; I'm quite proud of it!
Our neighborhood book group read advance copies of Ferry to Cooperation Island as our June selection, so last week I got my first taste of reader questions—and a chance to take pictures of each with their copy.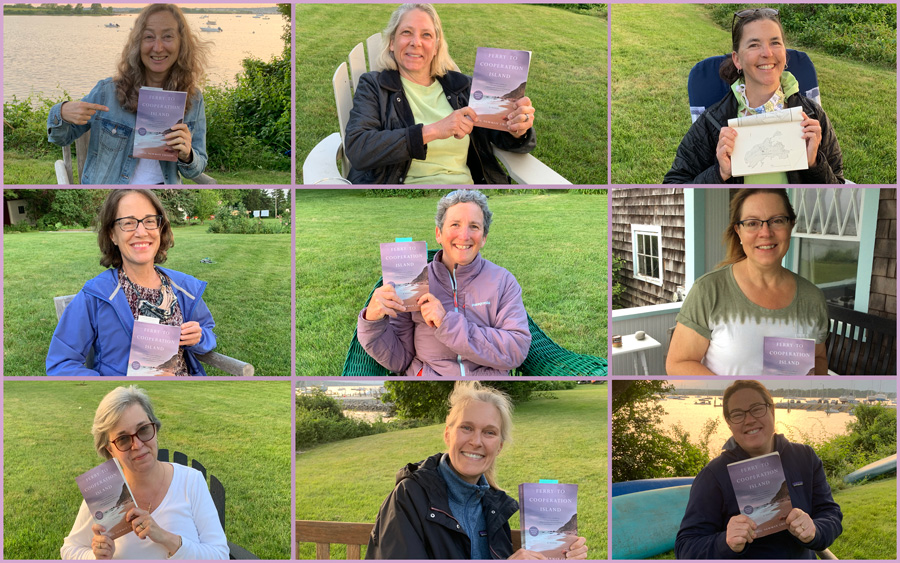 It was just wonderful to get back together in person again, especially in a waterfront yard on such a beautiful evening—though instead of taking one group photo, I stitched together our nine distanced chair portraits into a Brady Bunch format. (It might remind younger readers of a Zoom call, only with better backgrounds.)
What happens at book club stays there, but some of the comments were so great I have to share them: "It's a really intimate view of island life." "I rushed through to find out what was going to happen next, but then slowed down because I didn't want it to end." "I read it twice." "I couldn't figure out the ending." "I really liked the characters. Except Lloyd." "I can definitely see this as a movie…" "Yes—and it could be filmed locally!" (You can watch the 1 minute trailer and read more formal reviews on the book's web page.)
We're going to have some fun tonight, so please bring along a glass of your favorite beverage for a toast. It is a school night, so we'll start with a suggestion from blog reader Jeff Johnstone: "My favorite sailor's cocktail, other than a Dark and Stormy, is the non-alcoholic alternative called a Gunner. First had it in Hong Kong. It's half ginger beer and half gingerale with some lime and angostura bitters (which has a little alcohol). A very refreshing summer drink."
For those of you who want to join me in starting the weekend early, the recipe below was submitted by Emily Boenning (middle top in the book group photo). It's quite delicious, and I love her comment: "My inspiration for the ingredients was the myriad of characters in the book."
6:30 p.m. (1830 for you nautical types.) If you need an invite (or want a Brenton Rum sticker to add onto your favorite bottle), send me an email. SEE YOU TONIGHT! And don't be late, or you might miss the ferry…