As authors, we seldom take the time to savor what our books give back to us, once they're out in the world. Today I want to acknowledge 5 incredible gifts that came my way courtesy of Ferry to Cooperation Island—and a bookclub that calls itself the Literary Lasses.
One of the Lasses had rented a beach cottage at Castle Hill, and on any other foggy April evening we probably would've crowded into the main room around the fireplace. Instead we sat in the beachfront yard in a socially distanced circle, bundled against a raw ocean breeze, sipping Cooperation Punch. And enjoying all the sights, sounds, and smells of Brenton Island, only four miles upwind of where we sat.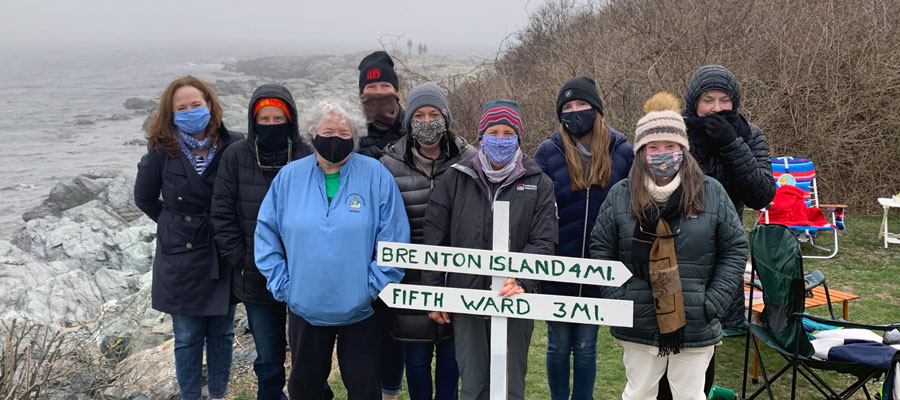 When I first sat down, I was too focused on trying to remember eight new names to notice the handpainted sign that stood just outside our circle. Once I spotted it, my gaze returned to it again and again throughout the glorious evening, because it quantified where we sat in relationship to two very important landmarks: Brenton Island, and Newport's Fifth Ward. (That's the south end of town, originally home to the Irish servants who worked up the hill at the mansions; today, it's where most of the Lasses live.) I'd found my people—not sailors, not writers, just readers who loved the world I'd created: a gift all on its own.
Here are five more.
1. The gift of gab
I'd never met any of the Lasses before, but they all knew each other quite well and we were never, ever at a loss for conversation—even before the punch and wine kicked in. We chatted about FERRY and other books and Newport real estate and what was in the delicious stuffies and chowder: an old-fashioned, comfortable, wide-ranging discussion spiced with laughter. That lifted my heart (and inspired this blog post).
2. The gift of education
I always learn something from readers. That evening, I picked up several interesting new "facts" about how others see my characters and their island, including two gems about food:
It's chourico, not chorizo (that spicy sausage that heats up the Portuguese version of kale soup).
"All they eat is bluefish! What about rice pilaf, or growing a few vegetables?"
3. The gift of passion
One Lass asked a question about a minor character's journey—and I was embarrassed to realize that I'd forgotten who she was. Fortunately, another Lass quickly jumped in with the answer, sparking a discussion about whys and should haves and could have beens. Meanwhile, I just sat back and smiled, a fly on the wall, while my characters were brought to life by others.
4. The gift of ideas
I always ask readers who their favorite characters are, and some of the answers surprised me. "I loved Joe," proclaimed one Lass. "Couldn't you bring him back in the next book?" That led to a free-ranging brainstorm about ways to include Joe in future stories—flashbacks, dreams?—something I hadn't thought about before.
5. The gift of inspiration
At the end of the evening, I was invited to bring the beautiful sign home —though I think there was some surprise when I accepted with such enthusiastic gratitude. The distances and directions are no longer accurate from here on the west side of Conanicut Island, but even so I mounted the sign so it was visible from my desk because I know it will provide a much needed gift for many years to come. Anytime I think that the hard work of writing isn't worth it, all I have to do is look up and remember: I have friends who believe in Brenton Island, and they're all only a few miles away.