Books make great gifts. They are easy to wrap, personal, and remind the receiver of the giver long after the tree ornaments go back into storage. The hardest thing is selecting the right ones; we are awash in a sea of reading options. Here are nine that topped my list this year, including two non-fiction at the end. All are available through your independent bookseller—either in person, or online via IndieBound.
Best wishes for happy holiday reads.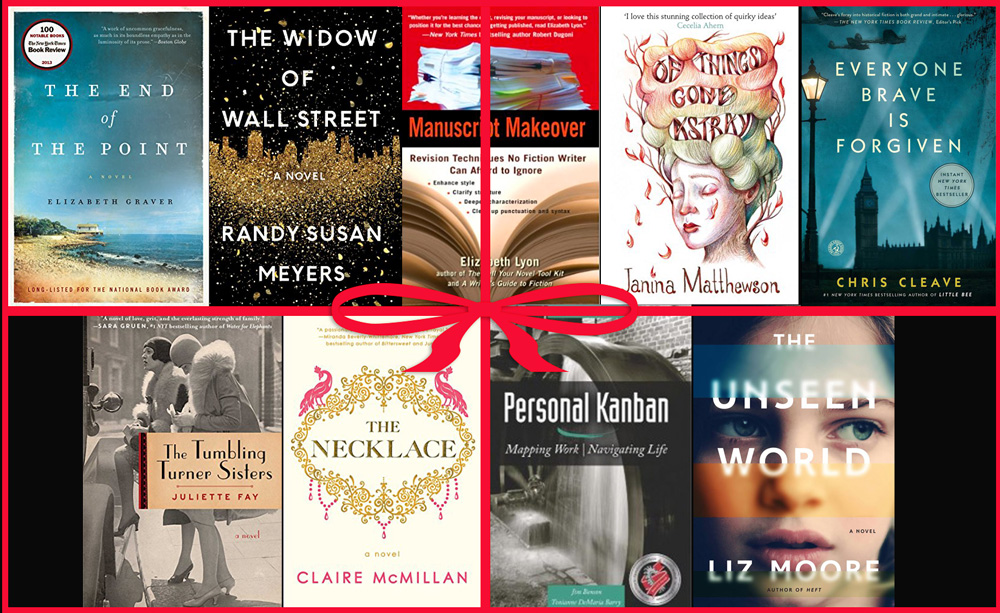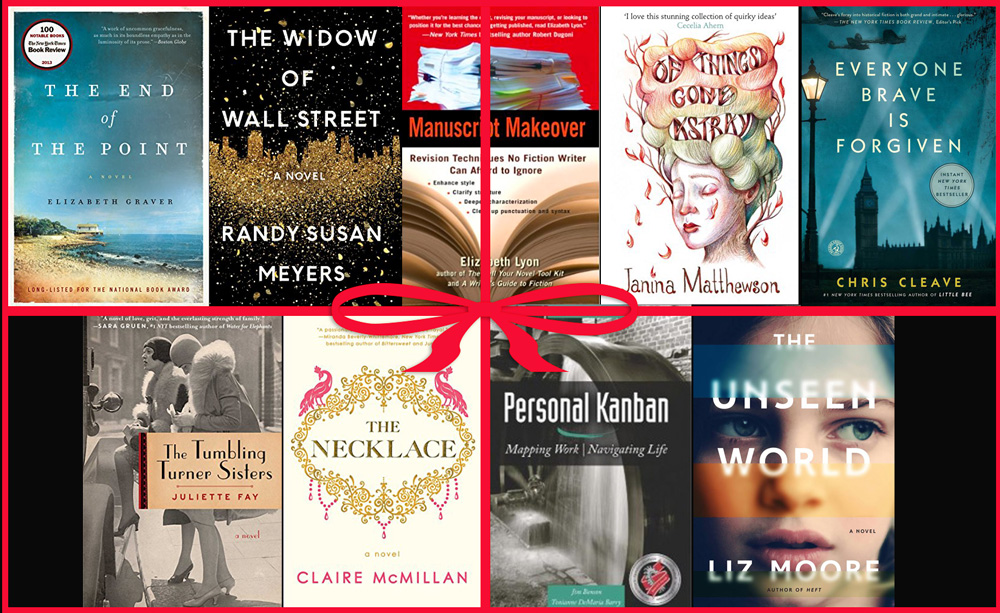 The Widow of Wall Street (Randy Susan Meyers)
The first sentence, "Phoebe never hated her husband more than when she visited him in prison," leaves us in no doubt about where we are headed once we go back in time and meet Phoebe and Jake as lusty teenagers. Though a bit darker than my usual reading, the drip, drip of details drew me right in. It's easy to see how a series of small choices could snowball into a Ponzi scheme.
The Tumbling Turner Sisters (Juliette Fay)
This historical novel takes us back to 1919, when the Turner kids join the vaudeville circuit to support their family. Though some of the character arcs were predictable, they were never dull. There were just enough period details to feel like I was "there" without distracting from the plot, which was in turns romantic, sad, funny, and even a little scary.
The End of the Point (Elizabeth Graver)
This novel spans from 1942 to 1999, and almost all the action takes place in one location, Ashaunt (which apparently means "lobster crawling backwards" in Wampanoag). The point is more character than backdrop, a private neighborhood that juts out into Buzzards Bay and forms the western side of Padanaram Harbor. (Local readers will recognize it as Nonquitt.) The area's unique history creates a backdrop for the many changes and conflicts of the 20th century, including summer homes with no heat or AC that morph into climate-controlled mansions. The writing is so lyrically delicious, it sometimes interferes with pacing and story.
The Necklace (Claire McMillan)
At three hundred pages, The Necklace is long enough to get lost in but not overwhelming—especially since it's most definitely a page-turner. Each chapter left me wanting to know more, and the way past and present are interwoven moved the story forward at a very consistent pace. Kate Morton fans will enjoy this book, though readers who find her novels too dense will be intrigued by the lighter language. The English language is a very flexible tool, and in the right hands it can be made to accomplish anything. Read my full review
Everyone Brave is Forgiven (Chris Cleave)
My college major was twentieth century European History and my favorite genre is the historical novel, so I've read a lot about World War II. And yet no previous book ever brought to life the Blitz and the siege of Malta as well as this newest novel by Chris Cleave. Read my full review
Of Things Gone Astray (Janina Matthewson)
I decided to write a review when I realized I was still thinking about several of the characters a week after I finished this book. I also wanted to figure out how this unusual story—which is also a collection of unusual stories—could break so many rules and still do its job so well. Read my full review
The Unseen World (Liz Moore)
As soon as I finished the book, I started reading from the beginning again, unwilling to let it go—and wondering if the language quirks I noticed early on were part of the plan all along. Even though I only reread the first few chapters, it was obvious the second time through how carefully the story had been constructed. There's a subtle structure holding it all in place, solid and quiet, never interfering with the story line. And unlike many novels these days, the final chapters are just as carefully polished as the beginning ones. Read my full review 
NON FICTION
Manuscript Makeover (Elizabeth Lyon)
Whenever I get discouraged with the overwhelming project of revision, I reread the two quotes on the opening pages, which make me feel like part of a tribe rather than a lonely novelist: "Fiction is the single best means for arriving at the truth." (Don DeLillo). And from Orson Scott Card: "… there are a thousand right ways to tell a story, and ten million wrong ones, and you're a lot more likely to find one of the latter than the former your first time through the tale." Read my full review 
Personal Kanban: The Book (Benson & DeMaria Barry)
This is a quick read (I consumed it on a four hour airplane ride), and I highly recommend it for anyone who is ready to increase their own efficiency at work, at home, or even with hobbies. We all tend to begin any project with unreal expectations about how fast we will actually complete it and what will be included; whenever I first sit down to write a book (or even a blog post), I always think it will take just a few hours and include every great idea I've ever come up with. Based on previous experience, I know that writing a novel will take me a few years, while a short blog post takes a few hours. (And both will be better if they are limited in scope to only a few of my best ideas.) Read my full review  
At the very beginning of 2017, I challenged myself to write book reviews that were useful to other readers. How'd I do?
And PS, if you are inspired to post a review of any of my books, it will help improve their sales ranking with the bots and might also help future readers decide to buy. Thanks.