Sailing is my preferred way to spend an afternoon—not watching other folks do so. But last Friday, I helped 75 charter guests understand what 192 boats were doing as they started the 635-mile race from Newport to Bermuda. And because I did my homework, it was fun!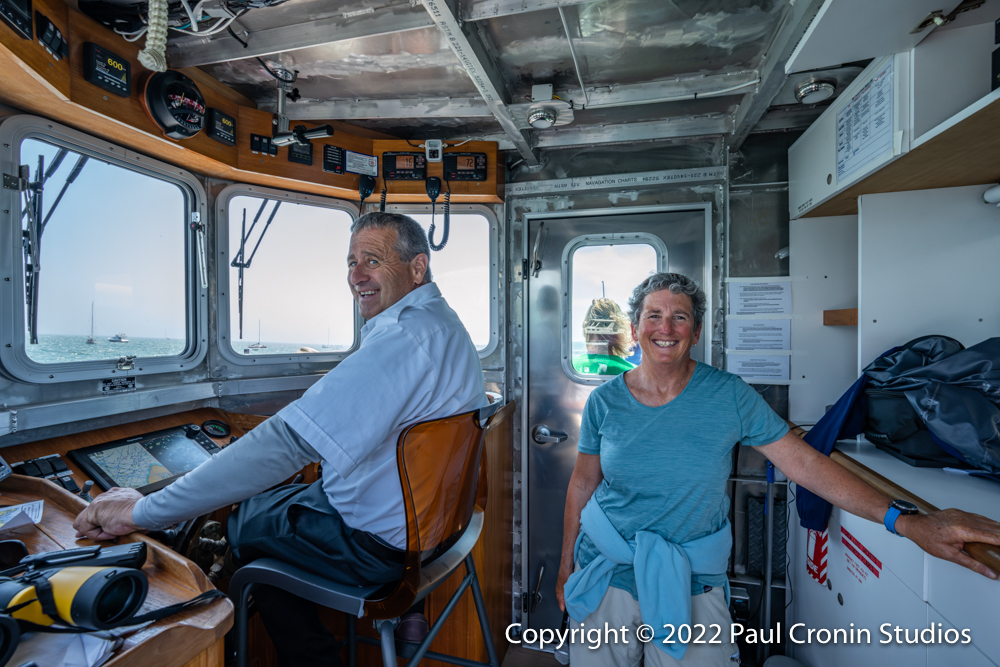 My Ride
I'm a big fan of the Jamestown-Newport Ferry Company, and their smaller vessel Katherine was part of the inspiration for Ferry to Cooperation Island. So when they asked me to provide race start commentary onboard their biggest ferry, Coastal Queen (not to be confused with this much different Coastal Queen), I was flattered—and also a bit nervous. I'd never done race commentary before; what could I find to talk about that would be RITE (Relevant, Interesting, Timely, and Entertaining), over the several hours it would take for nineteen different classes to start? 
Not knowing where else to begin, I decided to scroll through the crew list to see how many Olympians were racing to Bermuda (five). I also noted any National Sailing Hall of Fame inductees (three), since tags like that would help non-sailors realize just how experienced a fleet it was. Along the way, I was surprised to see the names of many other casual friends—so I highlighted their boats on my scratch sheet. Worst case, I could always fill in any dead air with sea stories.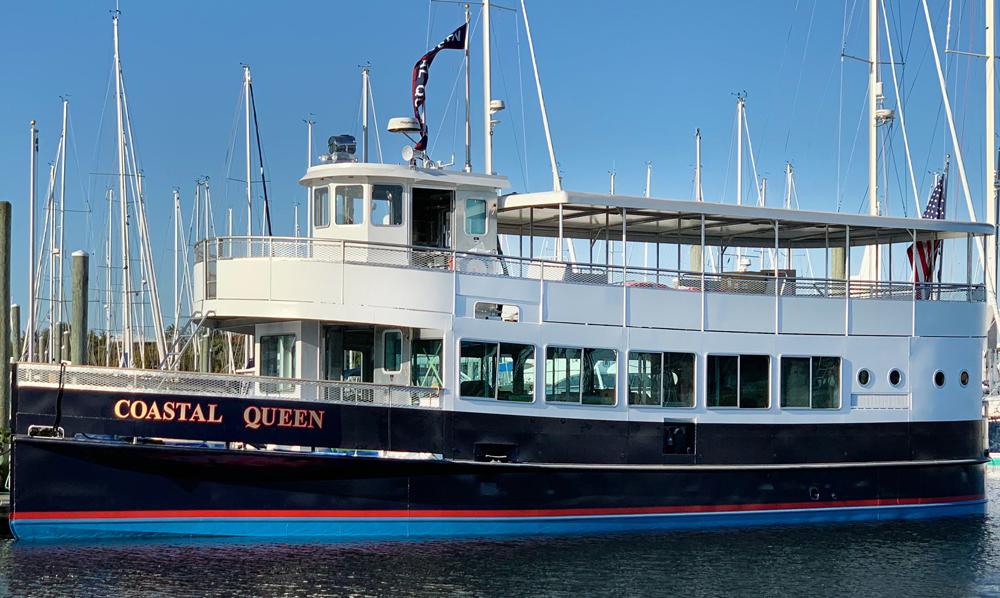 Out There
 When we got out to the course area at the entrance to Narragansett Bay's East Passage, the ebbing tide and strong southwest breeze had built up a significant swell. With so many boats milling about—racers and spectators, power and sail—it seemed at first like a sea of constant chaos, even from my wheelhouse perch on the tallest vessel of them all. But thanks to all my advance research, I was able to share a steady stream of information over the sound system: which boats would start next, and who was onboard the nearest vessels—even though most folks weren't actually recognizable, bundled up inside their foulweather gear. The first callout was to Charlie Ogletree, a three-time Olympian and 2004 silver medalist, onboard the very distinctive trimaran Argo; he and his four teammates would soon fulfill all of the pre-race hype by setting a new course record (33 hours, 9 seconds).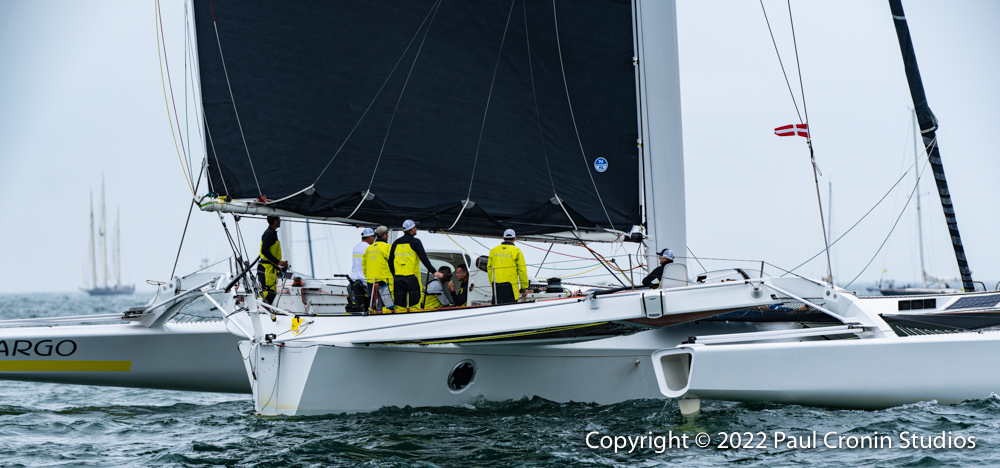 As we watched the incredible variety of sailing vessels put up headsails, line up to start, and then charge off toward a tiny island well past the gray horizon, I wondered how to convey to the onboard crowd just how much of a challenge racing offshore really was—especially with thunder and lightning and a huge windshift due to sweep across the course quite soon. It was only once we were heading back into Narragansett Bay, running away from the huge waves that had rolled and tipped us for the past few hours, that I realized: all on its own, the Coastal Queen had provided its passengers with a sensory education far more memorable than anything I'd said. "How do you get the crazy gene to want to do a race like that?" one guest asked. A perfect example of showing that's far more effective than telling.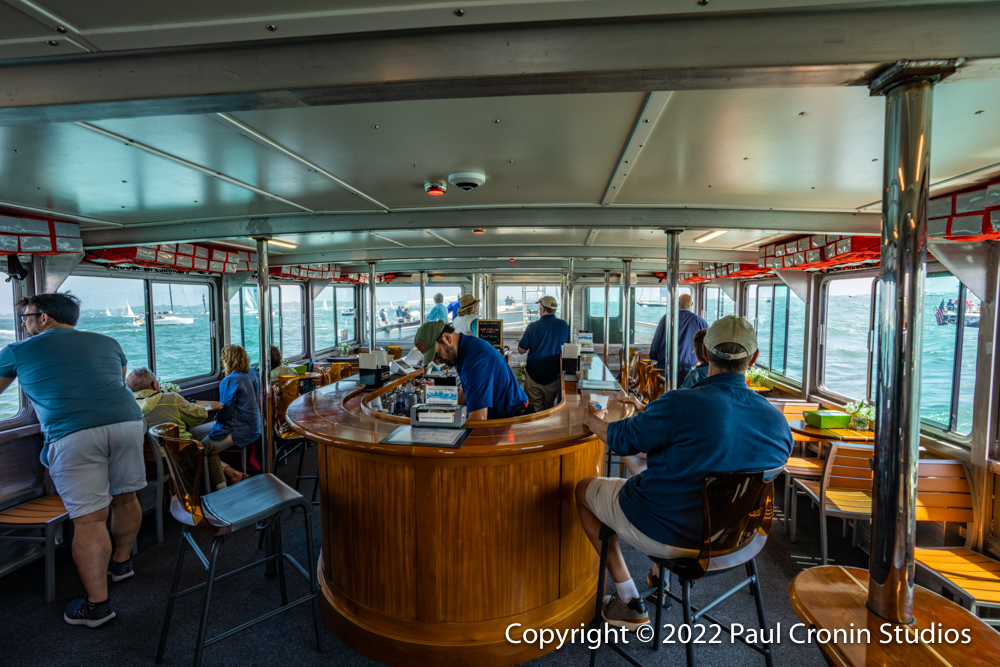 Teamwork and timing
 When we arrived back at the dock just ahead of the first thunderstorm, another guest told me "This completely exceeded my expectations!" Running to get the car, dodging raindrops, I mentally put a big check mark in the day's success column—thanks to the ferry captain's excellent timing, and to all of my pre-race homework. Together, we gave casual spectators an accurate but rain-free taste of our incredible sport—and made an afternoon of watching sailing more fun than expected. 
Thanks also to Paul for selling so many books while I blathered on, and for all the great photos! For more, visit PaulCroninStudios.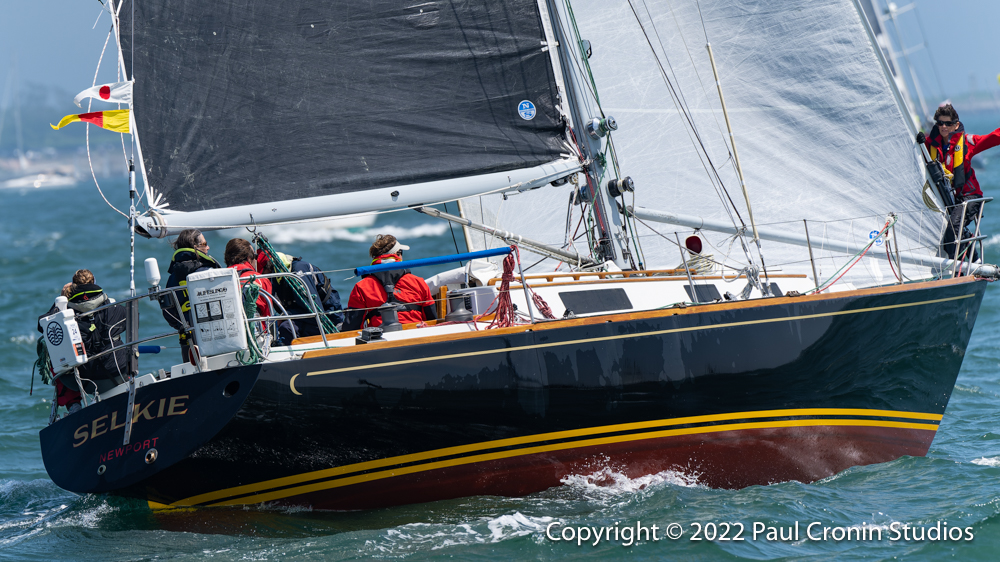 Afterword
In the days since, I've been following the race tracker and cheering on everyone—especially my friends on Masquerade, who definitively won their start and, four days later, their class. (The skipper is also a devoted blog reader; hi Andy!) On a sadder note, I've also been mentally sending heartfelt condolences to the family and friends of Colin Golder, a skipper who went overboard halfway to Bermuda and did not survive. Yet another reminder that offshore, anything can happen.
Were you out watching last Friday, or racing yourself? If so, let me know how it went in the comments below or send me an email. And thanks for reading!