Last Wednesday, I went for two unrelated cruises on two very different boats. The first vessel is powered by a Detroit Diesel 671, and at seventy-two feet is the biggest private vessel I've been on in quite some time. The second one is sail-powered—and she could probably be carried as deck cargo on the first one's foredeck. Two completely different craft, each designed to do a very different job. And yet the similarities between the day's two adventures are what leap out at me now.
Motoring in the morning….
The morning boat ride came about through my friend Margaret Podlich. We've shared a very wide variety of boating adventures: regattas in France, China, and several states around the USA; stand up paddling on her local bay; even a powerboat ride or three. Now we can add a new item to that list: crossing Narragansett Bay, from Newport Harbor to downtown Jamestown, on the 1928 Oyster Buy Boat Coastal Queen.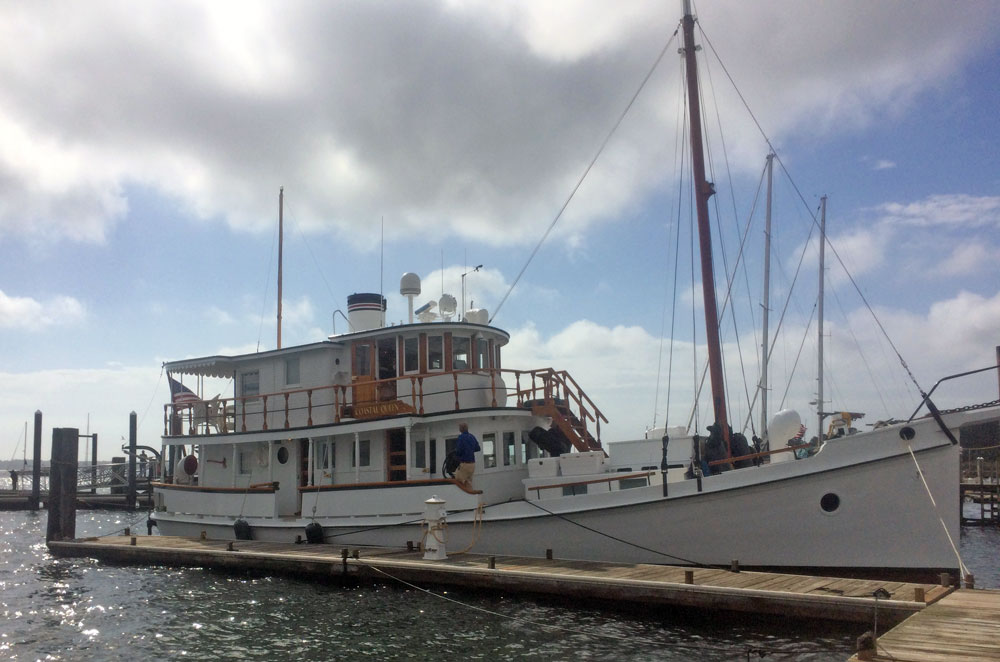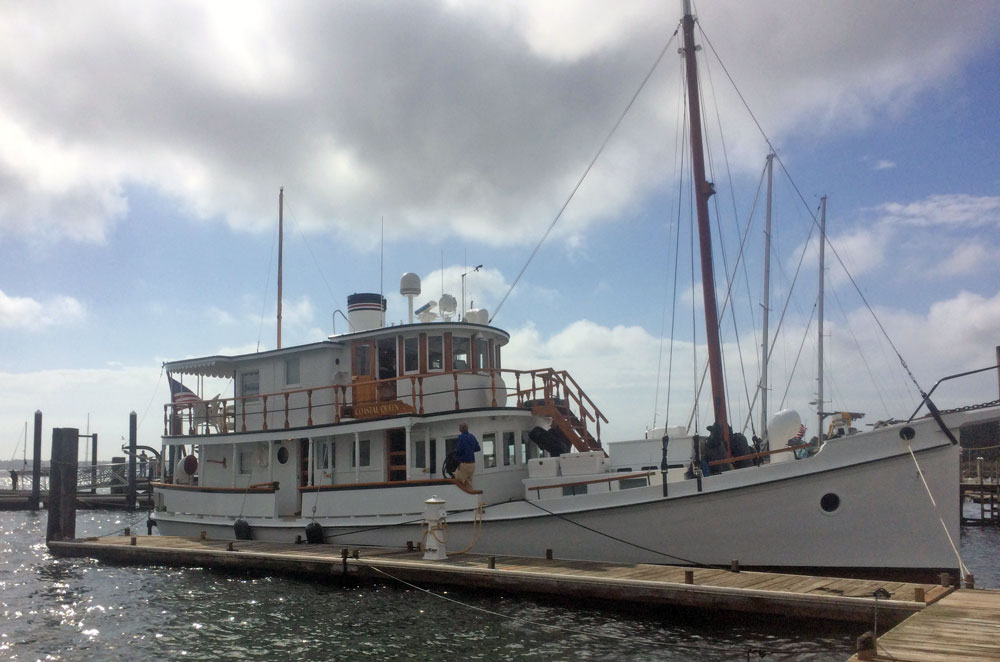 For those of us who like to boat gawk, there are certain boats we always notice—and Coastal Queen has long been one of my favorite sights. Over the years, I've spotted her distinctive profile at several points along the eastern seaboard, since she winters in Palm Beach, FL. So even though I'd never set foot aboard her, this invite felt like a chance to finally meet someone I'd always admired from afar. And I wasn't disappointed; she is as beautiful and well-maintained up close as she appears to her dock-walking fans.
The reason for the midweek delivery back to Jamestown was Tropical Storm Hermine. Coastal Queen had ridden out fifty knots of northeast breeze in the most protected corner of Newport's inner harbor—as such an elderly dowager rightly deserves. Once the wind died down, her captain needed to extricate her from the tight dock space, and we were happy to help handle docklines. The reward was a lovely three mile cruise out of Newport Harbor and across the Bay, which provided a rare chance to look down on rather than up at even the largest sailboats—and photos that will serve as a reminder of another great adventure with Margaret.
(This short cruise also provided a much-needed research opportunity, detailed in Rewarded for Playing Hooky)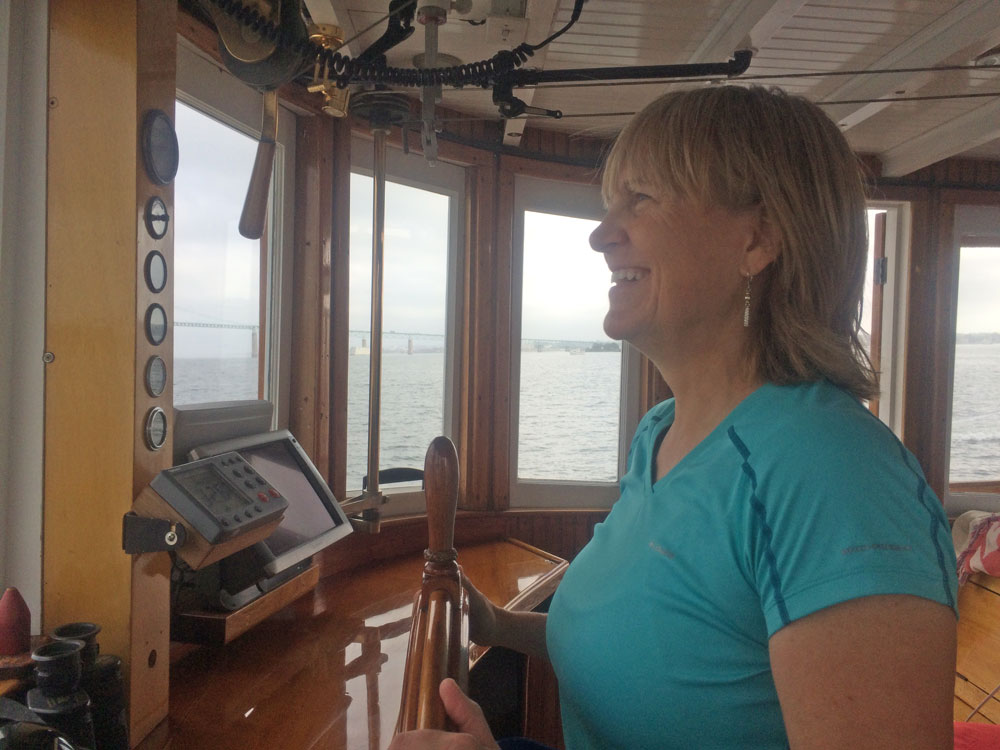 …Sailing in the Afternoon
The afternoon boat ride also started with Hermine cleanup—helping two of my lifelong friends, Chip and Dave Robinson, bend the sails back onto Catspaw, the family's Herreshoff Rozinante. Once we'd finished, it seemed only logical to take her for a sail. We took turns steering and catching up, and though silence was always an option I don't remember any—we all had too much to talk about. Somehow it's easier to share what matters while enjoying an easy harbor tour—despite frequent interruptions to discuss the finer points of sail trim, or to admire other boats.
On the surface, these two experiences seem quite different: riding in an elegant horse-drawn carriage, compared to darting around in a classic roadster. But here's the underlying similarity: even while both adventures were actually happening, I was fully aware of making memories and sharing a few special hours with friends.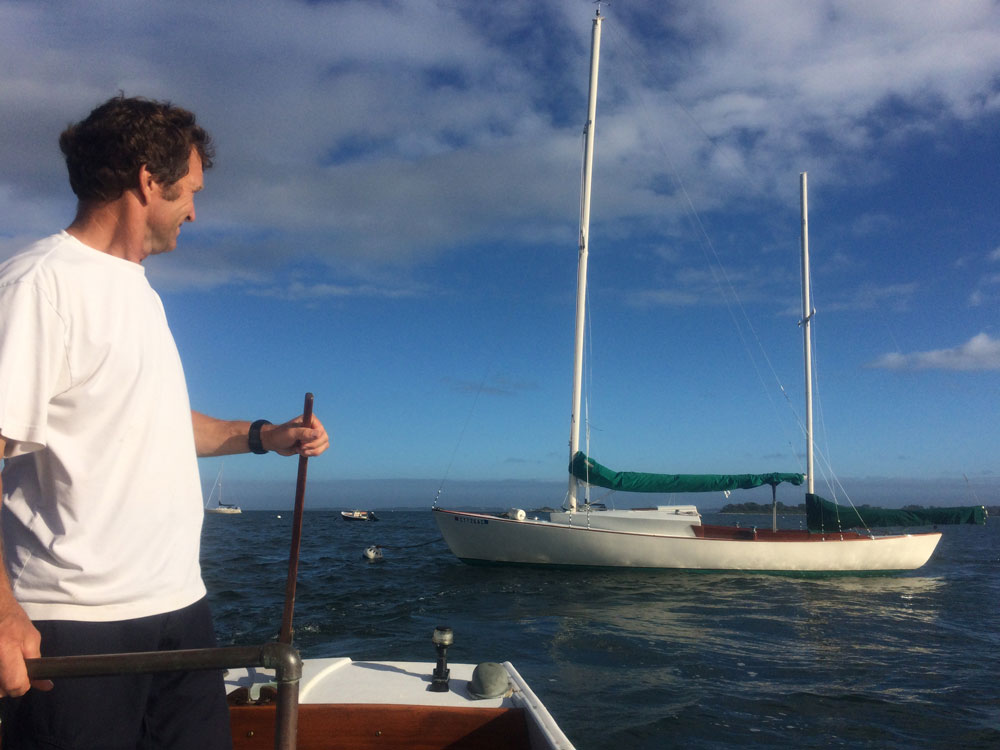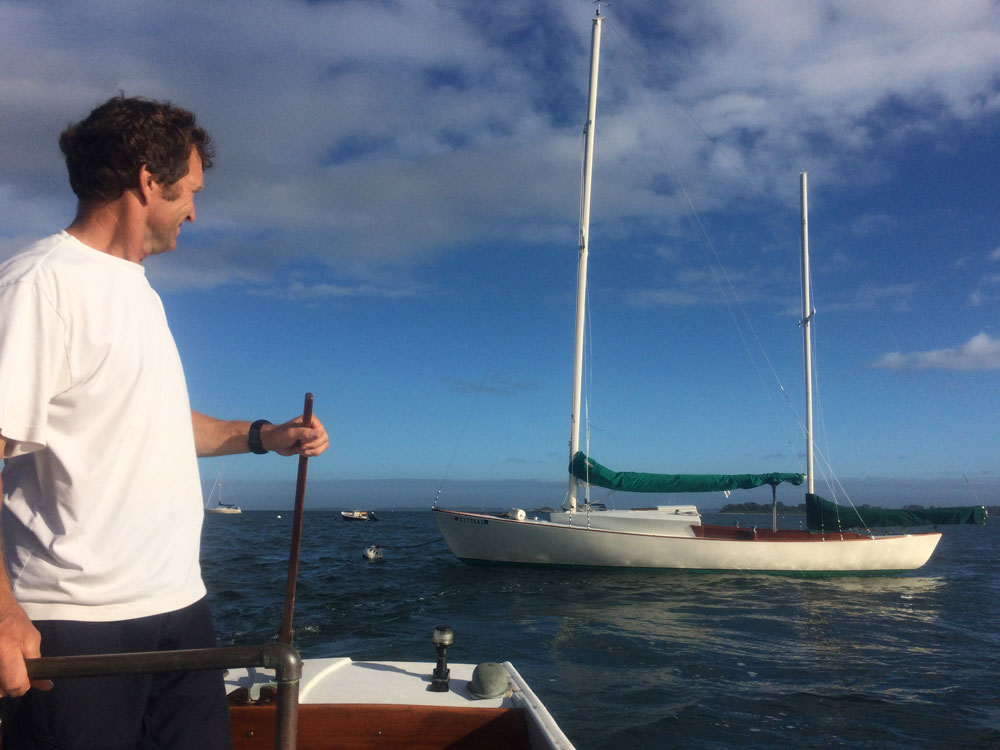 There's something about being on the water that brings most of our day to day concerns into better perspective. Priorities shift back to the basics: weather, navigation, seamanship. We take more deep breaths, clearing our lungs and brains with clean salt air. And when we get back to the dock or mooring, whether it's three or thirty or even a thousand miles later, all those land worries no longer seem quite so important.
The day after these two adventures, I took a few local friends out on our Herreshoff Marlin, Matsya, in what hopefully will become an annual way to say farewell to summer. I took no photos, but I still savored the time with them, sharing memories of previous sails and catching up on the local waterfront news. We always enjoy getting together, but we seem to remember our boating visits much better than any of those shared drinks or dinners ashore.
Boats help make memories. The actual vessel doesn't have to be as special as these three were—though obviously the warm embrace of a varnished coaming is always an added bonus. All that really matters is getting away from the land for a little while, in the company of a few special friends—the ones who enjoy being on the water as much as I do.