As a fiction writer, I know there's a very fine line between "borrowing" and "stealing"—especially if the original source of inspiration has long-since been forgotten. I wrote about this six years ago, when I reviewed Elizabeth Gilbert's book Big Magic. Today, thanks to a 2021 novel I've just devoured, I'm pondering a slightly different aspect of this dilemma: Who really owns a story, and when is it okay to write a book sparked by someone else's idea?
Those are the signature questions of The Plot, by Jean Hanff Korelitz. A struggling novelist named Jacob Finch Bonner dreams of writing a bestseller—and then does, but only by stealing the "sure thing" plot idea of his writing student.
This fantastical assumption—that a novel's plot could be any sort of "sure thing"—initially made me cry bullsh*t, until I realized it was the first of several tongue-in-cheek jabs at the entire writing industry. And by then, Jake's misery as a once-promising-but-now-forgotten author had already made him sympathetic. When another professor at the "third-rate" MFA program where he's teaching writing tells him how much she likes his work, we can almost hear his sigh of frustration: "It ought to be nice when it still happened, but somehow it wasn't. Somehow it made him feel awful. But really, didn't everything?"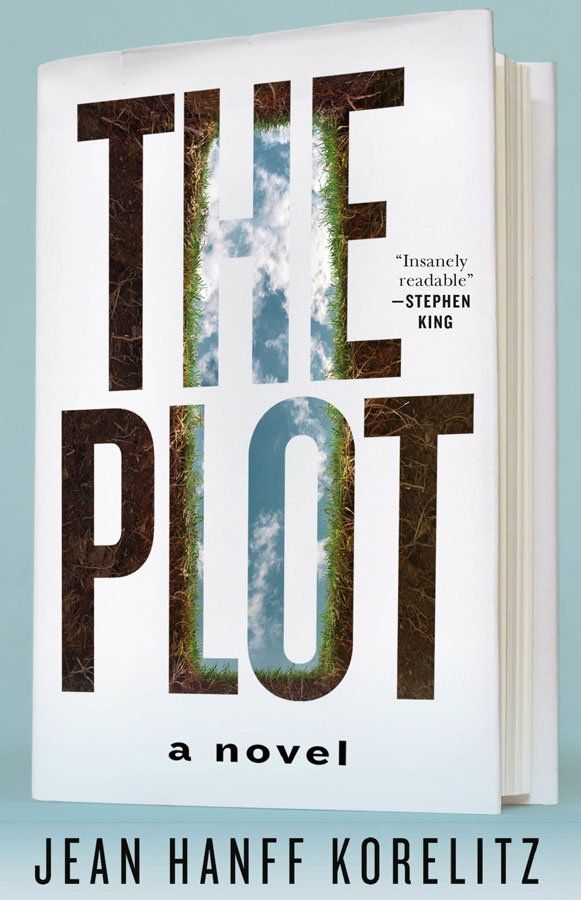 The best scene of all takes place the very next morning, when Jacob asks his writing class to introduce themselves. One particularly confident blond student makes a big impression:
""Evan Parker," the guy said without preamble. "But I'm thinking about reversing it, professionally."

Jake frowned. "You mean, as a pen name?"

"For privacy, yeah. Parker Evan."

It was all he could do not to laugh . . . for most writers, even reliably published and actually self-supporting writers, the privacy was thunderous.

"And what kind of fiction?"

"I'm not so much about the labels," said Evan Parker/Parker Evan, sweeping that lock of thick hair off his forehead and back. It fell immediately over his face again, but perhaps that was the point. "I just care about the story. Either it's a good plot or it isn't. And if it's not a good plot, the best writing isn't going to help. And if it is, the worst writing isn't going to hurt it."
When Jacob digs for details, Parker announces that he doesn't want to share any details about his plot "in this setting." So Jacob asks what he's hoping to get out of the class?
"Oh," said Evan Parker/Parker Evan, "I'm not really looking to improve. I'm a very good writer, and my novel is well on track. And actually, if I'm being honest about it, I'm not even sure writing can even be taught. I mean, even by the best teacher."

Jake noted the wave of dismay circling the seminar table. More than one of his new students, more likely than not, were considering his wasted tuition money. "Well, I'd obviously disagree with that," he said, trying for a laugh.
After some incredulous questions from his fellow students, Evan adds with a shrug:
"I'm not against this kind of thing, obviously. The jury's out on whether it works, that's all. I'm already writing my book, and I know how good it is. But I figured, even if the program itself doesn't actually help me, I wouldn't say no to the degree. More letters after your name, that never hurts, right? And there's a chance I could get an agent out of it."
Jacob eventually dredges up a teaching moment, reminding everyone how important it is to have other eyes on your writing. Then he adds that he expects to learn "a great deal from the writers in this room."
Evan Parker/Parker Evan is, of course, scornful.
"I don't think there's a person on the planet, no matter how lousy a writer he is, who could mess up a plot like mine. And that's about all I'm going to say."
Once Jacob pries the plot out of Evan, he privately and reluctantly agrees with all of the over-confident student's claims. Which makes it easy to understand why, from Jacob's perspective, he can't NOT write this book, once he learns that Evan died of an overdose. Of course, as predicted, it's a huge success. But the allure of a standing-room only national book tour—something he'd only dreamed of with his earlier novels—is quickly overpowered by guilt. In self-defense, he has to come up with a stock answer to the most common question of all: Where did you get your ideas?
"I don't think ideas, even great ideas, are all that hard to come by," he blithely tells one interviewer. "…there are a hundred novels in every day's issue of The New York Times, and we recycle the paper or use it to line the birdcage." Other people's stories are the key, he explains, because once you get "out of your own head and look around… There are stories growing from trees." Even so, Jacob lives with the constant fear that someone—a former student, his next interviewer, a too-clever reader—will call him out.
In Seattle he meets Anna, who has "gleaming gray hair held back off her face with a frankly girlish headband." They manage to fit in a quick coffee and exchange phone numbers before he rushes to the airport—which is when he finally receives the email he's been secretly dreading, identifying him as a thief. For three days, Jake holes up in his New York apartment with a bottle of Jameson's whisky and a dozen of his favorite cupcakes, stewing about the email. The only saving grace is flirting with Anna by text, along with her reminder that "nobody else gets to live your life." She comes for a visit, then moves in with him; they marry six months later, just as he finishes his next novel (one he already knows is not a "sure thing").
The accusatory emails escalate, but Jake keeps them secret from everyone—including Anna. Meanwhile, excerpts from his bestselling book provide just-in-time parallels to what's happening in "real" time.
I figured out who the stalker was long before the final reveal, and at least one reviewer did too. As readers, we always enjoy thinking we're just a little smarter than the characters. But in this case, I found all the backstory detective work a bit too drawn out—and a distraction from a far more important point: that fame and fortune are not nearly as worthwhile as simply watching a stranger lose themselves in your work.
The biggest strengths of this book—all those tongue-in-cheek details that take us both inside a writer's head and into the perils of publishing—may not be worth it to those in search of an easy-to-follow mystery. But if you've ever wondered where to draw the line between story-stealing and story-borrowing, The Plot's twisted ending provides a fresh perspective on who really owns a story, and when it might actually be okay to write a book sparked by someone else's idea.
Got a thought about this book, or these questions? Add a comment below or send me an email. I read every single one, with gratitude.