What a year! Through all of our changing rules and quarantines and news frenzy, one thing remained constant: books provided escape. So here's my annual holiday book list, along with its appeal to gift books (again) this year—to both yourself and your loved ones.
2020 bonus: if you make it to the end, you'll find a special offer.
Best place to buy?
I've published four books (so far) with three different publishers, and I often get asked what buying option best supports the author. Since I prefer to put my time into writing rather than perusing the fine print of various contracts, my answer remains: buy from your local independent bookstore (or direct from the author) and then leave a review on Amazon. Sharing your thoughts will really help a book's visibility—especially if you also copy and paste to Goodreads and Bookbub!
Another good way to support authors is to invite us to join your next book club meeting. I can easily spend an hour talking about character motivation, inspiration, and what's next for Cooperation Island. For more info, send me an email.
Now without further ado, here's my 2020 Holiday Book List.
(And don't forget that holiday deal at the end.)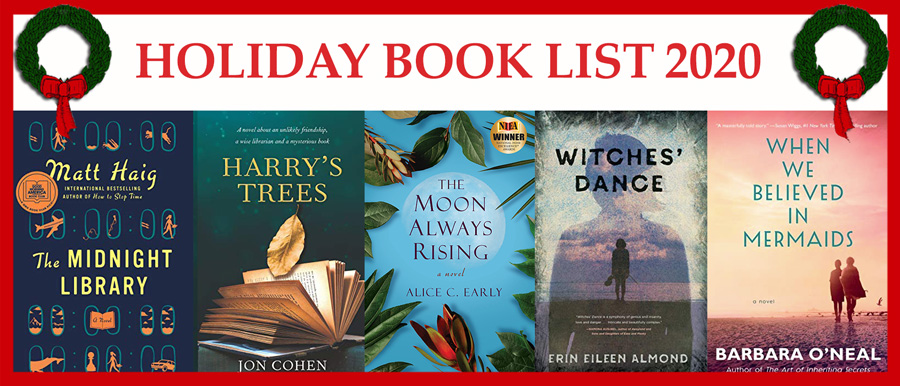 "Between life and death there is a library," the librarian tells Nora when she comes to in a building filled with endless aisles of green-covered books. "Every book provides a chance to try another life you could have lived… would you have done anything different, if you had the chance to undo your regrets?"
Matt Haig's latest novel explores all the roads not taken. It will be each reader's choice whether to read it just for the story, or go a little deeper—and consider what really makes life worth living.
I lost myself in this story of a guilt-stricken young widower named Harry who stumbles onto an unexpected windfall and blindly flees his soul-crushing job at the US Forest Service in Philadelphia. I can't promise you will love it as much as I did, but if you're looking for something completely different—and yet, somehow, quite familiar and personal—you'll find it in the pages of Harry's Trees.
Erin Almond's debut novel title comes from the name of the fifth violin concerto by Niccolò Paganini, a virtuoso and composer from the early 1800s who is considered one of the developers of modern violin technique. This story will resonate most deeply with musicians, but I recommend it to any passionate creative (as long as they can stomach the genre-busting of a literary fantasy). Just make sure to tell your local bookseller where the apostrophe should go in the title.
This page-turner by bestselling novelist Barbara O'Neal starts off with a gripping first sentence: "My sister has been dead for nearly fifteen years when I see her on the evening news." The narrator, Kit, is an ER doc in Santa Cruz, up late after another stressful shift; this added shock sends her right to her favorite recovery spot, a nearby surfing beach. Instead of recounting what she drives by along the way, Kit instead takes us back in time to replay a few key memories about her family. So by the time we meet her mother for a post-surf breakfast, we understand the coolness of their relationship. We also understand (and sympathize with) her mother's reaction when Kit asks, at the close of the first chapter, "What if she's really alive?"
The mom replies: "I guess I'm going to have to kill her."
Last but definitely not least, my friend and fellow author Alice C. Early's debut novel has won several awards since I interviewed her last April. The story introduces headstrong Scot Els to Jack, the very realistic "jumbie" (ghost) who refuses to leave the house she buys on the Caribbean island of Nevis. MOON might be your best chance for an island escape this year…
HOLIDAY DEAL
It's going to be a great winter for escapist reading, and my books always offer up a happy ending. If you'd like to gift yourself or a loved one a personalized copy of any (or all) of my books, I'm offering a special holiday deal as thanks for reading this blog: BOGO (buy one, get one free). Email me and we'll sort out the details. Offer expires December 15, 2020.
Thanks for reading, and enjoy the holiday season!
More book recommendations
I haven't missed a holiday book list in five years (though the titles have been a little inconsistent):