Holy Night Night, Batman, it's only 6 days until Christmas! Here, belatedly, is your annual appeal to gift books (again) this year—but first, a few thoughts about where to buy them.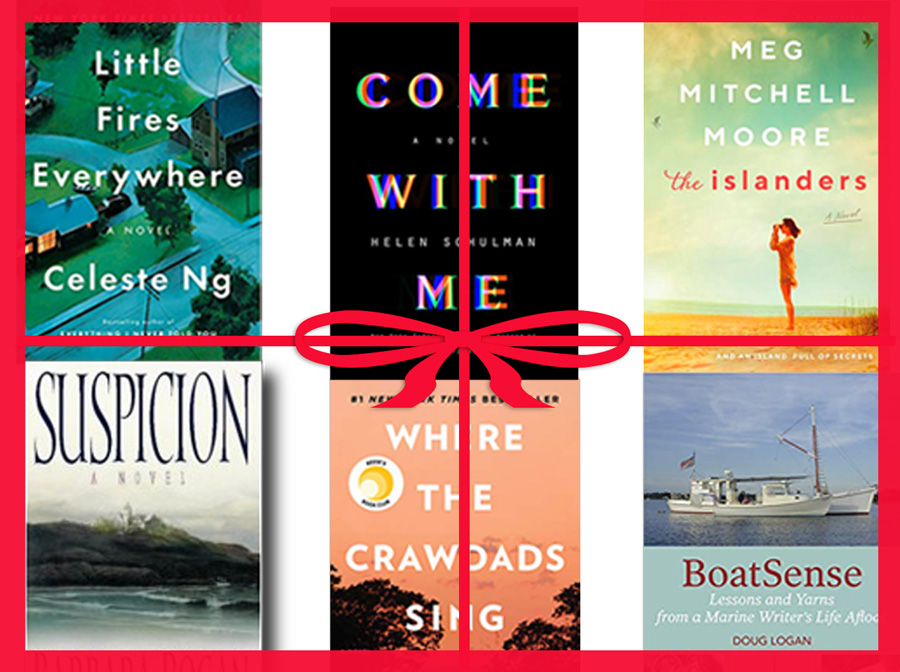 Support your local indie
There are many ways to support your local independent bookstore without leaving your couch—which may be why such stores are enjoying a resurgence. If (like me) you're a convert to audiobooks, sign up for libro.fm and a portion of your monthly fee (as well as any additional purchases) will go to the bookstore of your choice. You can also order books online (though probably not in time for a Christmas delivery) through Indiebound.
And if you're lucky enough to have a bookstore within driving range, give yourself the gift of a friendly conversation about books, as well as free gift wrapping.
Now, onto the books I'm recommending to close out this teenaged decade.
A mystery writer moves from Manhattan to a haunted house on Long Island. What could possibly go wrong? Suspicion was published back in 1999, and it's a nostalgia-free reminder of how the world worked back in the late 1900s. It's also what inspired me to interview #coastalfiction author Barbara Rogan.
Celeste Ng's best-seller appeared on many must-read lists in 2017, when it first came out, because it captures the contrasts between a well-planned community and the lives that unspool within it when ingrained assumptions are tested by reality. I recommend this book to anyone who enjoys well-written family sagas and stories that make us reconsider our pre-conceived notions about family.
Come With Me digs into the shadows of Silicon Valley culture and the way tech has infiltrated our homes—by showing the chaos of everyday family life. Helen Schulman chooses words that do the heavy lifting without ever bogging down the narrative.
Some aspects that made this perhaps my most satisfying read of the decade are: Setting, Structure, Trust, Characters, and Deep Twists. I listened to the audiobook, and it was all-consuming. Don't let all the hype deter you: Delia Owens delivers.
I came across this book while searching for #coastalfiction, and it's a perfect example of the books I like to read that don't usually rise too far up the bestseller lists. Set on Block Island, Meg Mitchell Moore plots the intersecting dramas and secrets of three people—one local, one summer visitor, and one not yet sure about his intentions.
The only non-fiction on this year's list taught me a new life philosophy. Part storybook, part pithy advice on boat-repair issues, and part psychological hand-holding for the boat-afflicted, Doug Logan has packed a career's worth of advice, tales, and knowledge into writing that never preaches—and always entertains. You probably won't find this one at your local indie, but order it anyway for the boater on your list.
One more thing
Next week, I'll have an end-of-decade gift as a thank you to subscribers. Meanwhile, you can revisit last year's gift, read about 5 more books I recommend on LinkedIn, or view my previous Holiday Book Lists. Merry merry to all!