It's been a few years since I put together a holiday book list, partly because I've been reading for pure enjoyment rather than as "research" for my own fiction writing. Perhaps that will change again in 2016… but for now, here's a list of books that have stayed with me, long after I turned the last page.
The Obituary Writer
Ann Hood is based in Providence and though I've heard her name several times as a leader of the local author scene, I've never met her. So there's no personal reason for me to recognize this book; it was just my most recent great read. Two interconnected stories (from 1919 and 1961) eventually intertwine in a way that was a total surprise to me—though in hindsight there were plenty of clues woven into each story.
The Boys in the Boat
(by Daniel James Brown) This history of the 1936 Olympic Rowing team brings together several of my favorite things: competition, good writing, team building, and the all-consuming goal of an Olympic medal. I don't read much non-fiction, but this (mostly) reads like a gripping novel despite its historical accuracy.
All the Light We Cannot See
(by Anthony Doerr) I devoured this book and instantly started to read it again, wanting to savor the careful writing (which apparently took 10 years to complete) and all the subtle twists and turns that were tied up neatly (but not so neatly to be overdone) in the final pages. Marie is a blind French girl who escapes to the coastal city of St. Malo during World War II. Werner is a German radio specialist. The way their stories weave together is utterly predictable and yet somehow surprisingly hopeful. I wish I could read this again for the first time.
The Storied Life of AJ Fikry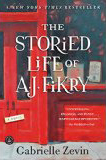 (by Gabrielle Zevin) A bookstore owner in a small town rediscovers hope through a late-in-life romance. What's not to love?
The French Prize
(James L. Nelson) I've gotten to "know" Jim Nelson through email and authorly correspondence, and I'm always impressed by the volume of stories he creates each year.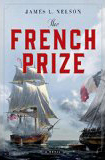 Last spring I learned that he'd published a sort-of generational sequel to my favorite series, the Revolution at Sea saga. Jack Biddlecomb, Captain Isaac Biddlecomb's son, has just been awarded his own command at a surprisingly young age—and there's a reason for that. The story ended a bit too suddenly, but hopefully Captain Jack will soon reappear in his own sequel.
Happy book shopping, and happy holidays!