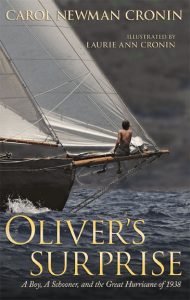 As 2018 morphs into 2019, I want to recognize an important anniversary; it's been just over 10 years since the first edition of Oliver's Surprise was published! The book first came out on September 21, 2008, the 70th anniversary of the 1938 Hurricane. It was so well received by teachers that we came out with a second edition in 2009, which included more historical background about the hurricane and coasting schooners—as well as a teaser for the sequel, Cape Cod Surprise. 
Despite all the upheaval in the publishing world since then, most basics still ring true. So here are 10 things that haven't changed about books and publishing since 2008.
Readers don't care who the publisher is….
but we sure notice formatting errors and typos.
Books are still judged by their covers.
Timing affects a book's popularity and buzz.
Well-written books don't go out of style.
Every book deserves a good editor.
Drawings get noticed.
Wooden boats are their own attraction.
The easiest way to teach kids history is through stories.
And, last but not least…
10. We all still crave a good story.
If you've already read Oliver's Surprise, consider submitting a review as it will really help the book's visibility. (If you haven't read it yet, it's available on Amazon and at your favorite indie bookstore.)
Happy Anniversary, Oliver's Surprise! (And for the rest of us, Happy New Year.)