Last summer, while everyone was trying to navigate our new pandemic world, I was lucky enough to escape to Maine for two weeks of competitive cruising. Even luckier still: our sailing paths crossed with Stan and Sally Honey, who were exploring Down East on their Cal 40 after their original summer plan—the Bermuda Race—was COVID-canceled.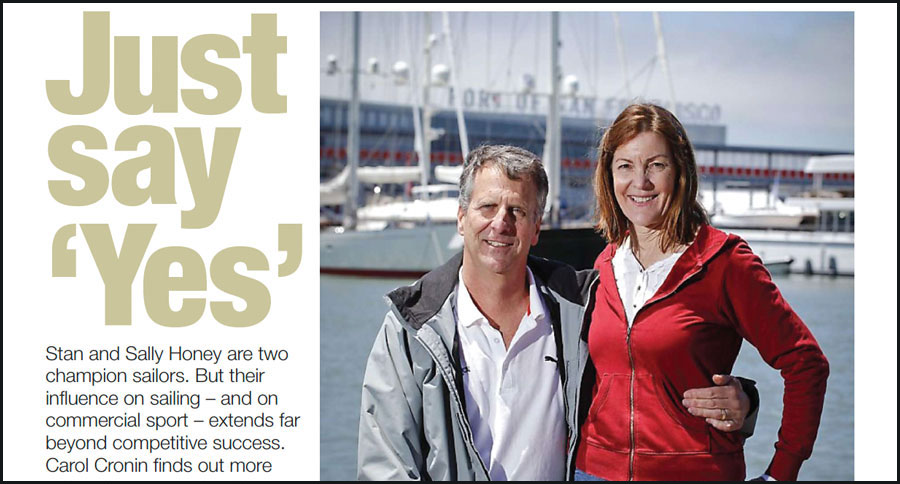 The stories they told about various adventures on both small and big boats (they met sailing 5o5s) made me want to learn more, and when they returned to Rhode Island in September they graciously agreed to be interviewed for a Seahorse profile. It recently went out into the world, under a headline inspired by one of Stan's many pithy comments:
"There've been times when I thought, this might be crazy… like setting out to do the Jules Verne with nine French guys that I'd never met, and I don't speak French! But invariably I would think back and say, yeah, I'm glad I said yes."
Seahorse has kindly granted me permission to share the article with you here—and also extended a special offer to my readers, if you subscribe for a year: 3 months of the print publication for $1! There are also fantastic deals on print+digital and digital only. It's a real bargain for what Magnus Wheatley calls "the monthly bible of yachting." He goes on (as Magnus does) to add a few comments I most heartily agree with:
"But it's the extra bits that keep me coming back time and again for more. Andrew Hurst is the best editor in the grand prix world – his opening commentary is something that I have spat my cornflakes at for the best part of 25 years. He's right though more often than he's wrong and that's a hell of a skill. And the 'Snapshots' section is just genius editing that quite frankly if you don't read, there's nothing more we can do for you in the sport."

There's much more in Deal of the Decade
Magnus says it way better than I could, but trust us both: take advantage of this spring discount and you'll get a monthly smorgasbord of stories that take you behind the scenes, plus historical photos and great writing—you won't regret it.
And here (at last) is the PDF of the Honey profile, Just Say Yes
Previous Seahorse profiles
Rod Davis: Why You Need His Wisdom in 2021
Rod Johnstone: An Amazing Legacy of Yacht Designs
A Final Conversation with Harry Anderson
Vince Brun Profile in Seahorse