The email's subject line sounded a bit spammy: "Might you be interested?" But the sender was Seahorse editor Andrew Hurst, and he was writing to suggest a story: How Onne van der Wal won the 1981-2 Whitbread Round the World Race onboard Flyer II. "An interview with him about this adventure could be really fun if you may be interested?"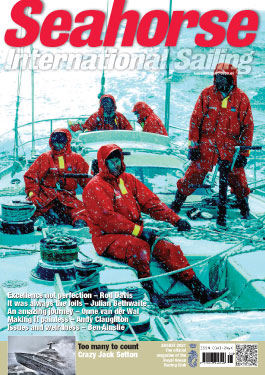 Andrew had no way of knowing that I'd worked with Onne on a few projects over the years. Or that we live only about a mile from each other, on opposite sides of the same island. Fortunately I had time to fit in another fun project, and I knew there would be incredible visuals… so I said yes and set up a lunch date with Onne. The result is attached (and in the August issue of Seahorse).
The term Onboard Reporter hadn't been coined yet, but that was what Onne did aboard Flyer II—in addition to working the bow and managing the boat's systems. How it all developed out of a childhood in Cape Town, and why he eventually ended up in Newport, is an example of Seneca's philosophy: luck is where preparation meets opportunity.
Seahorse has kindly granted me permission to share the article with you—and also extended a special offer to my readers, if you subscribe for a year: 3 months of the print publication for $1! There are also fantastic deals on print+digital and digital only.
Even if you don't read all my words, click through to enjoy Onne's dramatic images of what sailing used to look like. (Yes it's snowing in this cover shot, which was taken long before round the world races had ice gates.) Thanks for reading, and let me know in the comments below or by email if Clicks of Chance makes you want to sail around the world too.
Previous Seahorse profiles
Just Say Yes: Stan and Sally Honey
Rod Davis: Why You Need His Wisdom in 2021
Rod Johnstone: An Amazing Legacy of Yacht Designs
A Final Conversation with Harry Anderson
Vince Brun Profile in Seahorse