Today, a message from our sponsor: I'm going to explain the many alternatives you have for buying books. If you make it all the way through to the end, you'll be rewarded with a SPECIAL OFFER!
What's best for the author?
I've published four books (so far) with three different publishers, and I often get asked what buying option best supports me, the author. Since I prefer to put my time into writing rather than perusing the fine print of various contracts, here's my answer: buy where it's convenient, and then when you've finished reading please leave a review. Sharing your thoughts will really help a book's visibility on Amazon, Goodreads, or Bookbub—especially if you copy/paste to all three.
I would also love to join your next book club meeting, so please consider Ferry to Cooperation Island (or one of the others) as your next group read.
Now that we've got the introductions out of the way, here are your book-buying details, organized by format.
(Don't forget that special offer at the end.)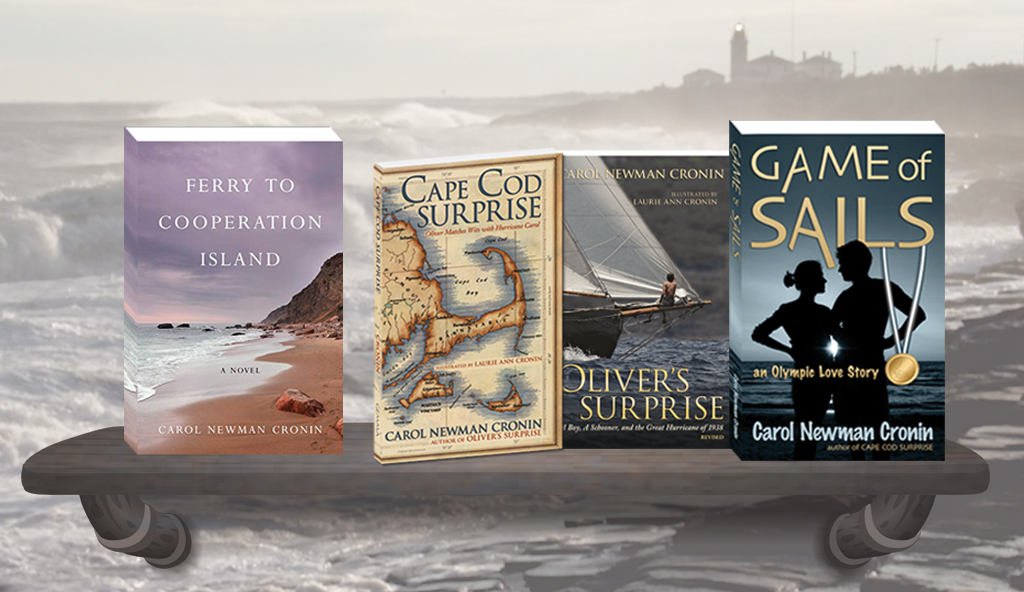 Buy a paperback
I love the feel of holding an "actual" book in my hands, and I tend to remember books better when I read a paper copy. Paperbacks also make a great gift.
Rhode Islanders can pick up signed copies of Ferry to Cooperation Island at the following stores: Island Books, Conanicut Ship's Store, Fuller Gallery, and Savoy Bookshop and Café. The Jamestown stores also have copies of Oliver's Surprise and Cape Cod Surprise in stock.
Everyone else can buy a paperback of FERRY and the two Oliver books from bookshop.org—which marries the convenience of e-tail with the feel-goodness of supporting the local independent bookstore of your choice. Game of Sails is only available on Amazon.
Buy an ebook
There's no denying the instant gratification of discovering an intriguing story and, moments later, seeing it appear in my iPad's library. All four of my novels are available wherever ebooks are sold. Click on a title below to purchase from your favorite e-tailer (or just type the book's title into your search bar).
Audiobooks
FERRY and The Oliver Series are available as audiobooks on most subscription sites (including my favorite, libro.fm, where a portion of my subscription helps support the independent bookstore of my choice). Most sites offer a free one-month trial (which includes a free book).
You can also buy single audiobooks through Author's Direct or Chirp.
For more detail, read Audiobooks: A World of Their Own
Borrow a copy
Libraries are a great resource, and all four books should be available through inter-library loan. If not, please let me know and I'll try to help you sort out the details.
SPECIAL OFFER
If you would like a personalized paperback of any (or all) of my books, I'm offering a special deal this month: buy one, get one free (shipping included). Email me and we'll sort out the details. Offer expires January 31, 2020.
Thanks for reading and buying and reviewing!