For non-sailors, our sport is a rich person's game personified by the America's Cup: a white-capped playground of ego, selfish billionaires, and the worst of American exceptionalism.
While sailors know there's a wide range of budgets in our sport, we often share this jaded view of the Auld Mug. We complain about how expensive it is, how much ego is involved, whether any of the technological advances will really find a useful home in mainstream sailing. But last Sunday, we saw something that we can apply to our own racing regardless of budget: international sportsmanship.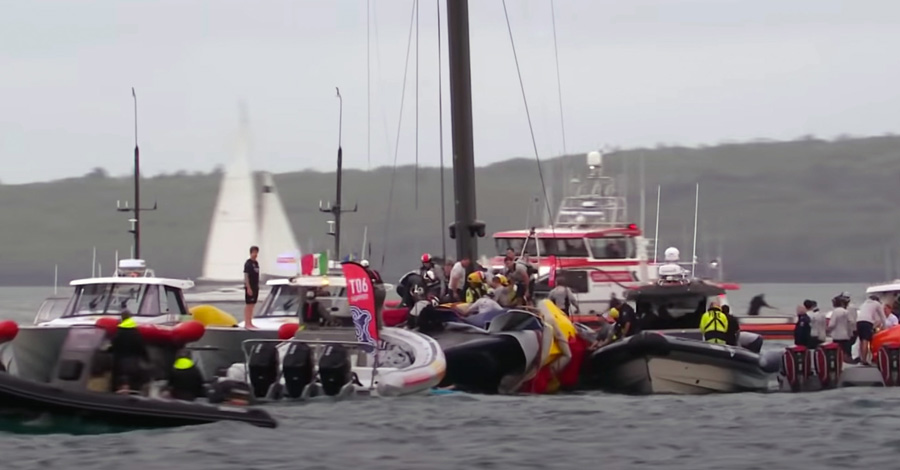 If you haven't already seen it, here's the boat-breaking capsize of American Magic, a heart-stopping example of comeback transformed to crisis. Thanks to a squall that hit just as they rounded their last mark of the weekend, the team went from a solid lead to a holed boat—a disaster that will keep them from competing in next weekend's round robin.
In the hours that followed, everyone—every America's Cup team, as well as all the local authorities—rallied together. First they kept the boat from sinking. Next, they towed it—backwards, at a crawl—home to the team base. (Isn't it amazing what people can accomplish when they work together?)
When the boat finally lifted out of the water shortly before midnight local time, the gaping hole in the hull was visible to all. It was a graphic reminder of how thin the safety margins are on these bleeding edge craft when, as Terry Hutchinson would put it, something goes pear-shaped.
Holes in boats can be repaired. Electronics will be replaced. American Magic has both the resources and the leadership to come back stronger from this disaster. And yes, that's thanks to ego and billionaires—as well as to Auckland's fantastic boatbuilding expertise. 
But the image that will live on in my own mind is from the cleanup: Peter Burling (skipper of defending Emirates Team New Zealand), standing on the bow of their chase boat, hauling American Magic's sail out of the water. Dozens of other competitors helped too, of course; Burling (who's won two Olympic medals as well as the 2017 America's Cup) was just the most visible. Sportsmanship, personified.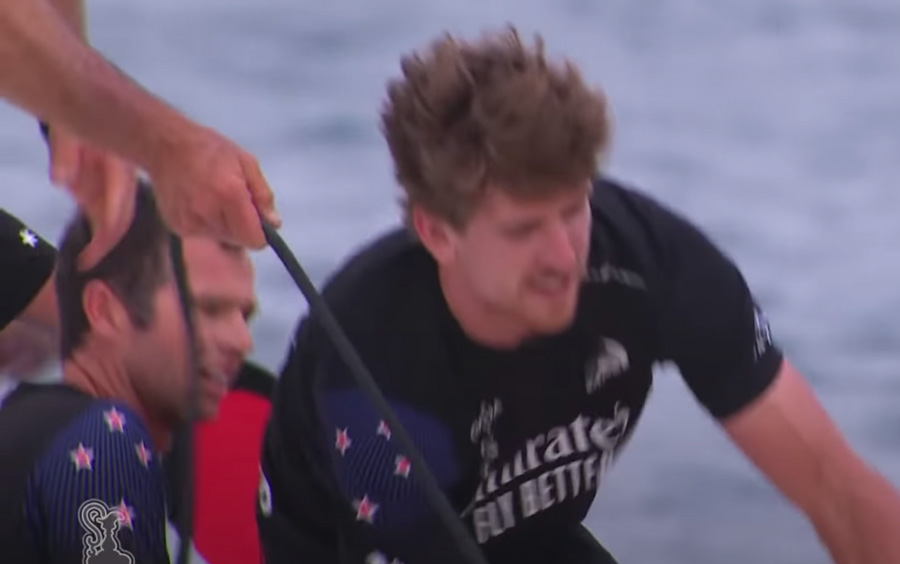 So the next time we're all complaining about the Auld Mug, let's also remember that this pinnacle of our sport creates heroes. We often equate heroism with winning—medals, trophies, against all odds. All of which might require ego, selfishness, and maybe a few extra dollars. 
But when we see our heroes simply reaching out a helping hand to a competitor in need, it inspires us to do the same. And even if we don't have any commas at all in our own race budgets, that's trickle-down we can count on.