He's never had to compete for a job before—and she fights like a girl.

Loner James Malloy is a ferry captain—or used to be, until he was unceremoniously fired and replaced by Courtney Farris. Now, instead of piloting Brenton Island's daily lifeline to the glitzy docks of Newport, Rhode Island, James spends his days beached, bitter, and bored.
When he discovers a private golf course staked out across wilderness sacred to his dying best friend, a Narragansett Indian, James is determined to stop such "improvements." But despite Brenton's nickname as "Cooperation Island," he's used to working solo. To keep rocky bluffs, historic trees, and ocean shoreline open to all, he'll have to learn to work with other islanders—including Captain Courtney, who might just morph from irritant to irresistible once James learns a secret that's been kept from him for years.
This salt-sprayed fourth novel by 2004 Olympic Sailor Carol Newman Cronin celebrates wilderness and water, open space and open-mindedness, and the redemptive power of neighborly cooperation.
Read (or listen to) Chapter 1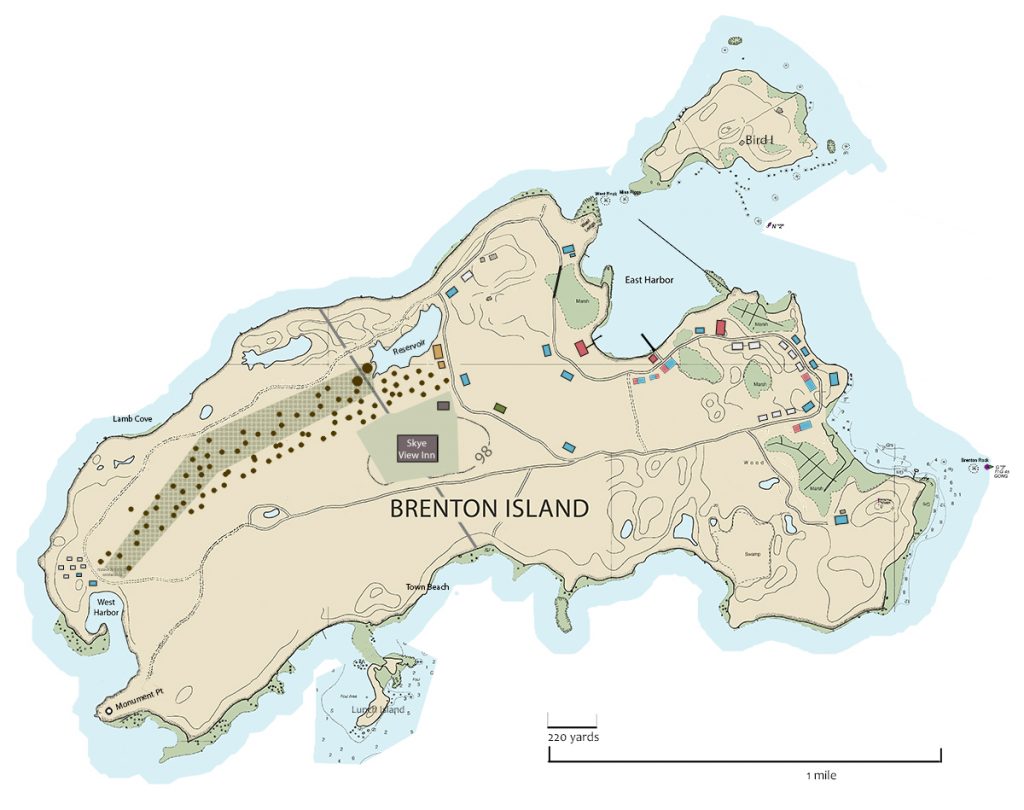 How to buy
Order a paperback from your favorite independent bookstore or buy the ebook. It's also available as an audiobook, and at many libraries.
In RI? Pick up a signed copy at Island Books in Middletown, or Fuller Gallery and the Conanicut Ship's Store in Jamestown.
Please leave a review
Book reviews are the best way to help authors gain visibility in today's crowded marketplace, so after reading please consider posting your thoughts online. Best option: buy from your local bookstore, and then post the review on Amazon or Goodreads (or both). Even a few sentences about what you liked (or didn't) will really make a big difference. Thanks!
Watch the trailer
What Inspired the Story
As an escape from the real world, I wanted to write about a place where people are rewarded for working together and land owners believe their property doesn't need to be "improved." I also had an imaginary earful of a curmudgeonly ferry captain, complaining that he'd just lost something really important. Stir into my mental melting pot the memory of cruises to some remote New England islands, and soon I was populating a brand-new piece of coastline with a few quirky characters (like the feisty female who "steals" that ferry captain's job). Several years later, the result is a novel that Sailing Magazine calls "A lovely bit of escapism."
Just before the manuscript went to press, I discovered this quote and was able to drop it into the foreword: "I think having land and not ruining it is the most beautiful art anybody could ever want to own." —Andy Warhol
Reviews
"Ferry to Cooperation Island takes readers to a fictional setting in Rhode Island Sound between the real Block Island and Newport, where the salt air and small-town island life is as palpable as the granite and sand underfoot. Called Brenton Island on the charts, the place is nicknamed Cooperation Island by its residents because, 'whether it's indigenous people and whites, rich and poor, or sailors and fishermen, there's always been…a get along approach,' as one resident puts it." —WENDY MITMAN CLARKE for Good Old Boat Magazine
"Carol Newman Cronin's fourth novel is a delightful trip through a cast of characters in Rhode Island. The book is not so much about sailing as it is about the sea and the inhabitants of a small island off the coast, but Cronin's sailing experience—she sailed in the 2004 Olympics in the Yngling class—is crucial to making the book come alive. There's a certain amount of "cozy" to the story, which lends a warm familiarity rather than a strong dose of corny. It's clear that Cronin has sailed these waters and knows every current, every vantage point in the way that only a sailor would take note of.Ferry to Cooperation Island nails the inner workings of life on a small island… the book manages to bring to life the kind of people that most sailors know. A lovely bit of escapism." —Sailing Magazine
"A voyage of discovery, built around the human interaction with an island at the entrance of Narragansett Bay off the coast of Rhode Island. Every sentence draws the reader into the curious lives of each character with a descriptive style that puts you in the middle of the narrative. Carol Newman Cronin has a gift for story telling that makes you just keep turning every page to learn what is going to happen next. A word of caution, once you start reading you won't stop until the book ends. Bravo!" —GARY JOBSON, President of the National Sailing Hall of Fame
"Wash ashore on this island and find a community of characters whose lives are as interwoven, interdependent, and thus as complicated as its long history. Babies are born, beloved friends take their leave, and lovers change partners, as each arrival and departure of the ferry brings new twists. Cronin has built a world that you won't want to sail away from!" JULIETTE FAY, author of The City of Flickering Light and The Tumbling Turner Sisters
"Lifetime sailor Carol Newman Cronin combines well-drawn characters, their family legacies, and the history of the island itself in a vivid story about the struggle of preservation versus development, grace against greed. Anyone who visits a New England island should have a copy of this in hand for summer reading. Wherever you look — the ferry landing, the coffee shop, the general store — you'll recognize the characters." —DOUG LOGAN, author of BoatSense
"An entertaining portrait of island life where a quirky population of year-round inhabitants and their green ferry captain must navigate much more than a passage to the mainland. Readers will root for love between arch-rivals while a distinctive cast of salty New Englanders cling to their beloved island's natural beauty. This novel takes on an age-old balancing act, pitting traditionalists against developers espousing 'economic progress.' Written with fast-paced, vernacular wit, Ferry to Cooperation Island is the perfect antidote for a landlocked point of view." —JEANNE McWILLIAMS BLASBERG, author of Eden and The Nine
"You can practically smell the salt air, feel the weight of the fog, taste the bitterness of pride and longing. Carol Newman Cronin brings Brenton Island to life in the way that only a fellow boater can, loving the flaws and peculiarities that make every character well worth knowing in a waterfront town." —KIM KAVIN, editor and writer at Yachting Magazine
"This cozy novel has it all—romance and mystery and survival amidst sun-dappled tides and salt water so real you'll feel it lapping at your feet. Cronin, an accomplished sailor as well as successful novelist, has deftly woven another absorbing story that combines the perfect amount of intrigue, adventure and romance into a can't-put-down novel. At any time of year, Ferry to Cooperation Island is a perfect and highly recommended escape." —ROBERTA GATELY, author of Footprints in the Dust, The Bracelet, and Lipstick in Afghanistan