Ordinarily, a weekend regatta wouldn't rate any special announcement… but this is no ordinary summer, so today I'm shouting from the rooftops: we're going Snipe sailing tomorrow! Racing shut down in mid-March, just ahead of the DonQ Rum Keg Regatta in Miami that traditionally kickstarts spring. For the rest of the month, I watched flowers poke through the soil in our front yard and wondered why it still felt like winter. Finally, I realized: since I was a 20-something, my spring seasons have started with a regatta in Miami.
In April, shortly after the Olympics were postponed, the Snipe class followed suit and pushed back all the major (travel-requiring) 2020 regattas to 2021. It was the right decision, of course, and a very small sacrifice relative to the world's woes… but I've really missed it. Since the 2019 Worlds last October, I've raced only one regatta. I can now say for certain that quiet, relaxing weekends at home are not nearly as much fun when they come around every seven days.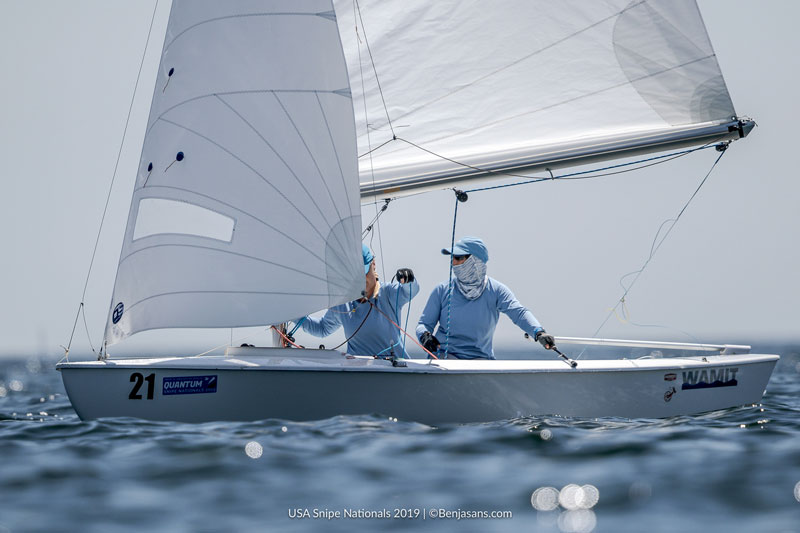 Risk-reward
Thanks to a lot of planning by Severn Sailing Association and the Annapolis Snipe fleet, we get to go racing with our friends on the same weekend that was supposed to be a four-day 2020 Nationals (and qualifier for the next Worlds). Two days of racing will count as this year's Colonial Cup, which (unlike last year) will have nothing riding on the results except a trophy and bragging rights. The fleet is capped at twenty boats (and only hours after registration opened, a waiting list had already formed). There will be no parties, but I'm sure there will be some excellent socially distanced pre-race discussions—and that's all I need to make it worth the drive.
As summer kicks off, we are all struggling to balance the risk-reward equation between whatever we consider normal fun and our virus exposure. To paraphrase, I plan to "neither an infector nor an infectee be." Staying away from others definitely adds stress, but getting away will also be a great stress-reducer. The chance to catch up with close friends, even from a not-close distance, is the only way I know to refill the stamina tank for a summer that, right now, looks to be dominated by staying home and staying safe.
Read more about the 2020 Colonial Cup
Sailing World article
I like to think I captured some of the reasons for my Snipe addiction in Craft of Contentment, a Starting Line piece in the Summer 2020 issue of Sailing World Magazine. The invitation to contribute to SW's "My Class, My Story" series happened to coincide with my 30th year in this quirky fifteen footer, and it was a great opportunity to look back on everything I've learned. 
Unfortunately, the article is not listed in the table of contents (and I'm still trying to puzzle out the lead graphic)… but I have received several compliments on it, so I guess other people still actually read magazines too (rather than just flipping through for the pictures). And the subhead nicely summarizes my basic point: "From one small package comes many lessons on a long path of improvement."
To whet your appetite, below are the first three paragraphs. To read the rest, pick up a copy of the Summer 2020 issue (or, better yet, subscribe). UPDATE: It's now on the Sailing World website.
And now, please excuse me… because I'm getting ready to go sailing tomorrow!
Thanks for reading, and let me know in the comments below or send me an email to explain how you're balancing the risk-reward equation during this strange summer.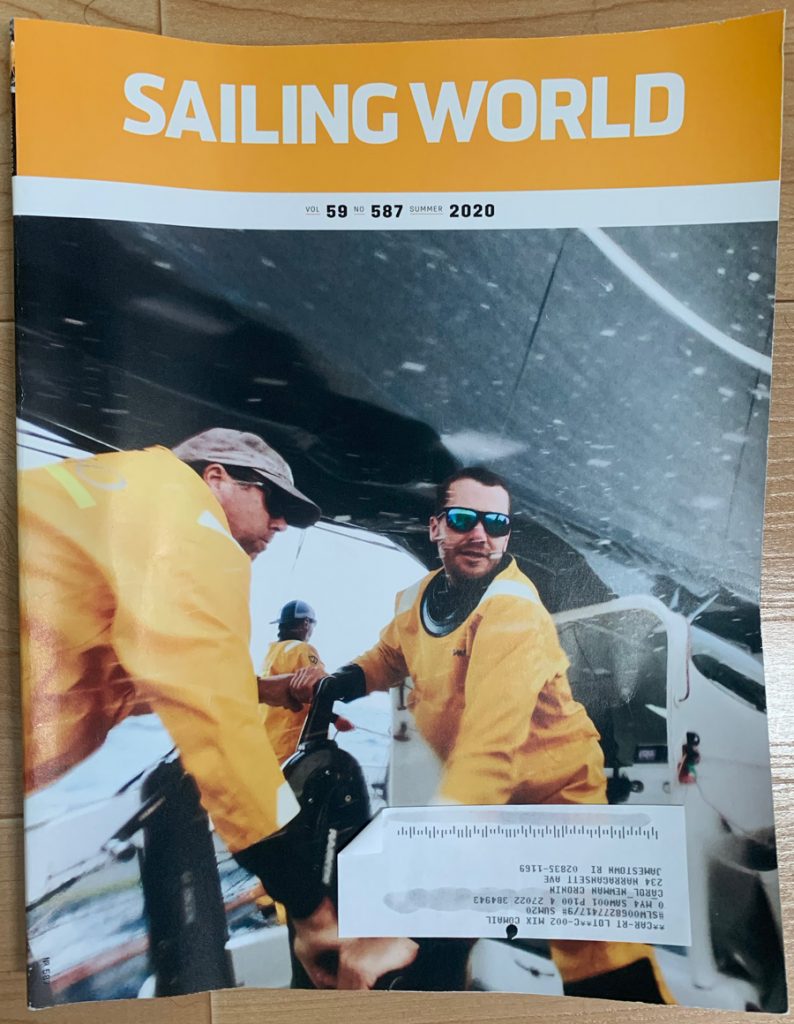 Craft of Contentment
From one small package comes many lessons on a long path of improvement.
For more than 30 years, the Snipe—a hard-chine fifteen-footer almost a century old—has been my teacher. I first stepped into one as a newbie 20-something, as a crew for the most demanding skipper I've ever sailed with. That unlikely "blind date" led to countless friendships, fitness, failures, and of course—fun.
Snipe sailing takes me all over the country and around the world—and brings me right back home to Rhode Island's Narragansett Bay, where Kim Couranz and I won the Snipe Women's Worlds in 2018. I've rigged boats in a shivery, rain-soaked Danish boat park; surfed ocean waves in Japan, where swells seemed to swallow boats and rigs whole. I've drifted around a Massachusetts lake so small I could overhear an international sailor wonder aloud where the races would be conducted. If variety is the spice of life, the Snipe is the cayenne pepper of one-design sailing.
Read the rest on the Sailing World website