I live in the neighborhood of West Ferry. My next book is titled Ferry to Cooperation Island. And last week, I got to ride across San Francisco Bay and back on a ferry—twice.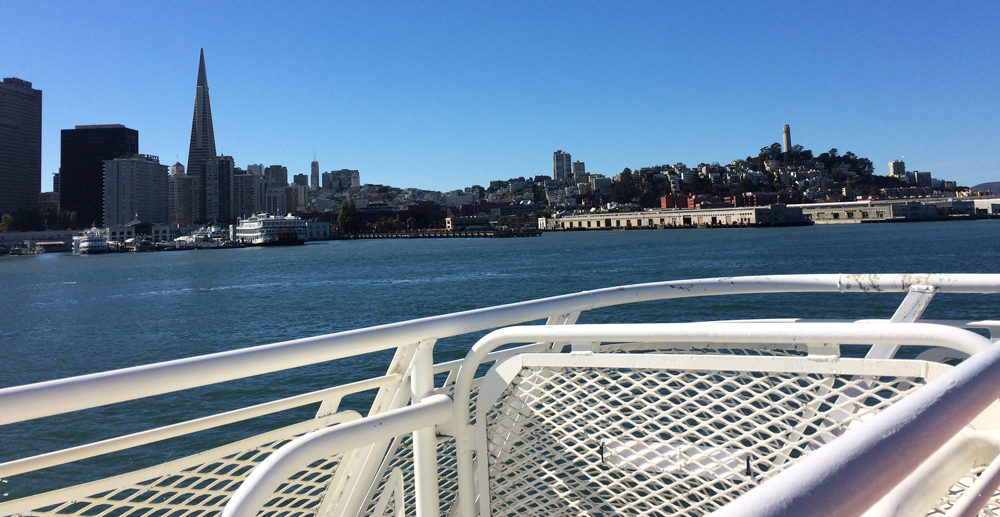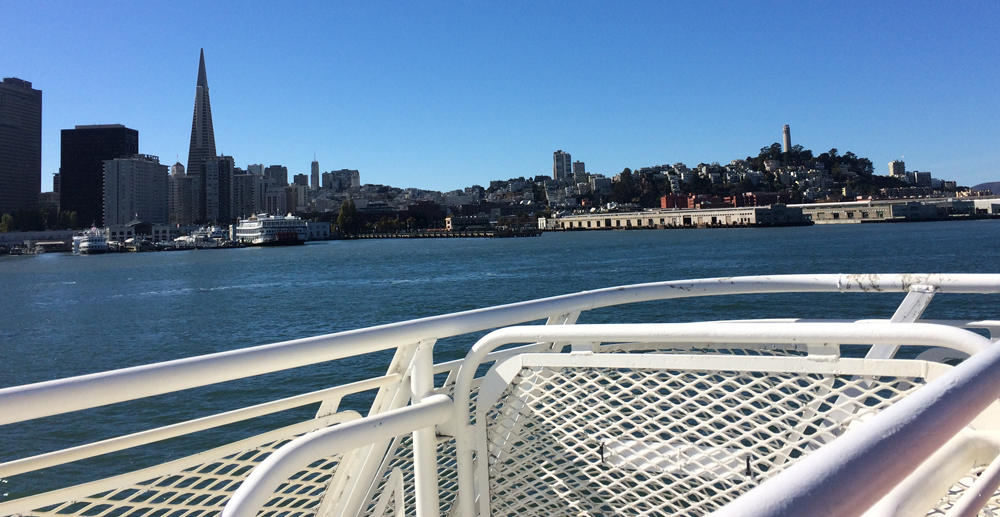 Traveling by water is so much more adventurous (and healthy) than traveling by road. Even a high-speed commuter route like the Larkspur (Marin County) Ferry, which runs to the Ferry Building in downtown San Francisco, might vary by a wavelet or three, and the air is salty-clean and stress-free. Judging by the acres of cars that fill every available ferry parking space each day, there are plenty of commuters who agree; who wouldn't prefer a thirty-five minute ride across the Bay to a traffic-laden drive down 101, over the Golden Gate Bridge, and into the gridlock of a bustling city?
I traveled during non-peak hours, but the regulars were still easy to pick out (inside, staring at their phones). Meanwhile, out on the stern deck, we visitors snapped photos of the city front and reveled in hair-blowing breeze and sunshine.
I spent four days in the Bay Area and, between ferry rides, managed to pack in a wide range of experiences. First I checked out the FAST USA Olympic sailing program on Treasure Island (look for an article in Seahorse Magazine this winter). Next I lunched with my nephew Oliver (the original inspiration for Oliver's Surprise) and his girlfriend, who are both settling into their first post-college jobs. I also had lunch with my agent, a rare face-to-face opportunity to review my publishing contract (and chat about sequels, sailing, the publishing industry, and book launch planning). Next up was dinner with a few Cronins, followed by a final-morning SUP out into a surprisingly windless Bay. Even on my last afternoon walk, blue water sparkled fog-free and—with the natural air conditioning of sea breeze shut down—the dry California air soared into the 80s. It's easy to see why so many friends and family choose to live on the shoreline of such a glorious Bay.
The speedy San Francisco catamaran ferries are nothing like the single-hulled lumbering vessel in my next novel. But those two round trips still reminded me that ferries combine the best of both worlds; boating with commuting. Adventure with workaday. Enjoyment and efficiency. I was so grateful for my chauffeured rides into the city; so much more relaxing than driving around it, bumper to bumper and eyes darting between GPS and unfamiliar street signs. The captain might have diverted from the straightest route by a wavelet or three, but I could be certain we'd pull into the wharf right on time. And that has made all the difference.