For the past month, I've been reading several books concurrently—which is unusual. In addition to my nightly bedtime novel, I'm also working (slowly) through the information-packed density of Jane Smiley's 13 Ways of Looking at the Novel. But as soon as I dipped my toe into the first chapter of This Must Be the Place, that immediately moved to the top of my reading pile; it was the "guilty pleasure" I returned to again and again, eager to find out what happened. It's a page-turner for sure, because it combines perfectly unpredictable with perfectly logical.
What's it about? I could go big and say, "It's about love." I could also go small; "It's about a boardinghouse in a tiny upstate New York town." Both are true, but the best answer is this: how carefully-kept secrets trickle forward into the future, staining everything they touch—until they are finally exposed.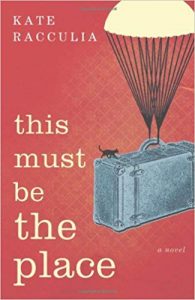 The prologue is entitled "sixteen years earlier," and at first I found its lack of detail about setting and context—and the subsequent transition to a totally different point of view in the first chapter—confusing. As soon as I figured out the link between those two people, though, I had to know how it would all turn out. Author Kate Racculia trusts her readers to make connections, and as a result we learn to trust that she will give us just enough detail to propel us forward.
Memorable characters are what makes this book hum, so let me tell you a little bit about the three most important ones. My favorite is Oneida, who starts off by telling us that "Oneida Jones was a freak. It was non-negotiable. It was absolute." A few pages later, Oneida tells us that "she hated her brain. It chewed on things—churned—whether she wanted it to or not." Because she's smarter than everyone else in her high school (teachers included), Oneida's best friend is her mom, Mona, who runs the town boardinghouse and bakes wedding cakes.
Mona is a loner as well, and for sixteen years she has kept a big secret about her best friend from childhood. When that friend's husband, Arthur Rook, moves into the boarding house, it's just a matter of time before the secret comes out. And once Oneida realizes that her mom has been keeping secrets—just when she's beginning to keep a few secrets of her own—it shatters her idea of who her mother is, who she is, and who this stranger might be.
As an author, I stopped to let my tongue roll over many of Racculia's word choices (elegant, but totally different from what I would've come up with). There were two other distractions from racing through this story: a strange aside late in the book that tells us in way too much detail what will happen in ten years between two of the characters; and a few random phrases that didn't make any sense to me. (They might have been cultural references that will ring true with more TV-aware readers.) I was enjoying the story too much to mark any of those, so I can't provide specific examples; all I can say is "not quite perfect."
I'd recommend this book for anyone who likes unpredictable novels told from multiple points of view, and for readers who prefer the "breadcrumb" approach; facts are dropped in front of us, just when we need them, letting us find our own way to the ending. Racculia's third book is coming out next year, and it's based in Boston this time; I can't wait. Meanwhile, I'm going back to my other reading—and I'll let you know how that turns out.