A few weeks ago I spent two days in Oxford, MD, on my first-ever dedicated fiction research trip. To be centrally located, I stayed at the Robert Morris Inn, which happens to be just across the street from the Tred Avon Yacht Club. But for once my focus was not on sailing—it was on the ferry.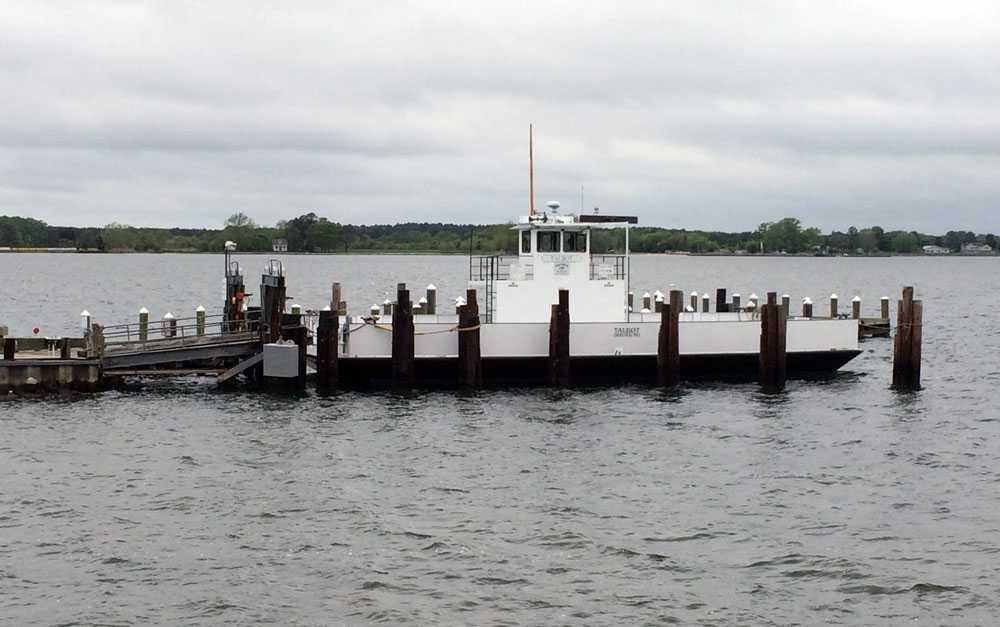 One of the characters in my next book comes from here, and the ferry (which has run continuously since 1683) was a big part of her childhood. Her accent is subtle, but decidedly different than a New Englander's, and several weeks ago I realized that I couldn't hear it in my head, so I went to Oxford to listen. And then like all the best adventures, I came home with something completely unexpected.
As soon as I arrived, I realized that even off-season there aren't too many locals in Oxford; it's mostly a retirement and holiday community now. Wandering around town, admiring well-kept yards and white picket fences, I heard a variety of accents as shopkeepers and contractors polished and prepped for another busy tourist season. None sounded like I'd hoped. And of course the other Inn guests had all brought with them accents from somewhere else: DC, Boston, North Carolina, London.
That first afternoon, I stepped onto the ferry for the first time. As the only foot traffic passenger, I had a great chat with the deckhand, who was from… Michigan. But I learned a lot about the ferry boats and their owners from him during the ten minute ride across the Tred Avon River. And the view—even on a cold gray May afternoon—provided a waterside perspective on the town behind me.
It was when I stepped onto the dock in Bellevue that I finally heard the accent I'd been looking for: three Eastern Shore watermen stood near the stern of one crabber, talking about their day. That's it! I thought. But how could I transform myself from a lone tourist on the dock to a fly on the wall? I couldn't just stand there, visibly eavesdropping. And I certainly couldn't come clean ("Hello, I'm writing a book and I really want to listen to your accents; please continue talking naturally"); any outside interference would instantly change or even shut down the conversation. It made me wish I had a fishing rod with me, just so I could look busy while hovering within earshot.
Eavesdropping is easy at a restaurant, or in a bar: you just cock your ear toward the accents while looking at the TV, or while pretending to talk with your companion (who, of course, was tipped off in advance about your real purpose). On a ferry dock by myself, there were absolutely no excuses to linger. I tried watching the abnormally high tide pushing at the pilings, but how long could I stare at something so natural without those three guys wondering what I was really doing?
Instead I wandered up the dock as slowly as I could, and then wandered back down again. Eventually I asked one of the watermen a question, and his tone instantly grew more formal and clipped. "Talk amongst yourselves again," I wanted to say. But their conversation had already come to its natural conclusion, and natural was of course what I was looking for.
The next morning, I went for another walk around Oxford. And with time to linger and the open mind of a dedicated research adventure, I spotted an oyster shell that somehow seemed significant. From there it was a quick leap to its place in the book, which taught me something completely new about my Oxford-born character. Tucking the shell into my pocket, I went "home" to the Inn for another great breakfast. Sometimes we come to a place to listen—and leave with a beach shell that many others have passed over.
Living with a novelist's eye (and ear) makes the world even more vivid, especially when we stumble onto something quite small that leads to the next big idea. I may not have yet figured out everything about this character (or how to eavesdrop on an outside conversation), but I've definitely learned to spot brainstorms when they appear—even if the spark shows up in a completely unexpected way.