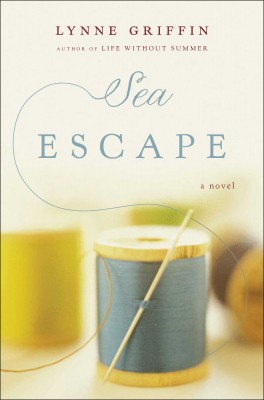 I figured I'd like Sea Escape, since it was set, mostly, in a house on the beach just south of Boston. I'm also a sucker for stories that reveal the mysteries of a family's past. But it's the writing that really drew me into the world of Laura and Helen, into their spellbinding tangle of old love letters and old grievances and new life challenges. The writing is what made me fall in love.
The daughter, Laura, is mother to two lovingly imperfect children. She is also sister to a mostly absent older brother. And the book reaches back into the past far enough to include her grandparents… though only as background for the earliest of the love letters that Laura's father would write to his wife Helen over years of separation. The main story is between Helen and Laura, at the end of Helen's life.
Laura has always resisted reading her father's letters, which her mother has carried around since his death twenty years earlier. She doesn't think her curiosity about a father she barely remembers would justify the invasion of privacy. But when her mother has a stroke, Laura tells herself that her father's words will give her mother peace. She doesn't count on also learning how complicated her parents' relationship really was.
The novel moves forward chronologically, but it also steps back in time as Laura works her way through the decades of finger-worn papers filed carefully in an old shoebox. Helen spent most of her marriage making her house (also named "Sea Escape") perfect for her husband's return—until he died on his final trip home, when Laura was in her teens.
What Laura learns from the letters is her father's true reasons for staying away. Griffin skillfully gives the reader just enough information to keep the story moving without making anything too obvious. Just like real life, we can glimpse bits and pieces of the past through the letters, but the story is never wrapped up too neatly to feel unrealistic. As the very first sentence explains, "Letters are windows casting light, illuminating the ties between two people."
My only complaint about this lovely book (and it's a small one) is that some very dramatic scenes are described with such sparse language that I had to go back and reread the section to make sure something calamitous had really happened. Yes Laura is a nurse and not prone to dramatics, but in a few key places this dry reporting is taken too far.
Reading Sea Escape will probably teach you something about yourself, and it will definitely teach you something about the characters you grow to love. Don't wait until next summer to devour this very satisfying beachside story.