Only three more days until the sun sets on 2022! As we look ahead to 2023, I thought it would be fun to share a few highlights already inked into next year's calendar.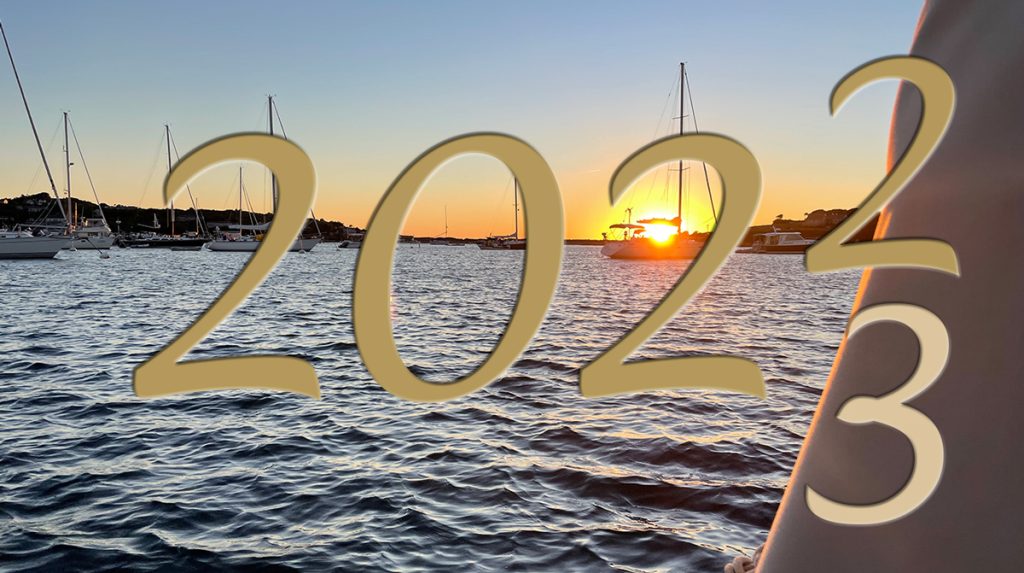 1. Snipe sailing in Florida
I'm really looking forward to rejoining My Family of Snipe for three winter regattas: the Comodoro Rasco and DonQ on Biscayne Bay, and the Midwinters on Key Largo's Buttonwood Sound. Due to scheduling conflicts, my last Snipe regatta was the U.S. Nationals way back in July… far too long ago. I can't wait to race and laugh with Kim Couranz once again and test out my neglected hiking muscles!
2. Book Signing in Annapolis
On January 12, Annapolis Yacht Club's monthly book club will be a behind-the-scenes look into 100 Years of Gold Stars. At my last booksigning in Annapolis (circa 2010), a far more local Carol Cronin asked for my phone number—so she could redirect all the sailors who called her, looking for me! So you never know what will happen in that town… especially since AYC hosted the Star Worlds in 2000. I'm excited to share with local Star sailors and history buffs alike what went into creating this 140-page book.
3. Model boat racing
Paul and I raced model boats with the Newport fleet last winter, and by the time you read this I hope we will have started our second season—because that will mean that all of our watercraft are finally put away for the winter.
4. My first article in SAIL Magazine
I recently submitted an article about sailing teamwork to SAIL Magazine, which was the very first sailing magazine I ever read. I can't wait to see my byline in such a well-regarded publication!
5. Wingfoiling
We are definitely looking forward to more wingfoiling in Florida. I did manage to nail a few jibes before the water temp shut us down here, so my goal for 2023 is consistency—along with continuing to enjoy each additional lesson learned, about both life and sailing.
6. Work In Progress (WIP)
Okay, this one is less certain… but I'm definitely planning to COMPLETE my next novel in 2023. (That was also the plan for 2022, and 2021, and…) Progress on my passion project is always slower than I hoped—partly because more immediately billable work has to take priority. (Also, my characters don't like working to a firm deadline anymore than I do.)
PS: Keep those comments and emails coming
What about you: is there something you're especially looking forward to about the new year? Share it in the comments below, or send me an email. Your enthusiasm is what keeps me writing these weekly missives, so if there's anything in particular you'd like to hear about (More books? More boats?) just let me know. This blog recently passed 500 posts, and that's partly thanks to all of you; you help me feel "heard."
See you next Thursday for the first blog of 2023, and I hope you have a happy and safe New Year!