I was going to write a post about teachers today—and just as I sat down at my desk, I learned that May is Teacher's Appreciation month! How's that for synchronicity?
What I mean by "teachers" is broader than the official term, however; I want to thank all the folks who teach us stuff, even if it's unintentionally. Could be a parent, child, friend, spouse, writer—even a passing stranger. Because that's the point of this post: You Never Know what effect you will have on others.
When I was in fifth grade, a teacher handed out a poem that I've never forgotten. I can no longer remember her name, but I can still picture her round-lettered words (remember mimeos?). Even a handwriting font could never duplicate the personality of her lowercase As… but I digress.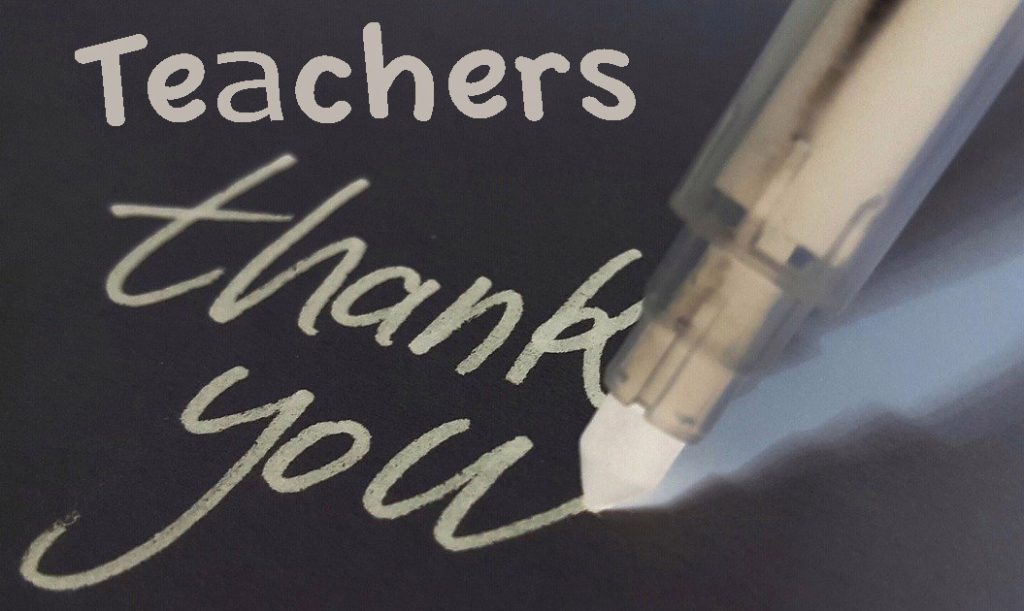 The poem was entitled You Never Know, and unfortunately the author has long-since been lost to time and history. The words, however, remain stuck in the same corner of my brain as my childhood phone number:
You never know when someone
Might catch a dream from you
You never know when a little thing
Or something you might do
Could open up the windows
Of a mind that seeks the light
The way you live might not matter at all
But you never know—it might

And just in case it could be
That another's life, through you,
Might possibly change for the better,
With a broader and brighter view
It seems it might be worth a try
At pointing the way to right
Of course, it may not matter at all…
But then again – it might.
I don't remember discussing the poem in class, or even with a favorite classmate. I do remember reading it over and over again, which is of course why it has stuck with me. I didn't yet understand "irony," but I did realize this: my own heartfelt reaction proved the poem's point.
For the past two years, we've learned the special value of human interaction—especially those short and quickly-forgotten snippets of conversation we used to take so much for granted. We're also newly appreciative of teachers, and how every day they meet or exceed incredible expectations. Looking back on what I now realize was a very privileged childhood, I'm especially grateful for this one teacher who handed out a poem and then let a bunch of ten year olds just… absorb it on our own. If we'd discussed and dissected to death how to set someone on "the way to right," maybe the rest of it wouldn't have dug so deep into my brain—and I wouldn't be writing this post today. You Never Know.
As I've finished and then published each of my books, other writers have occasionally reached out for advice. I certainly don't have all the answers, and what defines success is quite different for everyone. So imagine my surprise when a reader emailed to thank me, years later, for some "life-changing" advice that had been part of a short conversation! That's the flip side of this poem: I Never Know my own effect on others. Just as that long-ago teacher surely never predicted that, almost forty years later, one of her students would be writing a blog post about a handwritten handout.
Happy Teacher's Appreciation Month, to all my teachers: the ones whose lowercase As I still remember, as well as the many nameless folks who simply made a passing comment that taught me something unintentionally. In your honor, I will do my best to pass along the right wisdom to anyone who comes looking for it—even though I can't predict or even understand what tiny gem is going to stick best.
Got a childhood poem or memory that's taught you something unexpected? Add a comment below, or send me an email. And thanks for reading!