Several years ago I wrote about Trusting My Coastal Senses and the effects of climate change on the west side of Narragansett Bay. Today, I want to share a few more observations from the west coast of another lifetime favorite, Maine's Penobscot Bay.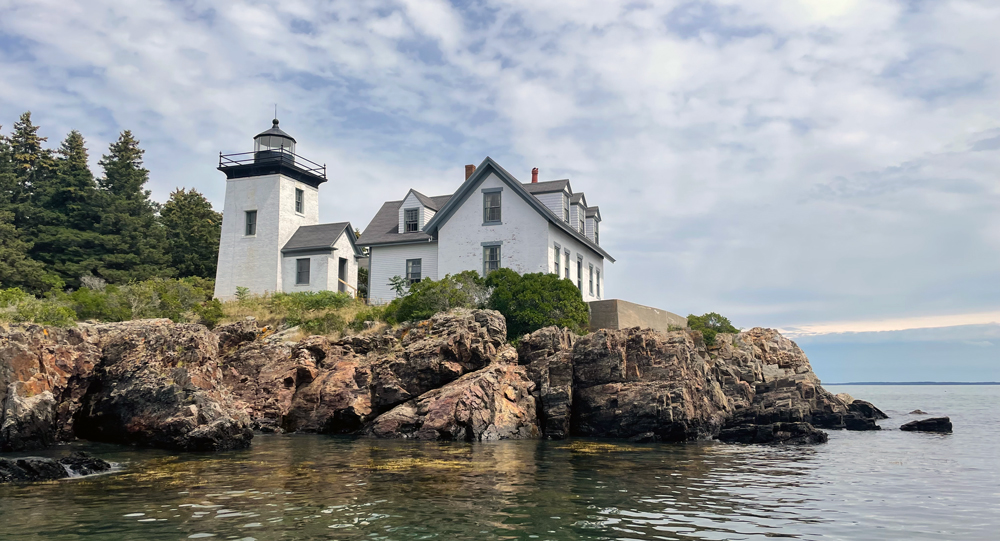 Then: August in the 1970s
A highlight of childhood summers was our annual family cruise from Woods Hole to Maine. For two weeks or more we would sail Katrina Down East and anchor in a different favorite harbor each night. It was a welcome escape from southern New England's midsummer heat and humidity, and also a chance to connect with my dad's father and stepmother, who spent summers at a rustic camp not too far from Penobscot Bay.
As soon as we sailed out of the Cape Cod Canal, the water temperature would drop about ten degrees—and swimming would become a badge of youthful exuberance rather than a daily adult refreshment. By the time we reached Penobscot Bay, the water was too shockingly cold even for me and my siblings. That kept air temperatures low as well, even on sunny days; our usual wardrobe included wool sweaters and socks—especially once afternoon light faded away behind the Camden hills.
When we went ashore to visit my grandparents, we picked blueberries by the gallon—because they were always at their peak in early August. We'd carry our bounty back to the boat, where it would sweeten our breakfast cereal. And there would always be enough to make a blueberry buckle, my mother's signature coffee cake. Lighting the oven to bake that treat warmed up the entire cabin, which was especially welcome on rainy days.
Now: 21st Century August
My siblings and I inherited our grandparents' hillside camp, so Paul and I have been able to continue the tradition of an August escape to Maine. Though our shore-based vacation this year was quite different from childhood coastal cruising (and… we're now shockingly close to my grandparents' age), this summer cemented some very unscientific observations about the new normal of August in Maine. 
First of all, the drought we've experienced in Southern New England is also dominating Maine's summer weather. With almost no rain, wells were running dry and potable water was hard to come by. Unfortunately, that forced us to buy gallon jugs of drinking water… which means climate change is making it harder to avoid this one small attempt at minimizing our own carbon footprint.
Based on childhood memories, I'd packed a duffle bag of fleece and wool. But thanks to a three-day heat advisory—a first up there, for me—my default attire instead consisted of bathing suits and bare feet. Also, that cozy cabin-warming oven went unused; we even minimized our stove-top cooking.
We'd brought along plenty of water toys, so each day we drove down to the west coast of Penobscot Bay and cooled off with either a paddle or wingfoil session, followed by a refreshing swim. The water was quite pleasant rather than gasp-inducing; more like all those childhood dunkings south of Cape Cod. Even after the heat advisory ended, we continued to swim every day—despite cloud cover that kept air temperatures comfortably moderate. All that water time made for a lovely vacation, of course, but it was a drastic change from what I used to consider "normal" at 44 degrees North.
Onshore, there was yet another indicator of seasonal shifts: peak blueberry season is now in mid-July. (Like the butterfish, those hardy bushes are doing their best to adapt.) We'd heard reports of ripe blueberries on July Fourth this year; sure enough, by the time we arrived in early August, it was a lengthy search to track down enough of the tiny sweeteners for the next morning's breakfast. Each day the pickings became slimmer, and by the time we headed home the season was—instead of peaking—definitely over.
Some Actual Science
Thanks again to friend and "doctor of fish" John Manderson, I can link these local, short-term observations to much larger changes. "Recently, the Gulf of Maine has experienced one of the fastest rates of warming of any ocean ecosystem," this 2021 study says. The area now has "summer-like conditions starting about a month sooner and ending a month later than the historical record." This is only expected to continue, so maybe today's kids will also remember much chillier childhood swims? (As they are picking blueberries in June…)
What We Can Do
I like to end on a positive note…. and I continue to believe that attempts to minimize our own carbon footprint can help slow the changes we see around us. As John Manderson put it, back in 2016: "There is hope in action by all of us, more so than in the glacial movements of those in power, who are unfortunately much slower than the rate of melt of the Greenland ice sheet."
Did you have a summer adventure that reminded you of (or contrasted with) a childhood memory? Share it in the comments below, or send me an email. I read every single one, with gratitude.