Almost three years ago, I wrote a post called The Psyche of Self-Employment. In it I described the surprising angst of acknowledging an actual employer on a medical information form, after twenty years of working for myself.
Today I return, full circle, back to that self-created, self-employed identity.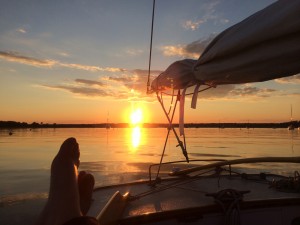 My job with Dominion Marine Media ended yesterday. While it's sad to say goodbye to the editorial team and my first "real" job, I'm also glad to be writing my own schedule again. I'd managed to maintain quite a bit of independence the past three years, but there was always a shadow lurking over my shoulder: Is there an email coming in that needs answering? Did that post publish where it was supposed to? Did that YouTube video get tagged properly? And did those links get updated? In today's editorial world, there is always another skill to learn. And there's always another link to add, or that perfect tag that just might make all the difference to SEO.
While the next phase will certainly not be as stress-free as this barefoot-in-the-sunset photo suggests, it will be nice to take a break from the day to day challenges of a managing editor. It's an unusual chance to recharge my batteries, while I figure out how best to use this crazy collection of skills I've gathered together.
I'm not sure where the next road will lead quite yet. I do know I'll be exploring a few different paths over the next few months—including a return to working with my hands. Best of all, I'll be able to devote more time and energy to this blog, which has languished the last two years. (After wrestling with WordPress all day, the last thing I wanted to do after hours was to log in again—even to a different site.)
So it's a bittersweet homecoming, back to my former self-employed identity. And I can't wait to see what's next.