Hey! It's the last day of August. How did that happen??
It's always bittersweet to see the sun setting earlier each night, but this year I feel like I really made the most of summer. Now, looking back on a season that included everything from wingfoiling to Katrina cruising (sometimes on the very same day), I realize I haven't yet shared one of the best experiences of all. What can I say; it's been a busy couple of months.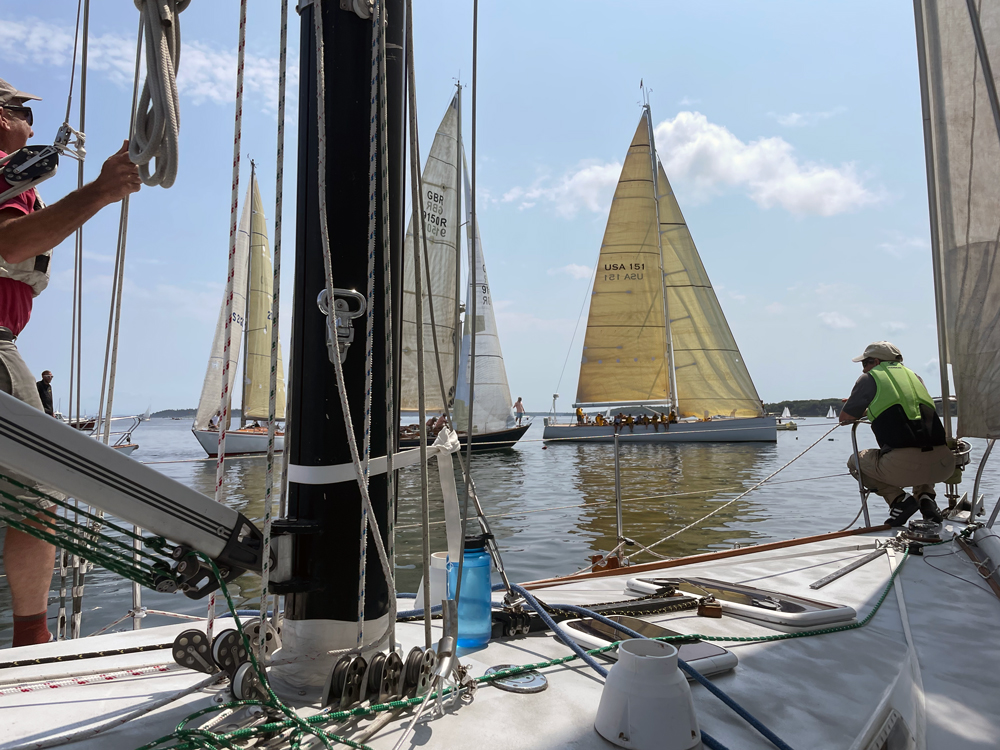 In early August, Paul and I raced the Eggamoggin Reach Regatta (ERR) on the one tonner Wildwood. She's a cold-molded Eric Goetz creation first launched in 1980, and a few years ago my friend Molly Mulhern and her boatbuilder-partner took on what she calls "one ton of a refit." Molly's a former editor of International Marine Publishing, and she's written a wonderful summary of the project in Windcheck Magazine. Since I can't improve on her description of what "one tonner" means, I'll simply quote her instead:
I have to admit to being a complete dimwit about all the one-ton, quarter-ton, half-ton nomenclature, despite 30 years in the nautical book publishing world, where I read a lot about boat design, racing, boatbuilding, and cruising. I did not, however, get it about the rating rules. Truth be told, I still don't. If you ask me to explain what I mean by one-tonner, this is what I will say: it's a sailboat designed to a specific set of criteria, which resulted in boats that were about 36 feet long, with reverse transoms, 50-foot masts, deep keels, small mainsails, and huge overlapping jibs. Plus lots of winches on deck. That's pretty basic, and mostly, kinda right.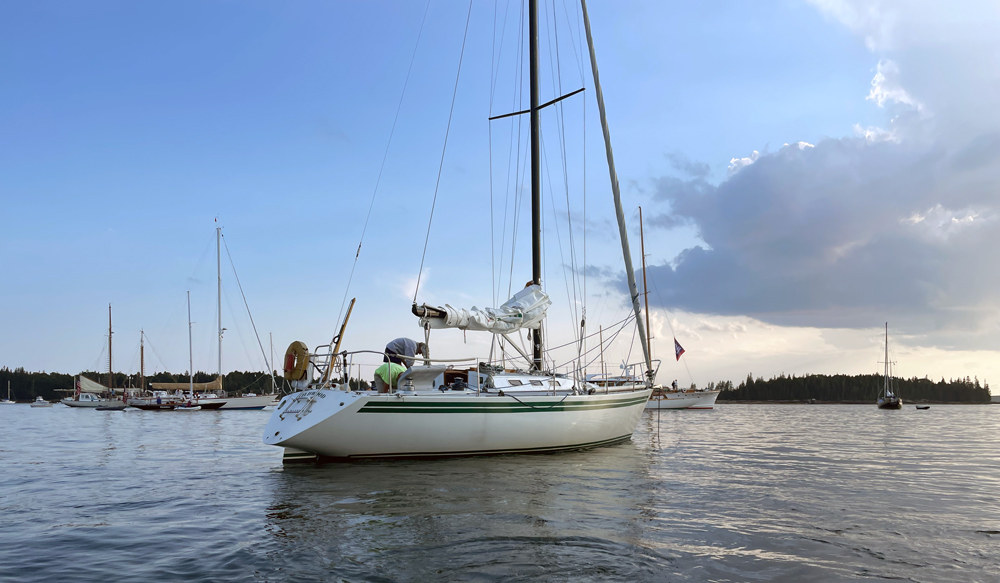 Now in their third season, the Wildwood gang invited Paul and me to join them for the ERR… basically because we knew how to fly a spinnaker. We were in Maine that week, so the timing was perfect—and so was the day, despite mostly light air. A lengthy postponement gave Molly and I the chance to talk about all the boat improvements they'd completed (and those yet to come), catch up on writing and publishing projects, and of course, boat-gawk at the living museum drifting all around us: a perfect meeting of books and boats. Once the breeze came up (or actually slightly before then), we had a great race out of Eggamoggin Reach and around Jericho Bay, which are familiar waters—though I'd never before rounded any of its many rocky islands as race marks.
The 105-boat ERR fleet included everything from an International 110, to the schooner Brilliant, to several 21st century Spirt of Tradition boats; the only requirement is a wood hull that's at least 24 feet long. While I did miss the one-design predictability of everyone going the same speed, it was certainly much more social to pass (and to be passed) by such a wide range of boat designs and sail plans. And we did successfully get the spinnaker up (and down) without any disasters!
The party afterward included the widest mix of sailing friends I've ever seen at one regatta: Snipe sailors, pro sailors, family cruising friends. And though I did (just) look up the results (we finished fourth in class, thanks to a penalty from the boat's second place finish last year), the actual competition was really more of an excuse to gather together. By sunset, my cheeks actually hurt from so much smiling—and my heart was full of fresh new memories that will help carry me through the off-season.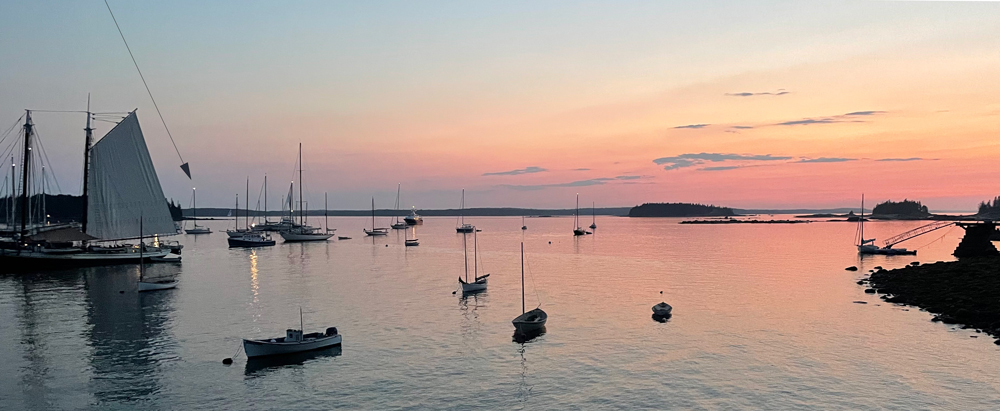 A month later, as summer ebbs away, I'm still smiling. Thanks to Molly and crew, I have now added "one ton fun" to my favorite sailing experiences. The date is already posted for 2024… so if you get an invite to sail the ERR, just say yes.
Got a favorite memory from the summer? Share it in the comments below, or send me an email. I read every single one, with a ton of gratitude.