As Ferry to Cooperation Island was going to press, the publisher asked if there was anything special I'd like to add to the opening pages. All I could think of was the song that had played in my head as I was writing and editing: "Island," by Jimmy Buffett. 
So, after gratefully receiving permission, I included the lyrics in the front matter.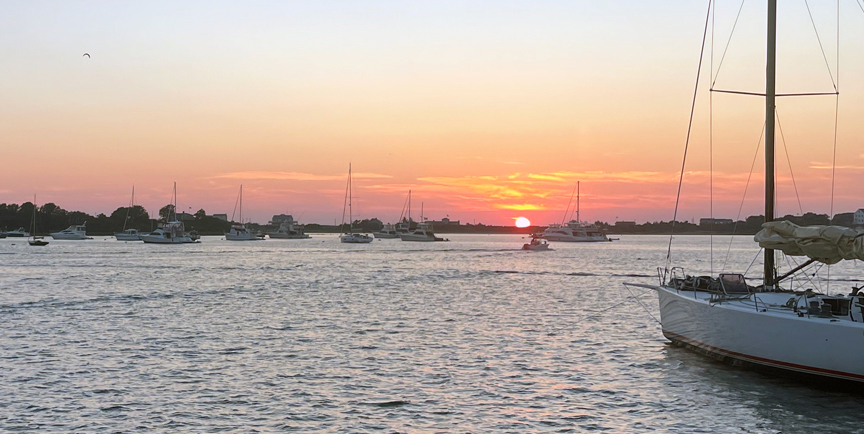 There is, of course, a Jimmy Buffett song for just about every occasion (and several great books too), so it should be no surprise that he'd already covered what I was trying to convey in my fourth novel: the push-pull between isolation and insulation of life on a small island. And now that he's gone on to the great harbor in the sky, it should be even less of a surprise how huge the hole is that he's left behind. 
I know of no other person so universally loved by sailors and powerboaters alike. I don't consider myself a Parrothead, but I can sing along with hundreds of his songs—and each one takes me right back to the moment when I first heard it. As a teenager and twenty-something, I spent way too many hours trying to decide which One Particular Harbor was actually my personal favorite—before realizing that having several candidates was okay, because metaphors are actually more effective if they're not taken too damn literally. Another album seemed to have been written just for the breakup I was living through at the time; an excellent example of Buffett's ability to cover universal themes in personal, memorable words that made everyone feel like he "saw" us.
Losing this icon just as another Labor Day weekend rolled around seemed especially poignant. Rafted with friends in one of Buffett's own favorite harbors, we listened all day to a smorgasbord of his music—and caught earfuls of familiar tunes from nearby boats, both power and sail. That evening, over Boat Drinks and a cockpit feast of Cheeseburgers in Paradise, we shared stories of favorite albums and live concerts and unexpected Buffett regatta sightings. While all around us, we were certain that other sailors (and powerboaters too) were sharing similar stories and sightings and sighs.
In a world where so many things divide us, Jimmy Buffett united us all with a common dream: escaping on a boat to a tropical paradise. As we say goodbye to an era, a life's soundtrack, and the man who made so many of us laugh and cry about a life well lived on the water, I'm going to let him take us out with the words that have been playing in my head ever since I heard the sad news:
"It was a pleasure and a hell of an evening; truly was our night to win. But the authorities insist on my leaving… take care, my American friend."