Surprise! Oliver's Surprise and Cape Cod Surprise, that is: twelve years after the original Oliver first published, I've recorded audiobook versions. Yes, they are "read by the author" so if you don't like the sound of my voice… well, then move along, there's nothing to "see" here. (Hear here?)
If you haven't yet tried audiobooks and would like a free sample, read on. And if you're already an audiobook lover, here's your first chance to win a copy of Ferry to Cooperation Island.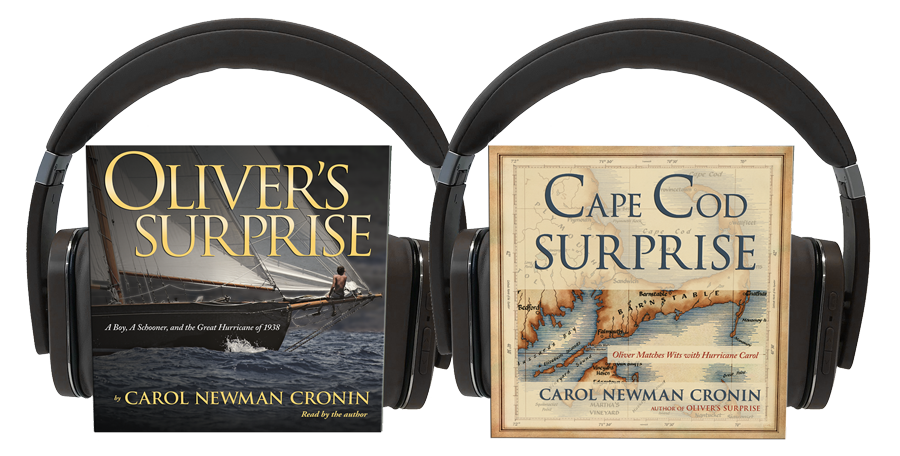 Why create audiobooks?
When asked by a fellow author for a single word to capture the goals of 2020, I skipped right past my first thought ("Ferry") to the far more inclusive "audiobook." It's so refreshing to take a break from screens and soak up a new world through our ears—especially while our hands and feet are busy with other tasks. For those of us who grew up with bedtime stories, it's also a throwback to one of the most comforting memories of childhood.
Last summer, while enjoying the audiobooks of other authors, it occurred to me that I could revisit the world of Oliver by producing an audio version. It was the perfect experiment to figure out the workflow—and a fantastic fresh challenge.
How to create an audiobook
The first step was to find a narrator. After listening to several samples, I couldn't even decide whether a male or female would be best; neither seemed quite right for a not-yet-changed twelve year old's voice.After listening to Unsheltered—and realizing only when the final credits rolled that author Barbara Kingsolver had narrated it—I decided to take on the challenge of narrating and editing Oliver's Surprise myself. Thanks to Paul, I have access to a professional quality sound room, and I knew I could master the editing software everyone recommended (Adobe Audition). So I dove in and started recording. A few weeks later, I had a rather amateurish first version—and a few weeks after that, I'd cleaned it up into what I'm told is now a great listening experience. I hope you agree.
With a little more confidence and know-how, I then recorded and produced Cape Cod Surprise and published it just a few days ago. (It is still working its way out into the world, so this book may not yet be available on your favorite site.)
Where to buy audiobooks
Whether through your local library or by monthly subscription, there are countless sites that offer audiobooks (and more launching as I write). My personal favorite is libro.fm, because a portion of my subscription (and any additional purchases) support my local independent bookstore. There are many others, so hop on over to your favorite site (or your local library) and search for my name. If no audiobooks show up, please let me know.
Now, the good stuff
New to audiobooks? In honor of 2020, I'll provide a free coupon for either book to the first 20 readers who email me a request before February 15, 2020.
Already reading with your ears? Then email me an answer to this 21st century question: where do you buy/borrow your audiobooks? and I'll enter you into a drawing to win a copy of Ferry to Cooperation Island.
Thanks! I'm excited to share my stories with you.