I can't remember where I heard about Laura Spence-Ash's debut novel; maybe I spotted her interview on Literary Hub? All I know is that as soon as I realized someone had written historical fiction that was set partly on an island in Maine, I figured I'd better read it. And I'm so glad I did, because I was bowled over by her elegant but effective writing.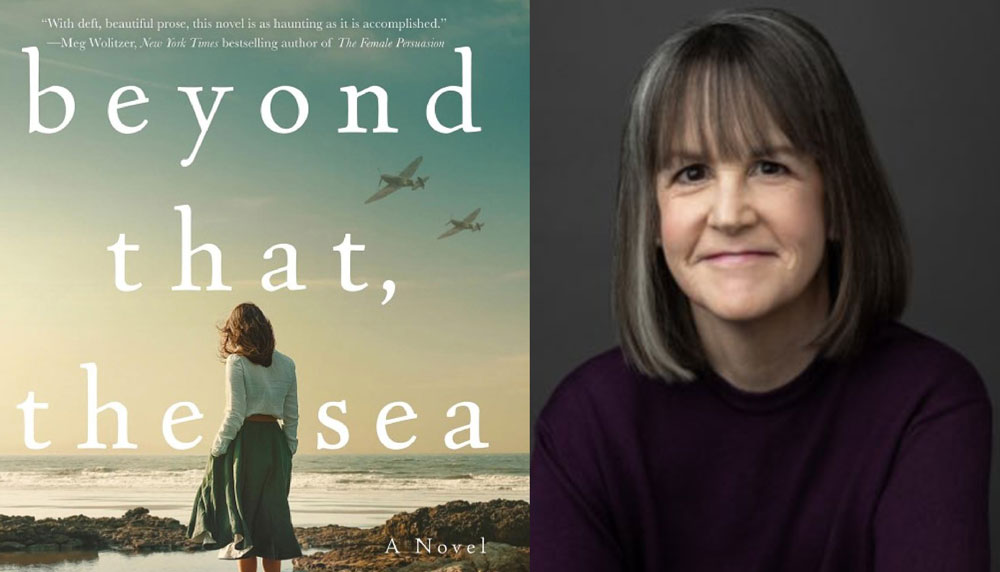 The story centers on Beatrix, an 11-year-old British war refugee who spends 1940-45 with a family in New England after her parents make the agonizing decision that London is too dangerous. There are several other points of view, including both sets of parents and the American "siblings." The overriding theme is what makes a family, and where we truly "belong." And yes there's a happy ending, which while somewhat predictable was definitely not inevitable—since all the characters are so full of humanizing imperfections.
Spence-Ash starts with a prologue, though it wasn't immediately obvious that it wasn't "Chapter One." The bottom margin shows the date, October 1963; the rest of the book then unfolds in chronological order, starting in 1940, with the years shown only in those bottom margins and never specified in the text. I must admit it took me several chapters to even notice that subtle design addition (perhaps because I was too busy inhaling the beautiful sentences and story), but once I did the dates were a big help in grounding where we were in time.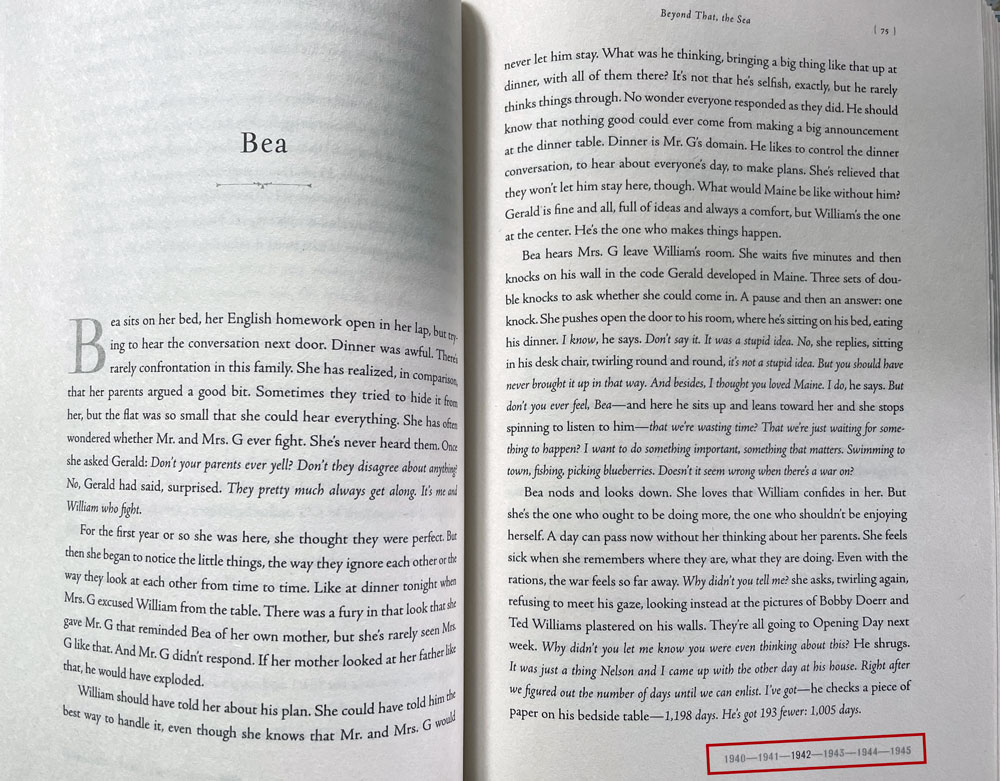 Writing Rules Broken, and it Works!
Another design oddity that I quickly stopped thinking about was that all dialogue is in italics—and often, two separate speakers are included in the same paragraph. Somehow it keeps the dialogue soft, as if everyone is whispering to each other, which made me feel closer to the characters. And only once or twice did I have to reread a section to figure out who was speaking. Here's an example of how this works, pulled from a scene on Thanksgiving Day, 1940; Beatrix is learning to rake leaves with both of her new American "brothers," and she asks William (who's two years older) about his favorite part of the holiday:
The cousins? The food? The thanks? The Thanks. He'd never thought of it like that. The thanks part of the holiday. It was a day, a nice day, to get together with everyone. A day when Father was too distracted to be annoyed with him. But he wasn't sure his family felt thankful. Mother's family had been here forever, with ancestors dating back to the Mayflower. Probably some of them were at that first Thanksgiving. Should they feel more grateful than they do? He's never really thought about it before. But now, with Beatrix, he wonders. Maybe his image of her apartment [in London] is all wrong.

Yes, he says. The whole thing. You know, the breaking away from the British thing. The thanks that we have our own country. He grins at her, and she rolls her eyes. Can't wait to see what happens on July Fourth, she says. I'll probably be tarred and feathered and thrown in the harbor. Oh, we're planning it, William says…
By my own rules for writing book reviews, I need to come up with a criticism of the story or writing or at least find a few typos… but the only small issue I can think of is that late in the book, I was surprised by the too-quick handling of what seemed like a pivotal moment. Now that I've looked back at the prologue, I realize that it's that very scene—which means that I should've remembered it. Ah well, I was too busy devouring the beautiful writing while watching the characteres grow and stretch and change, something the author can surely appreciate; in the Literary Hub Q and A, Spence-Ash says she loves writing critical essays because they give her time to reflect on someone else's writing.  "Too much of the time, I'm reading quickly, and I don't slow down enough to really consider why and how something works." Exactly!
This book is that rare combination of well written, carefully edited, and beautifully designed. While it's especially recommended for historical fiction lovers who appreciate strong and spare writing, I don't think any fiction fan would be disappointed. And I can't wait to read Laura Spence-Ash's next novel!
Got a book you just know I would enjoy? Share it in the comments below, or send me an email. I read every single one of your responses, with gratitude.