Last August, Kim Couranz and I (with coach Paul Cronin) won the Snipe Women's Worlds on the last leg of the last race. This month, Hammer Nutrition featured the story in their excellent publication, Endurance News. I give a lot of credit for this victory to our fueling, which included all Hammer products on the water. As I put it in the opening paragraph,
I won't bore you with the details, but I will tell you this: Hammer products (and all of that education along the way) just helped me win a world championship!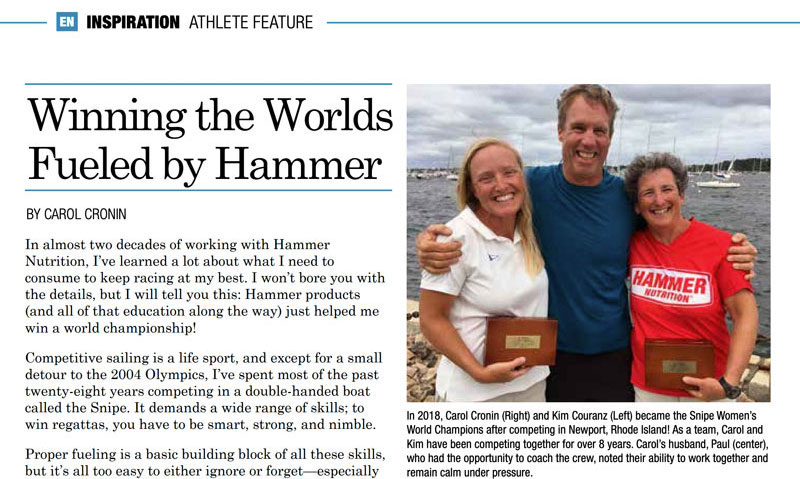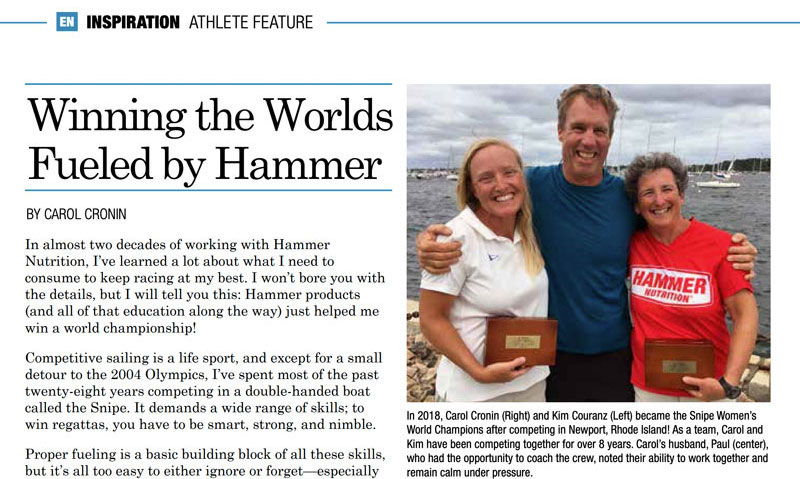 If we are, indeed, "old too soon and wise too late," I consider personal fueling as part of the wisdom I've accumulated that helps me continue to achieve competitive sailing goals as I age. Because there are so many variables in sailboat racing, the benefits of fueling well do not always show in regatta results. But last August, on the fourth and windiest day of a World Championship, we light-air specialistas cemented a victory just by keeping our heads on straight. I know that fueling (along with sleep and fitness) played a huge part. Here's how I put it for a non-sailing audience:
We were able to come back from mistakes, and to stay focused even at the end of each long day of a long championship. I believe that our consistent results were the direct result of consistent fueling and hydration.
Thanks Hammer! You're a very important part of our team.
Read the full article in Endurance News