What does it take to go to a world championship in sailing? Well, that's like asking "how long is a piece of string?" Because it varies from class to class—and even from one world championship within a class to another.
So, what does it take to go to the 2019 Snipe World Open Championship? Pull up a chair; this might take awhile.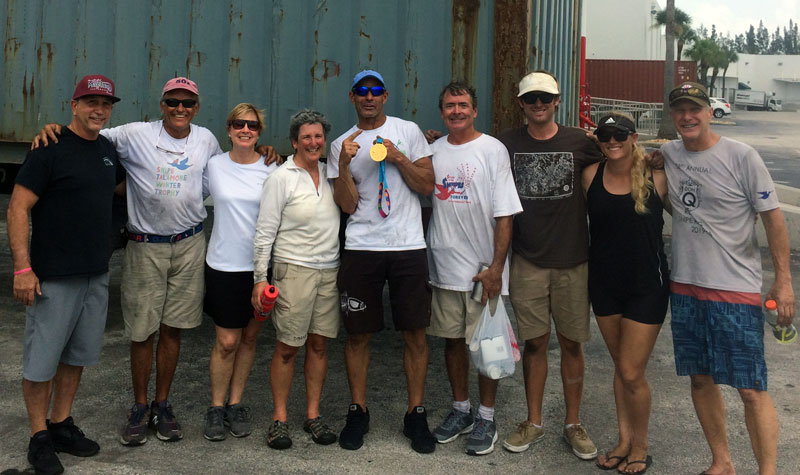 On a scale of 1 to 10
Last year, Kim and I won the Snipe Women's World Championship (read Winning a World Championship: 5 Life Lessons). Since it was a rare "home" regatta, logistics were ridiculously easy: first, ask Paul if he would coach us (fortunately, he said yes). Next, drive the trailer over to Sail Newport (25 minutes away). Finally, rig up and go sailing. We didn't even have to qualify; anyone (female) could show up and sail.
On the degree of difficulty scale, getting ready for last year's big regatta was pretty much a 1—though I did log several sleepless nights anyway, already understanding Life Lesson #3: Regattas are won (or lost) long before they start.
This year, we're going to the Snipe Open Worlds in Ilhabela, Brazil—a definite "10" when it comes to preparation and planning.
It all started when we finished second at the very first qualifying regatta, back in March of 2018. The top two boats earned berths, so for once there would be no waiting for the option to trickle down to us. (In hindsight, qualifying was the easiest part.)
Kim and I had sailed two Snipe Open Worlds before, in Denmark (2011) and Italy (2015), so we knew the racing would be incredibly challenging—and that we'd feel like we were missing out if we stayed home. But my excitement was balanced by lingering memories of my last trip to Brazil for the 1993 Worlds (as a crew). Combined with the overwhelming commitment of both money and time that would go into this trip, I spent several months hemming and hawing. We didn't fully commit to attending the October 2019 regatta until last February.
Gonna be hard
There were two things that pushed me into saying "yes." One was knowing how much Kim and I have developed as a team since we learned to add rake in 2015—and wanting to test ourselves again on the (open) world stage. The second was realizing how much respect we've gained internationally over the past eight years. In the Snipe boat park, we are no longer "the girls;" these days, we are "Kim and Carol." The eyes of other sailors no longer dodge past us, looking for more interesting sources of nerdy boat-talk. Skippers I respect ask me about our tuning, just in case they ever have to sail a Snipe at a whopping combined dripping-wet weight of 285 pounds. (Standard coed team weight is more like 300-325, especially at a windy venue like Ilhabela.) Off the water, the locals might still treat us like "the girls," but now that I'm a quarter-century older I am much better equipped to laugh it off.
What it takes
Once we'd signed on for the regatta, we made a long list of logistics. First, nine American teams committed to shipping our boats, after suffering through too many regattas with disappointing charters. Months of logistical email discussions transpired, starting with the most important question: Can you actually fit nine Snipes into one container? It had been done before, we were told, so we marked that item with a relieved "yes."
Meanwhile, opinions and estimates poured in from around the country: shipping times, paperwork and insurance, what to pack inside each boat—and who would do the actual loading. Finally, ten of us came together on a Sunday morning to stuff nine Snipes into a container.
In Miami.
In August.
(And it was—mostly—fun!)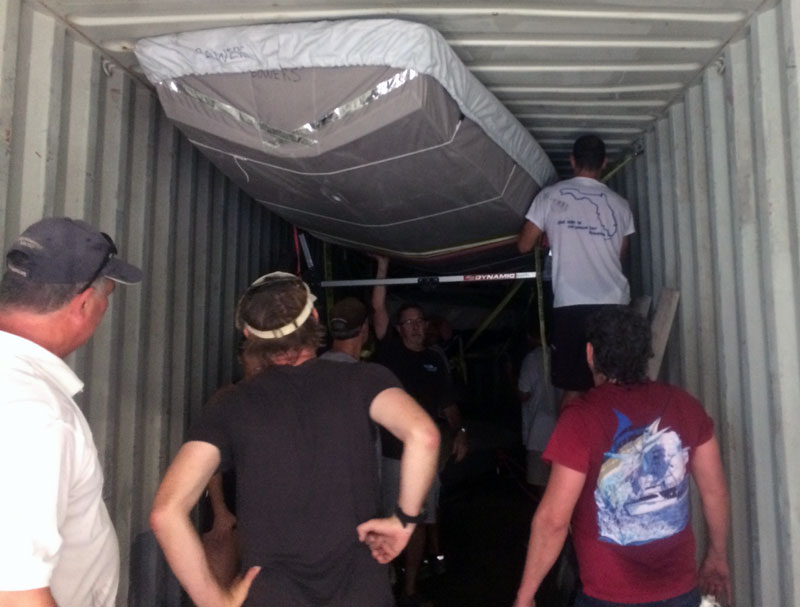 After so many hours of worry, it only took four brain-frying hours for the actual loading—though that's only because 2019 PanAmerican Games gold medalist Ernesto Rodriguez is also a gold-medal boat-strapper. Now the only worry is what all those carefully-strapped boats and equipment will look like when we open up in Brazil, after four thousand miles of open-ocean and overland travel.
We also have to take care of our own transport and housing, so tack on the usual international travel challenges of buying plane tickets, finding a place to stay, and (in Brazil's case) getting properly immunized. Kim and I each handled our own travel details, but our "housing czar" (Kim) found us a place within walking distance of the venue. Based on previous experience, I'm sure our accommodations will be a highlight of this next adventure, too.
Just another regatta
Last but certainly not least are the concerns that keep me awake before any big "away" regatta. Do we have the right equipment and any spares we might need? (Everything had to be ordered and organized in time to pack with the boat.) Am I fit enough? (The answer to this question is always 'no.') What about coaching, and coach boats? When's the last possible day to place my Hammer Nutrition order? We also need to make sure our regatta sponsor, WAMIT, is visible on our clothing and boat, since their support is what makes all this possible.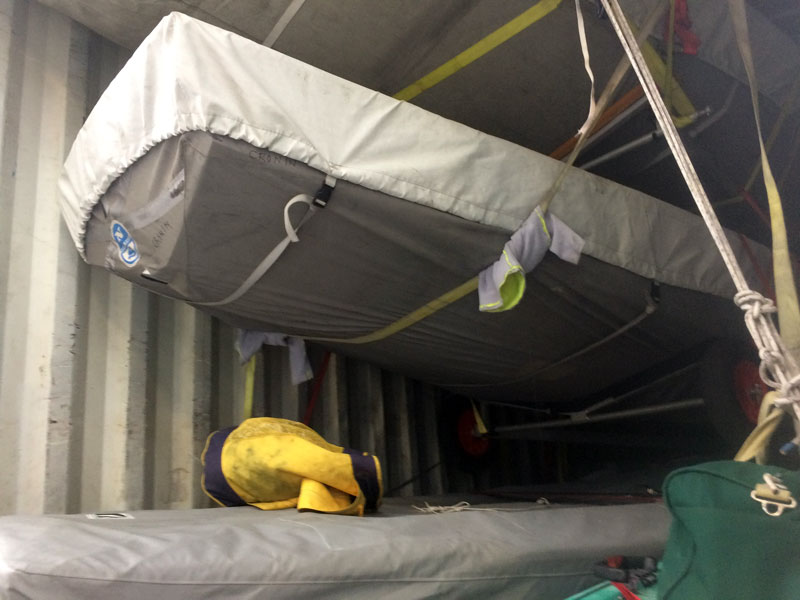 Stretch goals can take many forms. This year's world championship is definitely a 10 on the logistical scale, and we won't know until it's over whether it also will be a 10 on the fun scale. Obviously, I'm betting both time and money that the answer to that is yet another "yes."
PS: Kim's article about how much we learn from hard regattas is definitely worth a read. And please let me know what your next regatta challenge looks like; I read every comment and email.