On August 5, 2016, the Olympic Opening Ceremonies will take place in Rio de Janeiro, Brazil—come hell, high water, or a presidential impeachment. No matter how many times the mayor cries poor, the money will be found—and then the Games will begin. And other than a few random golfers, Olympians will attend, because Rio is where they're handing out the medals.
So it's time to stop raining on the Rio parade.
I'm not trying to downplay Rio's many health and security risks, and I certainly wish that officials had delivered a true Olympic legacy, what five-time medalist Torben Grael called a "once in a lifetime opportunity," by cleaning up Guanabara Bay. Instead, the focus has been reduced to a much shorter-term goal: keeping sailing's field of play free of large, floating, and potentially race-altering debris.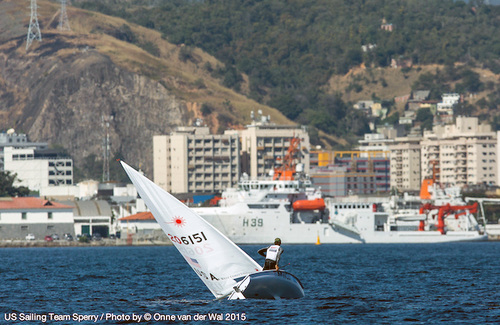 But despite what we're reading and watching, the most successful Olympians won't call up Rio's many huge challenges as excuses or distractions; they will bundle them up with their very long list of less headline-grabbing concerns, like fitness and fueling and getting off the starting line in adverse current. Then they will manage that bundle, first by identifying the most important concern at any given moment, then by focusing on it—and most importantly, by putting aside anything else in the bundle. Since most of what happens in Rio is outside an athlete's control, it's likely that the only time most are thinking about the topics in today's headlines is when answering a question from the press or the public—with a pre-rehearsed answer.
It will certainly take a little luck to make the podium in Rio. And the best athletes make their own luck: by training hard, having a plan but remaining flexible, and being prepared for anything that might come their way.
There's a reason an Olympic medal is considered a pinnacle achievement in sport. There's a reason sailors know Torben Grael's name—and a reason why Ben Ainslie is now Sir Ben. The ability to focus despite all the distractions that crop up at any Games separates the best of the best from the rest of us. It doesn't matter if those distractions are as big as a couch floating just downwind of the weather mark, as small as a mosquito buzzing around your head, or as annoying and unavoidable as multiple cameras desperately trying to capture every facial gesture. Even a seemingly tiny and insignificant distraction can keep an athlete off the podium if it's not managed properly. And as one coach likes to put it, all distractions are tiny and insignificant when a medal is up for grabs.
When the Games begin in 36 days, today's headlines will all be forgotten. All that will matter then is each athlete's ability to focus on racing well "on the day"—because that's what will win a medal at Rio 2016.