You can read the background of this piece in Seahorse Byline: Sign of Success. This story originally published in the October 2017 issue of Seahorse Magazine and is reprinted here with permission.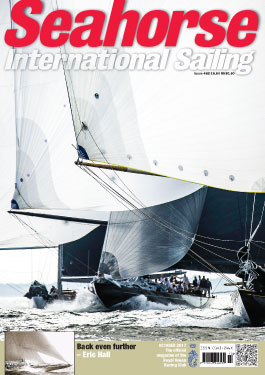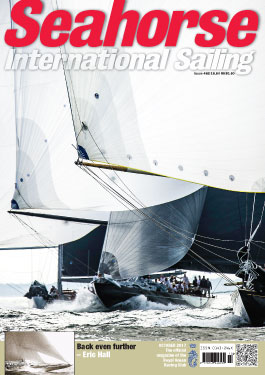 In January 2017 two new 'chiefs' came to power in the US: our highly visible Commander in Chief, and the new Chief of Olympic Sailing, Malcolm Page. One pledged to 'drain the swamp', while the other pledged to win two medals in 2020 (see 'Malcolm in the Middle', issue 446). And after their first six months in office both men have found that any significant change will take longer than they initially thought.
'I came in all gung-ho and ready to fire from both cylinders,' Page says with a chuckle. 'I thought it would be quick and easy to change. But when you start talking about cultural shift, and then marrying it with the financial backing that we'd like to have to make that shift – it is going to take a long time.'
Unlike that other guy, though, Page has actually made significant progress toward his lofty goals – because he is quietly implementing a carefully focused plan. 'I would say at times I still feel overwhelmed,' he admits. 'At other times I panic. [Laughs.] And other times I feel confident. And I guess that is the main underlying thing: I feel ­confident of the direction that we're going.'
What direction is that? The stated goal is to build a programme that provides US Olympic hopefuls with everything they need to win medals in 2020 and beyond. It sounds deceptively simple – and identical to the stated goal of every other Olympic programme, even outside sailing. Copying an already successful national programme (like Page's native Australia) would seem like the logical approach, but the US system has some unique and unavoidable challenges.
Without the centralised support of government funding US athletes have traditionally been rewarded for independence. And uneven access to funding (born into the right family, or knowing the right private sponsor) has historically restricted the talent pool to those with the luxury of choosing full-time training over more gainful employment.
Cultural evolution will take time but, just six months in, Page claims athletes have already noticed operational improvements. The terms have certainly evolved – and not just to accommodate Aussie slang. Historically, the cash that trickles down to athletes was called 'direct athlete support'. Page uses that same phrase to cover all support from US Sailing. 'I would say the cash to the athlete hasn't changed in any way. It's the services that we provide.'
Asked for an example, he responds quickly. 'Paying for the coaches. That would be the single biggest chunk of cost in any ­campaign, probably somewhere in the 50 per cent range. And that's something I'm now promising to every one of our athletes: "That will not be your issue this quad. We will provide that to you."' (Possible side bonus: athletes who learn to view 'support' in a broader context might be less likely to grouse about the limited cash they do receive.)
Coaches hired by US Sailing also help build a unified approach. 'One of the conditions is of course they have to work in the team environment,' Page explains. 'We're not allowing as many individual coaches. Therefore we're getting more cost-effective use of the money, and stronger team structure.' And the quality of the coaching is higher than most sailors could hire on their own. David 'Sid' Howlett is working with the Nacra 17 teams. Nathan Wilmot (Page's skipper for his first gold medal) has taken on the 470 men's teams. (That's 'teams' plural, which wasn't always the case for previous quads.)
There are at least two other linguistic updates. 'A coach – to me, they're a platform manager,' says Page. 'That platform is that class, and they're the manager of it. They've got to be big enough and bold enough to say "I can't be the expert in everything". They have to tap into those resources and find them.' And finding additional expertise in tuning or tactics makes coaching 'part of the technology piece', he continues. 'Technology to me means expertise, not a computer.'
Athlete attitudes
Taking on a management role can gradually blind even a double gold medallist like Page to the day-to-day reality of an athlete's life, so it seemed necessary to reach out to a few sailors for a fact-check of his sunny assessment that 'a lot of the athletes notice a shift in how we're already operating.'
Since even the best-funded athletes usually focus on 'lack-ofs' (money, support, direction), the positive responses were a pleasant surprise. 'It has the feel of a small America's Cup campaign,' two-time Moth world champion and Rio 2016 Olympian Bora Gulari says. Although he didn't start sailing the Nacra 17 until only a year ahead of the 2016 Games, Gulari has already committed to Tokyo 2020. 'We are working every day with one of the best coaches in the world, David Howlett. There is a technical team behind us working on ways to maximise our performance: methodically attacking the problem and doing the right thing to move forward.'
Louisa Chafee, who sailed with Gulari in Rio and is now teamed up with Riley Gibbs, identified another shift. 'The biggest change I've seen is the emphasis on the country as a team,' she says. 'International teams aren't individual teams competing for an Olympic medal, they're a country competing for a medal. They train together and share what they learn so that their country will regularly have multiple teams in the top 10 and thereby increase their odds of ­winning a medal when the Olympics roll around.' In other words, ­loyalty to Team USA is now valued more than rugged individualism.
Older athletes may not have that same trust in the new approach, but Page says that is completely understandable. 'Trust doesn't come from just saying it, it comes from earning it. And that'll take time.'
And of course, no significant culture change would be complete without what the chief calls 'the people who like to criticise'. 'It's very easy to say, Oh, look at the big hierarchy that they're building,' he points out. 'But to me it all depends what that hierarchy is doing. If it's about removing obstacles, about providing resources and knowledge and guidance to the athlete, well, then it's going directly to the athlete. And doing it in that [national] structure is where you'll get the efficiencies. Both cost and performance.'
Certainly Gulari is drinking the Kool-Aid. 'I have been involved with enough campaigns that I have a decent feel of what it takes to be successful,' he says. 'With this team I feel like all the pieces are being put in place to maximise the performance of the athletes.'
Building the base
One major reason Page has been able to make progress so quickly is a critical pipeline improvement that began two years before he arrived. 'Full credit to the ODP [Olympic Development Program],' he says. 'The first graduates are coming through now, and they have that team view already.'
The ODP was set up as an umbrella over the existing structure of US youth sailing (which is dominated by very strong, but also quite independent, high school and college circuits). The goal, according to Page, is to build a sustainable programme: 'That's a huge part of the responsibility. When I think of the quantity of these talented young athletes who are coming through, it would be irresponsible not to set up a system. Because the ones who want to, they need to know that there's a pathway for them to jump onto – and just maybe realise their dreams.'
Two recent ODP graduates, Wiley Rogers and Jack Parkin, have jumped on that road map, translating their success in 420s (with a gold medal at the 2016 Youth Worlds) into a 470 campaign for Tokyo. The transition hasn't been seamless; Rogers admits the logistics and management of an Olympic campaign have been a challenge, and Parkin says they need to raise their game to match the higher expectations.
'My biggest challenge of moving into the 470 fleet is getting used to the professional standards – even small mistakes now have huge consequences,' Parkin explains. 'In the 420 we could make mistakes and easily make up for them, but now not only are we trying to ­minimise these mistakes but also we're discovering ones we didn't even know we were making…'
Rogers says the support network of the US Sailing Team has been a big help. 'There are so many people now just waiting to help and give you advice,' he says. 'Not only in sailing, but also about life and work. The relationships you make with the team's staff, coaches and co-ordinators are priceless.'
Parkin agrees. 'We have people who care a huge amount about our sailing, and we have assets that I could not have previously imagined. This makes some of the aspects of our sport more easily managed and allows us to be perfectly prepared for race time.'
Still, everyone is aware that there aren't yet enough athletes at the base of the US Olympic pyramid. Parkin says, 'In the past I would go to good [youth] regattas and I would have 20 people my age from my own country. I am realising that there are not many people our age at the level we are sailing at now.'
Page knows the ODP needs to do a lot more outreach. He'd like to expand the talent search beyond the Youth Worlds classes, 'but at the same time, what we are focusing on is to do the best for this group. If we try to dilute ourselves too much, we won't do anything.'
Scoring changes
With both team culture and pipeline moving US medal chances in the right direction, the question had to be asked: have proposed Olympic format changes toward a 'winner takes all' last race changed his thinking? Page just shrugs.
'If you ask me to put my athlete hat on you just try not to think about it. You've just gotta go play within the rules, and do the best you can. And in my current role, I'd probably say the same thing: the right principles, building up the right skill set and the right knowledge will still put these athletes in the best situation to perform.
'At the same time US Sailing obviously get a say in what that format will be going forward. To me these new scoring structures leave more to chance. I understand the reasons behind them, to try to make the winner of the last race the winner. But it doesn't always allow the best sailor to win. And really that is what the Olympic Games is: for the best of the best to be there, and the best of the best to win the gold. I think our existing balance of a medal race [double points non-discardable] is probably a good solution.
'One thing I'd love for our sport to figure out is how we represent the numbers. We sailors understand that the person with the lowest score, the best average, wins. It's the general public that's not understanding that. So how can we represent our numbers in a ­different way, to make it understood? I think golf's the simplest: the person with the least-under is the champion. Formula One is pretty successful too. To become a world champion you can still do it before the last race, but the scoring is understood.'
Progress from focus
Perhaps the reason US Sailing's Olympic boss made so much more progress toward his goals than the US Commander in Chief did in those first six months was because Page didn't waste any time on Twitter… but, more likely, it's thanks to his obviously tight focus. 'Everything we do every day, how is it going to affect the athlete? Are we helping them in those different ways? I say I'm overwhelmed, but at the same time I just gotta ignore everything else and focus on the one thing, so at least make a big step forward in that one thing.' (Those still intent on 'draining the swamp' might want to adopt this mono-tasking approach.)
Only time will tell if Page can make good on his promise of two US Olympic medals in 2020. For now, he says, all he can do is 'just keep getting the hands dirty, keep doing the groundwork; that's what's going to get us there as quickly as possible.'
'Are we late?' Page nods. 'Yes. Are we underfunded? Yes. I believe they're the two biggest issues that we've got to deal with going ­forward. But we have the potential. There have been no major errors. The right things are being built.'