When I formally retired from Olympic sailing (and most importantly, sold my two Ynglings), Paul and I took ownership of a 1938 Herreshoff Marlin. At just over twenty feet long, "Matsya" (Sanskrit for "God of the Fishes") is big enough to take a few friends along but small enough for either of us to singlehand. Summer evenings, weekend afternoons- there is no bad mood or stressful work day that can't be cured by a leisurely sail up or down West Passage.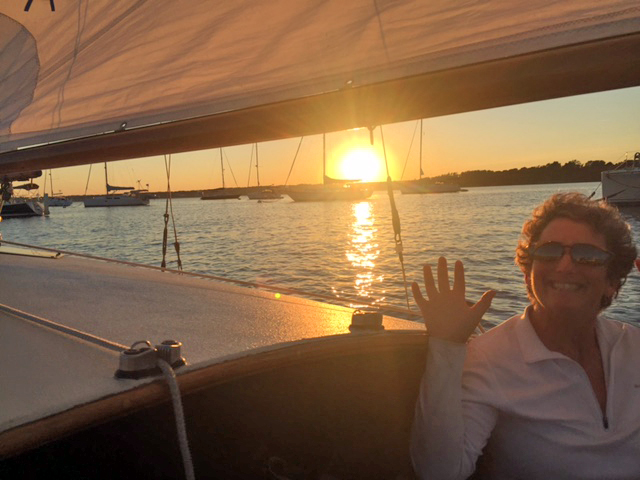 Where we go depends on two timeless elements: tide and wind. With 10 foot spruce oars as the only alternative to sailing, we usually head uptide first, figuring that if the wind dies (as it often does at sunset) we will still be able to get back to the mooring. We also factor in sightseeing options: boat gawking, house gawking, and just enjoying the undeveloped splendor of our side of Narragansett Bay. And of course we try to keep the heel angle to a minimum so we don't spill the wine or the snacks.
That kind of daysailing is a world apart from high-end racing. Instead of being rewarded for beating people (in either sense of the term), we are rewarded for deep breaths, for calming thoughts, for savoring the world around us. We take the time to enjoy being on the water, a sensation all too easy to forget in the scurry to and from and around a race course.
Matsya's birth year made me wonder if she was built before or after the Great Hurricane of 1938, and how she managed to survive if she was already sailing that September. That musing led me to write Oliver's Surprise and send the main character back to 1938 to find out how his favorite schooner survived. Imagination is never linear, and boats (especially old boats) inspire thoughts about our past at a time when we are all too caught up in the present and future. I never would've written the same book if we hadn't added Matsya to the family, but I certainly couldn't foresee her purchase leading to my first published fiction. Following dreams is never wrong, even if we can't see where they will lead.
Sailing provides a lifetime of challenges for those of us willing to come back for more each year. So as June rollicks along into July, keep your eyes open on West Passage for a Matsya sighting. We'll be out enjoying the full variety of conditions and experiences Narragansett Bay can offer. See you on the water!
For more about Matsya's design, read Boats We Love: Herreshoff Fish Class