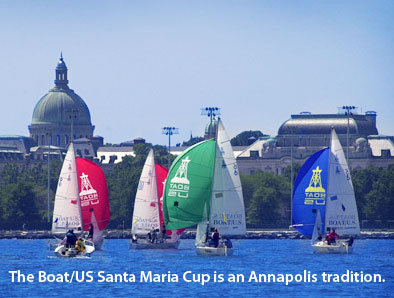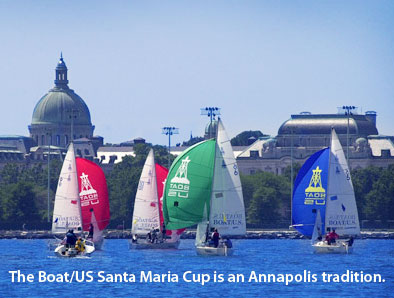 So why do I find myself in the land of heat, humidity, and sea nettles?
The answer, of course, is the great competition that Annapolis offers. I'm here to sail the J/22 Midatlantics, one of our team practice events for the Rolex International Women's Keelboat Championship.
The MAC is a local weekend event run by Severn Sailing Association, but thanks to the depth of the local J/22 fleet the competition will probably include a world champion or two. I'm not sure why, but one design sailing, especially in small keelboats, thrives here in a way that Newport (in spite of its better average sailing conditions) just can't match.
Recent calls for a sailoff between the two self-proclaimed Sailing Capitals of the World have urged sailors to resolve the bar brag once and for all: Solve it on the Water! Defend to the Death! But where and when would such a sailoff take place? In Newport (better summer conditions for sure, but chilly the rest of the year); in Annapolis (even the locals will tell you to stay away in the summer months); or in some supposedly neutral location that doesn't have a dog in the fight? It all sounds like it could quickly degenerate into a courtroom battle like so many other worthy events.
I say forget the sailoff (fun as it would be) and take the best of both worlds. Head to Newport for its reliable and cool seabreeze and excellent Laser frostbiting November-April. Trek to Annapolis to start the season early or extend it closer to the holiday season. And (occasionally), join me in braving the summer heat and humidity in return for the excellent competition and camaraderie of the Annapolis J/22 fleet. Hopefully I'll never have to choose between my two sailing capitals.
What's your vote: Annapolis, Newport, or as much of both as possible?