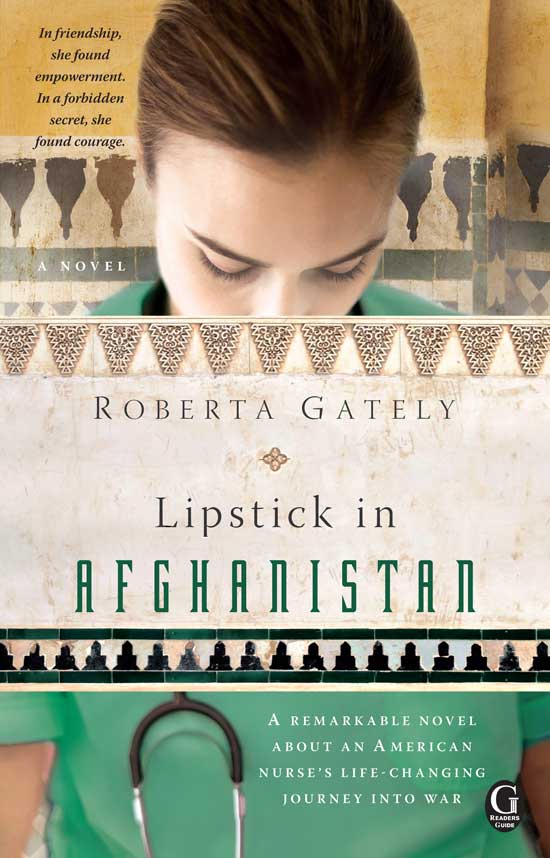 Way back in 2007, I took my novel-that-should've-stayed-in-a-drawer to New York City for the Pitch and Shop Conference. My goal (like all the other students) was to wow an agent, sign a contract, and publish my book. Little did I know that the real victory would be meeting Roberta Gately.
Roberta was pitching "Lipstick in Afghanistan," a novel based on her own experiences as a war-zone nurse. I don't remember anything from my own presentation, but I do remember the last line of hers: "One of them will not survive." I also remember telling her that she'd better hurry up and publish while Afghanistan was still in the news—quite optimistic, in hindsight.
I was quickly drawn to this small determined woman, and not just because of her writing. Her cut-to-the-chase Boston accent was tempered by a gracious tolerance for our fellow conference attendees. "I love his ideas," she'd say, referring to a man whose writing was indecipherable to me. Another guy who constantly interrupted everyone (even the instructor) received the following benediction: "He's got such energy." She could always find something positive to say. And I had to agree with all her assessments, even if my own weren't as saintly.
After the conference we kept in touch, sharing manuscripts and ideas. I have to admit that when Roberta first sent me her work I could barely follow the story. She had packed all her enthusiasm for Afghan history, culture, and people onto the page, bogging down the narrative.
"Try taking out some of the background," I suggested, trying to be gentle. "As the author you need to know about Elsa's childhood, but as a reader I just want to know what happens to her next."
The second draft was much better. I gave her some more feedback, and other than a few chatty emails I heard nothing further—until a year later, when I got an unexpected call: "Carol, I sold my book!" I was almost as excited as she was to see her hard work and perseverance rewarded.
Roberta became a published author because she kept at it, editing and re-editing to chisel out the story—and then editing again once Simon and Schuster took charge. I'm so glad, because she has polished this tale of love and war into a real gem. The finished book has just the right amount of detail to keep the story moving forward, and as an author I understand how much work that apparent simplicity required.
As an editor, I can of course find something to criticize. Toward the end of the book, I found the point of view transitions between Elsa and Parween, her Afghan friend, a bit sudden. But by then I was so caught up in the characters' lives that I didn't care. (I even realized at one point that I'd forgotten who the author was.)
The teaser prologue made the climactic scene even more dramatic—and it's true, "One of them will not survive." Through nurse Elsa's eyes, I've now tasted the Afghan dust, seen the fear in burqa-clad women's eyes, heard the scurrying children call out to the woman from "Amrika." I now know a little of this landlocked country on the other side of the globe, which makes the news stories all the more real.
It shouldn't surprise me that Roberta—who does aid work around the globe—has written a story that will help us understand how much we have in common with the people of Afghanistan. I've watched her novel grow and improve, and now I'll watch it earn the respect and love of readers everywhere. What a treat to be constantly surprised by my first true writing friend—and to finally hold her finished book in my hands.
I can't wait to see the movie.