A year ago, when I wrote a post declaring March 19 Thank Your Teammate Day, I never suspected that we would need to celebrate this special day again one year later. But here we are. So, all together now: have you thanked your teammate recently? If not, maybe you should do something special on March 19—especially if (like me) you are not able to go sailing that day.
Traditionally, we say our thanks at prizegivings—and whenever someone asks what went well after a good day of racing. For those of us currently without that option, we need to find other opportunities—because traditionally, crewing is a thankless job. Hence the creation of a special Day to recognize these superheroes.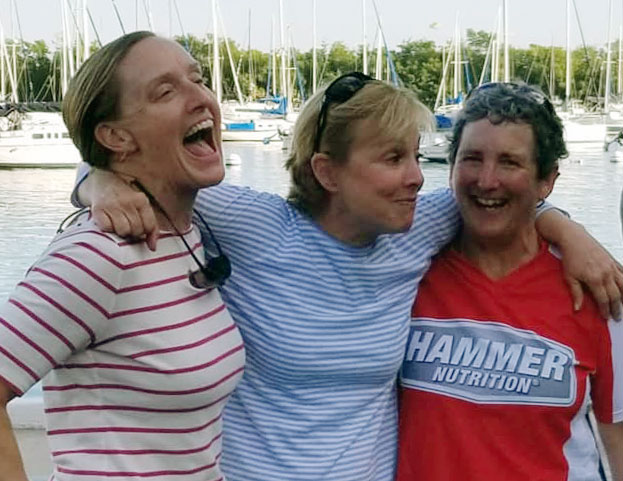 More than their share
On a Snipe or any other doublehanded boat, it might seem like there should be an even division of labor—but that's definitely not the case. While skippers usually carry more stress from owning the most visible mistakes, supercrews take their responsibilities quite seriously too—all while performing a job that is much harder physically. Those of us in the back of the boat can't possibly be appreciative enough of the special skills required: a unique combination of athleticism, agility, focus, and determination, overlaid with an endless tolerance for wave-blocking, gear shifting, and of course skipper brain farts. In my case, you can also add in Kim's unique ability to crack a one-liner, just when I need to lighten up.
Last year marked my 10th season of almost-exclusive Snipe sailing with Kim, which is two years longer than the average marriage (never mind the average Snipe team). And even though 2020 wasn't exactly the highlight it was supposed to be, Kim continued to support and entertain despite the geographical separation of our office-homes. On one of my darkest mornings of this pandemic winter, I awoke to an email listing the spring Annapolis fleet schedule. Yet another example of her great crew/friend instincts, providing just the information needed to get me back on track.
Looking forward
My goal for this season is to sail more regattas than we did in 2020—which shouldn't be hard to achieve. If all the vaccine stars align, we might even be able to swap tales with some of our international friends at the Western Hemisphere and Orient Championship in September. But if this year has taught me anything, it's the folly of making long-term plans. So instead I'm simply looking forward to my next chance to hang out with such a great forward teammate.
And if you're wondering where I'll be on March 19, try the boat shop: cleaning and polishing Kim's area (as well as my own), getting our boat ready for the upcoming season. (And also singing her praises, to anyone who will listen.)
Have you thanked your teammate yet this year?
If not, consider March 19 your special chance to do so. Start by sharing your thoughts about your own supercrew's super-strengths in the super-comments below.