In the past three years, I've written several times about yoga, and how it crosses my brain's usual divide between physical and mental activity. What I haven't written about yet is the teacher who most inspires me: Heidi Doyle.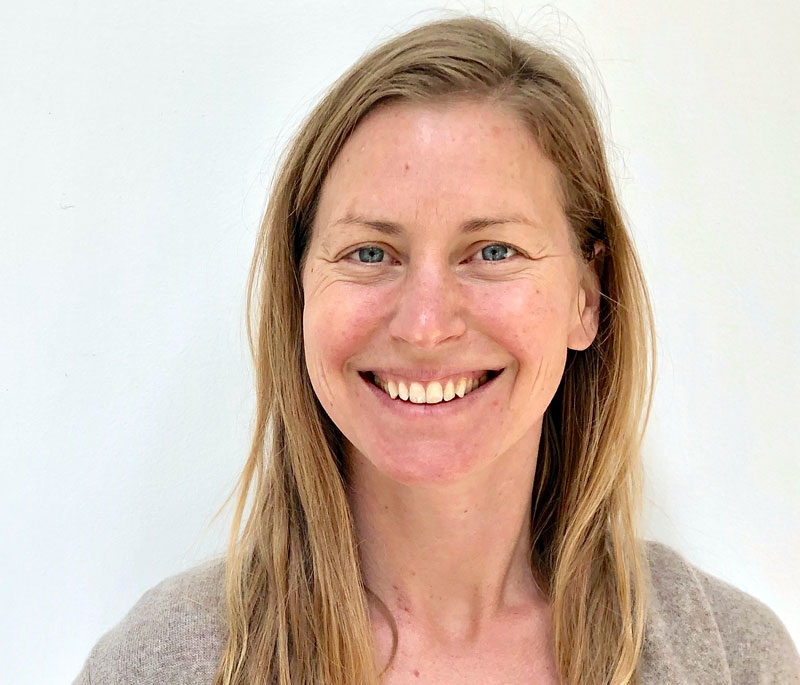 "She's built such a lovely community," I hear over and over again, from other class regulars who—like me—have built Heidi's Flow class into their Tuesday morning schedules. One reason I wrote Ferry to Cooperation Island was to create a (fictional) world where community triumphs over conflict; meanwhile, Heidi has built such a place right in the middle of downtown Jamestown. As soon as I walk into her studio, I embrace the welcoming atmosphere of calm, quiet, intensity.
Curious about how she maintains such outward serenity while running a growing business, teaching several classes a week, mothering a toddler, and just existing in our chaotic squirrel-chasing world, I asked Heidi for an interview. The result was a cozy forty-five minute chat that taught me as much about my writing process and myself as it did about yoga and the woman I was interviewing.
How The Island Heron came to be
"I fell in love with yoga in college," Heidi told me, as we settled down with mugs of tea in her "office," which doubles as the welcome area of her studio. "When I first started practicing, I couldn't get enough." After college, she did a 200 hour intensive, the customary first step to becoming a yoga teacher—though that was not her primary focus. "I first did the training just for my own depth of practice and study," she says—which explains why she then went over to India for another 200 hour intensive. Back home in Rhode Island, she tacked on an additional 300 hours; " I just knew I wasn't ready, and wasn't ready, wasn't ready. Then I was ready, but I was still scared. I was a very shy person," she adds, with a smile.
When a friend approached Heidi about opening a studio together in downtown Jamestown, "it was terrifying and exciting," because she hadn't taught much yet. "It was really a way for me to come into myself more authentically in my own space." The new business quickly outgrew its original location, so when the opportunity arose to design a larger, purpose-built studio in the back of the Bomes Theatre building, Heidi jumped at it. "I'd become comfortable in myself, and in teaching. So it was really nice to come here," she said, gesturing around her at the comfortable seating and wall of small cubbies where students shed the detritus of everyday life before going into the studio. "I'm able to more comfortably service our community and offer a greater variety of programs. Continually evolving is part of the yoga practice itself."
I first attended Heidi's class in November 2016, only a few weeks after the new location opened. I was instantly comfortable in the light-filled space; grateful for the warmth, physical challenge, and mental relaxation, while staying visually connected to nature and sky thanks to large skylights and high windows. Since then, between poses, I've watched tree branches lose their leaves in the fall, whiten under a winter's worth of snow, and then bud green again in spring. Inside, year round, a north windowsill blooms with a variety of flowers and greenery. It's a private but welcoming oasis, only a stone's throw away from the commercial hustle-bustle of Jamestown's main drag.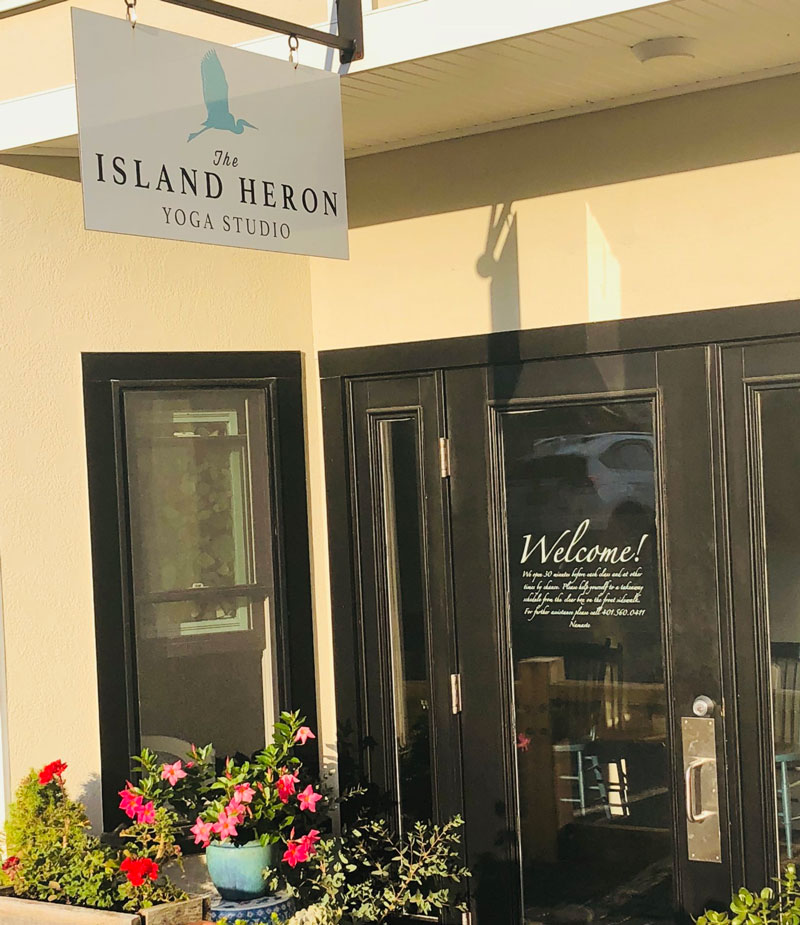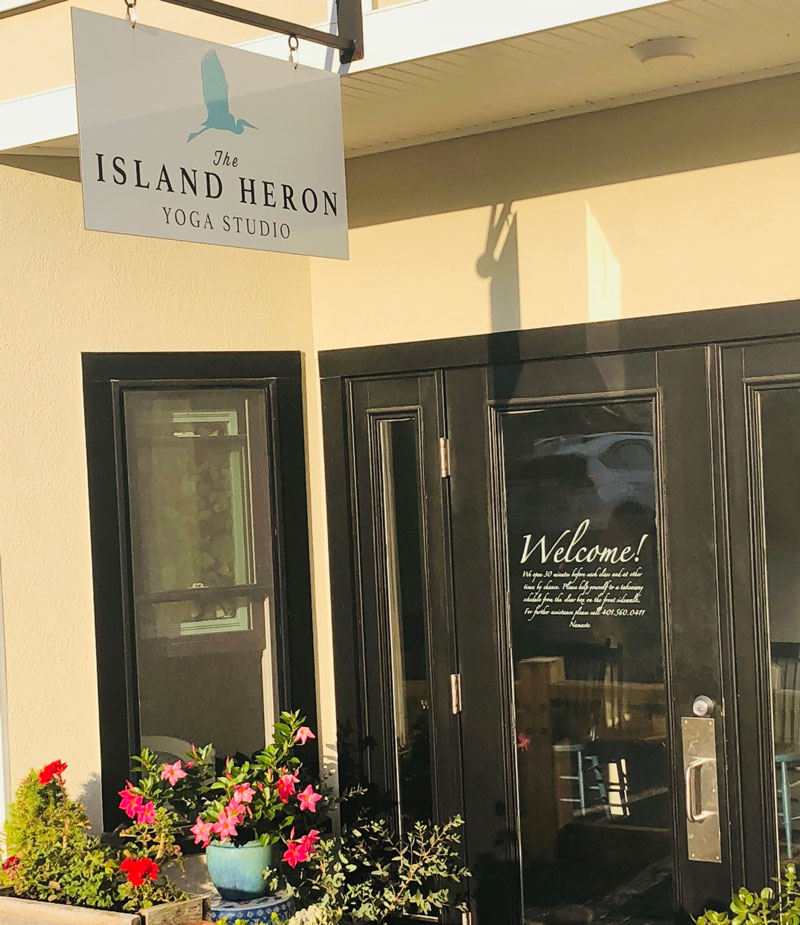 What's Yoga?
Yoga can take many forms, which makes it both hard to explain to newcomers and a vehicle for helping everyone. Rather than specializing in one aspect as many other studios do, The Island Heron offers a wide variety of classes and workshops. It's a conscious choice, Heidi explains; "We need a lot of different modalities and approaches to be able to service everybody." Weekly classes include Basic Yoga, Kundalini, Restorative, and—my favorite—Flow, which Heidi defines as continual movement with the breath. "Even when you're in a pose, there's this inherent sense of inner flow. People like that; I think it's easier to keep moving." That said, "Stillness is as important as movement.  It's all about striking the balance." And even poses that appear to be static lead to plenty of change in muscle and tissue.
Yoga practice varies with the seasons. "In the summer when it's really hot out, you don't want to do a really heat-provoking practice; you want to release the heat. In the winter, we want to move." Time of day matters, too—and "a Sunday morning is different than a Tuesday morning." The goal is for each individual to reach that state of "blissful flow," but the structure Heidi builds to get us all there—like a book's theme, or a community's vibe—remains just out of sight, below the surface.
Confusingly simple
Trying to explain why yoga works is hard, Heidi admits. "It's so simple, it's confusing. People that haven't done yoga before, they're like, 'Why is it good for you?' My response is, 'It's good for every single aspect you could ever name that relates to yourself.' That makes me seem a little crazy, but it's true. Whatever you need you can find in yoga. You just have to be patient to find your match, because there's so many different varieties, teachers, styles… like the beauty of creation itself, that variety. There are some styles of yoga that are more robotic; that's really great for some people, because they know exactly what they're getting in every class." I reply that such rigidity would bore me. "Yeah, it's really your personality," says Heidi. (Which explains why I so enjoy starting class with The Confidence of Quiet.)  Helping each of us understand how we need to move is her ultimate goal; "you don't want to have to be told how to get into your body, you want to be able to get there yourself."
Building blocks
Like most experienced yoga teachers, Heidi often strings together several minutes of poses that are first performed, in order, on the right side of the body, and then repeated—in the same order—on the left side. I've often wondered how she manages to keep these "blocks" organized in her head. "I have an idea of what's going to happen, but I don't always plan when it happens. It's kind of this flow within the flow, and a lot of it really depends." Then she laughs, adding, "I also can't really cook the same thing twice."
When I ask how she chooses what she will do each Tuesday morning—after almost three years, no two classes have started with the exact same pose—Heidi says that her goal is to first get all her students onto the same wavelength. "I can sense if people are energized or tired. We're all coming in from different places; who we are in the world is so dynamic and so diverse. I have to feel that out."
Once the room's energy has gelled, the real work can begin. Specific poses achieve different goals—strengthening or stretching, calming or energizing—and can be combined into different sequences. "There's a grid in my mind that I'm populating, which is how I was taught. I'll have a group of poses that I know I need to get in, and counter poses that just go well together. Or a peak pose that I want to get to, and then I back it up from there."
By meeting students where they are, Heidi creates an atmosphere that is both welcoming and safe. "Sometimes I find it difficult if it's a group I'm not familiar with, that doesn't know my teaching style. Then I have to trust that just being in the poses and breathing works; it changes something in us. I have to remember that it's not all about this perfect flow that I'm going to try and offer. It's about breathing and being in these shapes and whatever experience somebody has; I can't control that."
Creating Community
Writing a novel is hard, but I would argue that Heidi has met a much bigger challenge: creating a place in the real world where community and cooperation are valued more highly than conflict and chaos.
"The world is a very stressful place," she says. "I like to help people de-stress their system so their life outside of yoga class is more aligned, inspired, and creative. It's nice to recognize the ripple effect of that.
"All I can do is be inviting," Heidi concludes; "people will just come when they're ready. The study [of yoga] is lifelong. I have so many trainings I want to do and things that I'm interested in… possibility is infinite."
For more information about classes and workshops, visit The Island Heron.