A few Fridays ago, we loaded food, paddleboard, and wingfoil gear onto Pierre and headed out to Block Island. Usually we stay away until after Labor Day, but the chance to raft up with our friends Liz and Todd was too good to miss—especially since they had already scored a mooring. 
(Little did we know it would be the perfect place to mourn Jimmy Buffett's passing.)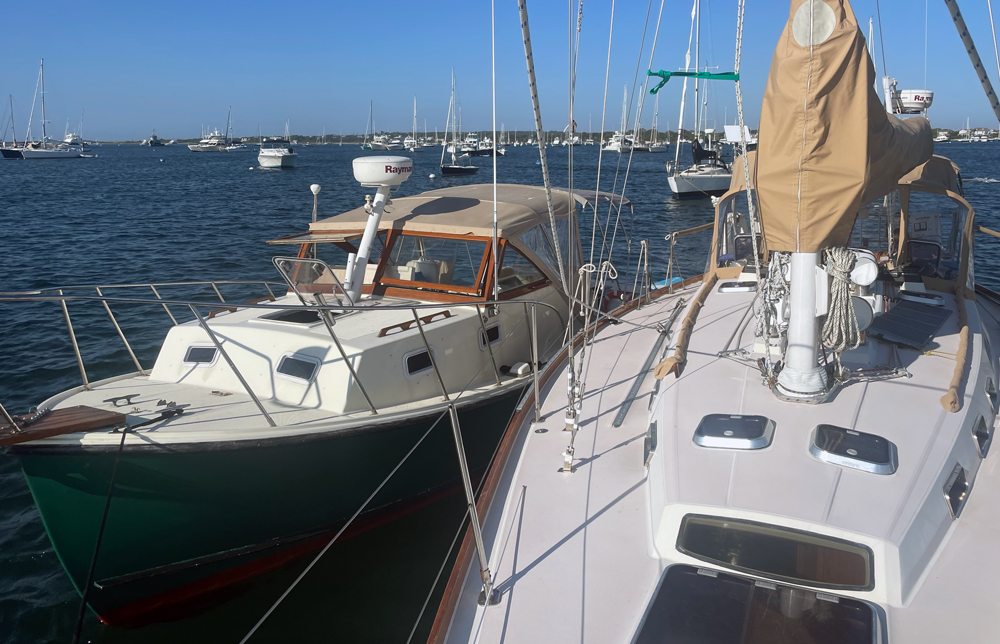 It was a relaxing wind-down to a fantastic summer, with leisurely morning paddles followed by reading in the shade. Once the afternoon seabreeze filled, Paul and I launched our wings and foils from Pierre's spacious cockpit and beelined for the piece of open water that is "blocked" off for watersports. Even on one of the most crowded weekends of the year, we were able to enjoy wingfoiling without worrying (too much) about boat traffic—and later, thanks to Liz and her photography skills, some great action shots.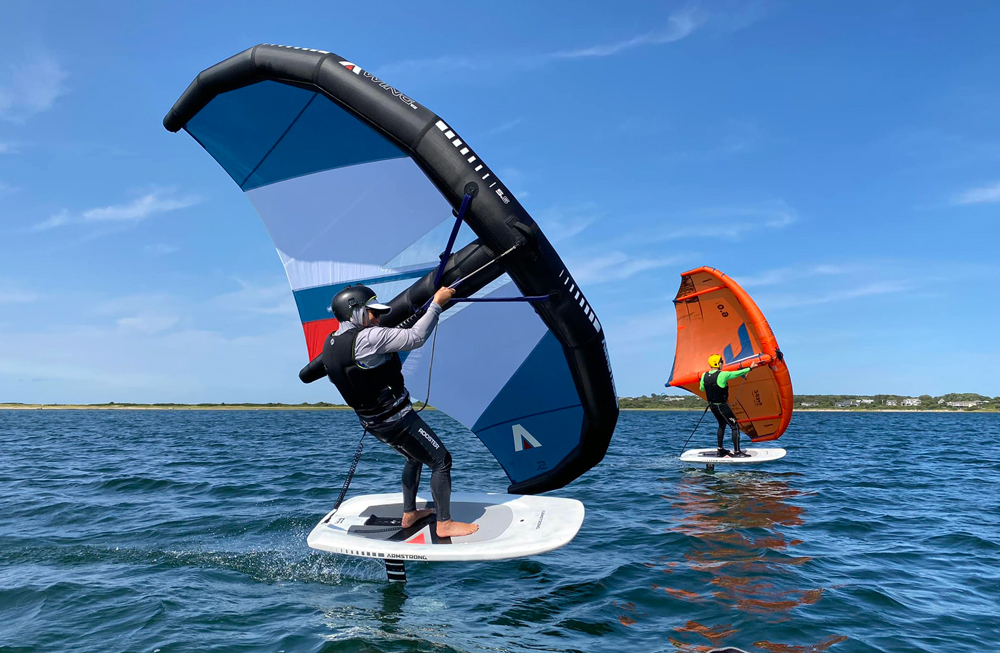 Great Salt Pond has a reported capacity for 1500 boats, and that weekend there was at least one example of every type of vessel capable of crossing open water. Classic and modern sailboats. Cruising catamarans. Motoryachts large and larger. And, only a few hundred yards upwind of the beach, several jaw-dropping rafts of smaller powerboats—each with a generator on the bow. (Apparently not everyone regards cruising as a chance to get away from all the "conveniences" and noise of shore life.)
Every time I paddled or foiled back "home" to our own two-boat raft, I realized how odd our particular pairing must appear: a cruising sailboat that had adopted a small but scruffy Down East powerboat. Of course we're all sailors at heart, but anyone waving from a passing dinghy would quite rightly think of the couple sitting in Pierre's cockpit as "stinkpotters."
There are as many different ways to enjoy cruising as there are boat designs, and I'm grateful to Pierre for providing such a perfect platform for both wingfoiling and relaxation. I'm perhaps even more grateful to Liz and Todd for their "mothership," where we could sink into cockpit cushions for cocktails and dinner. There is so much focus on the different lifestyles of Power vs. Sail… and yet there we were, happily sharing our little piece of the harbor. 
Can world peace be far behind?