"Let's do some more sailing together,"  I said to Margaret last November, over dinner preparations at her house.  "You, me, Kate, and Kim.  Wouldn't that be great?"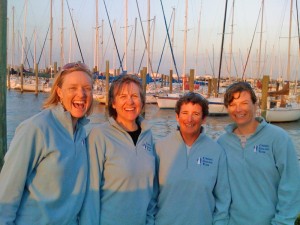 "Definitely!" she responded with her usual enthusiasm. "How about Rolex?"
The perfect event for us – I was only disappointed I hadn't thought of it first.
For women sailors (especially those of a "certain" age), the "Rolex" is much more than just a watch; it's an event, officially known as the Rolex International Women's Keelboat Championship. Since 1981, women from all walks of sailing have come together every two years to celebrate our sport. Teams form out of book groups, high schools, neighborhoods, mother and daughter connections, and crew/skipper request lists (AKA, blind dates). All that's required is a knowledge of sailing, a love of competition and camaraderie, and a combined weight of less than 605 pounds. Oh yeah, and a J/22.
I might be the only skipper who had put together a team before I figured out what regatta we'd sail, or where we'd find a boat.
Kim arrived a few minutes later for dinner and her only hesitation was schedule; the Laser Masters Worlds were already on her fall calendar. Once I assured her there was no conflict she agreed to join us as a jib trimmer.
Two for three. Now: could I convince Kate to come out of retirement?
The only Rolex I've ever steered without Kate was in September 2005, when she expected to be nine months pregnant. As it turned out, Joshua arrived early, overly anxious to check out the big wide world. He spent the event in the preemie ward with round-the-clock care. When I went to visit them both, Kate joked that she could've sailed with us after all.
This year, with a four year old and a very supportive family, Kate quickly agreed to join us. The latest iteration of the Cronin Sailing Team was complete.
In order to fit in some practice during the year (and to guarantee some fun as well), we set up a regatta schedule that started with the J/22 Midwinters in Tampa, FL and then moved north to Annapolis for the NOOD and Midatlantics. We quickly found a boat to charter and in mid-February towed it south for four days of racing against the boys. We enjoyed the break from winter and the chance to catch up with each other and our other J/22 friends. And since Kate, Kim and Margaret had never sailed together, we also spent some time figuring out who would do what both on and off the boat.
Kate, we quickly discovered, makes the VERY BEST peanut butter and jelly sandwiches, so she added lunch duty to her bowchick responsibilities. (Never do a bad job well, Kate.) Margaret learned to stop worrying and fly the kite like a veteran, even though it's a new job for her. And Kim, as far as I can tell, does everything else, without ever losing her cool – including the worst part of the trimmer's job, passing back and forth any and all requested pieces of clothing as the temperature changes.
With such a great team assembled, I plan to sit back and enjoy the ride. My husband Paul complains that my team spoils me, but I like to think all four of us are spoiled by such a perfect combination of good sailing and great attitudes.
The Rolex starts Oct 6, and we will be ready for a culmination of all our hard work and laughter this year. Follow along by visiting the regatta website. And let me know how you have chosen to build your team.