WARNING: This post encourages the purchasing of ebooks and may not be suitable for all audiences. (For more about the plusses and minuses of ebooks, read Paperbacks or Protons: It's All About the Story..)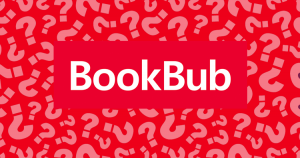 Haven't heard of Bookbub yet? You're in for a treat. In exchange for your email address, you receive a daily email of book deals tailored to your chosen interests. Fiction or non-fiction, deep thought or beach read—it's the digital way to build up the equivalent of a pile of books waiting to be read, all for less than many of us spend on our daily coffee.
(And once you sign up, please help the success of my next book by clicking through to my profile and following me.)
How it works
Bookbub doesn't sell books; they make readers aware of book deals that might be of interest. This Massachusetts-based company has been quietly building a community since 2012, and now they receive hundreds of submissions a day for their featured deals from publishers and authors. Human editors then winnow all those down to a chosen few, which are formatted into a easy-to-skim short list and sent out to readers.
And Bookbub is up front about how their editors make these difficult choices. Minimum requirements start off with discount level and price before quickly moving on to "typo and error free." Next is a quality assessment that includes reviews, author accolades, and formatting. (For more detail, view their infographic.)
What doesn't matter at all is who actually published a book, eliminating the usual question of "traditional or self-pub?"
And because each deal is vetted by an actual human, poor quality books are winnowed out. The result is a top quality selection more varied in publishing year and author name than any physical bookstore could possibly accommodate. And since prices are anywhere from free to $2.99 for a limited time, it's not a big deal to take a chance on an unknown author or three.
Great for readers
I signed up for Bookbub about a year ago. Initially the book suggestions weren't that appealing because I had checked way too many categories. (It turned out I wasn't actually interested in either trashy novels or Tolstoy.) As soon as I better refined my personal list, a tempting array of literary and historical fiction began to appear in my inbox that I wouldn't have found anywhere else. And the low prices (expiring soon) make impulse-buying fun rather than stressful on my budget.
Great for authors
As I look ahead to marketing and publishing my next book, Bookbub is one of the few places where lesser-known names like me can go head to head with the big guns. We're judged only by the quality of our books—and the engagement of our audience.
And that's where you come in. If you're willing to sign up (or are already a member), please click the link (top right on this page) and choose "follow." You'll receive a notice on deals and new releases, and it will be a big help to my publishing future.
No filter, and no such thing as "back list"
Bookbub brings readers and authors together, eliminating traditional publishing's focus on the latest and greatest next-best-thing. Most of the deals are on books that have been around a while, which is fine with me; if a book is well-written about a topic I'm interested in, I don't care if it was published in 2017 or 2007 or even 1907. Bookbub gets that, and unlike a physical bookstore their shelf-space is unlimited. That makes it possible to discount older books, which might also alert readers to the latest and greatest of a particular author. So it's good for everyone.
What could be more lovely than having customized book offers coming into your inbox every day? Unread books are like money in the bank… even if the bookshelf is a virtual one.