You may have already read a review of The Murderer's Daughters, by author and (full disclosure) friend Randy Susan Meyers. I'm quite surprised to find myself recommending it. To be honest, for the first month I knew this book existed, I dreaded having to read it.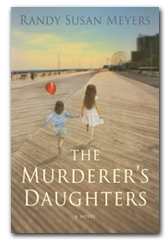 Randy is the leader by default of our writer's promotion group, a collection of authors who are just published, about to be published, or about to be sold to a publisher. We get together once a month to discuss best practices for book promotion. Yes that sounds boring, but thanks to our wide-ranging and frequently humorous conversations it's anything but. (One night we even got around to something really important: What to Wear to Your Book Signing.) I've nicknamed our group the "Literary Guerillas," based largely on the undercover moves of our "Camouflage Mama;" she singlehandedly got Randy's book moved from the Back Shelves to the Big Table Up Front in her local store.
I first met Randy when she was counting down to her publishing date. Unless you've been living under a rock, you're probably aware that the book industry is one collective eye roll these days. It's all too easy for even an optimist like me to get depressed about the whole business.
Randy's approach provided a refreshing contrast to all the usual gloom and doom, an old-fashioned success story built on hard work, excellent networking, and reaching out to help others. Best of all, once I got to know her I realized that it's not all about Randy; a matching amount from each book sold at her launch party went to the Home for Little Wanderers' Harrington House—an organization working to provide homes for kids.
I admired her enthusiasm, professionalism, and social conscience. I lapped up her bottomless knowledge about all things publishing. I drooled over the lovely artwork on her book's cover, especially the extra ferris wheel hiding at the bottom of the spine. And I dreaded cracking open this beautiful cover and starting to read.
Why? Because I figured any book with the word "murderer" in the title would be dark, depressing, violent—all things I try to avoid in fiction and real life. And if I didn't like it, how was I going to be an effective Literary Guerilla and promote it as promised?
Fortunately, my dread was totally misplaced. Yes, a murder takes place in the very first chapter, inside the home of the two sisters who tell the story from their vastly different perspectives. I had no trouble picturing the bloody scene, but I never had to skip past anything too gruesome. After twenty years of working with domestic violence victims, Randy chose to show just enough so the real story (how two sisters deal with tragedy) makes sense.
I started The Murderer's Daughters a few days before leaving on a weeklong vacation. I didn't plan to take it with me, since it's bulkier than a paperback and too beautiful to jam into a suitcase. But by the time I packed, I'd already read eight chapters and was completely hooked – so into the carryon it went. I'm so glad I had the chance to savor the surprisingly hopeful ending at a leisurely pace.
And what really makes this book worth recommending are its deceptively simple descriptions. Here's Lulu talking about her younger sister:
"Merry was unusually cute, and I was unusually plain. People stopped us every day, bending down to gush over Merry's black curls or her Tootsie Pop eyes—the chocolate ones—or to stroke her rosy cheek as though her skin were a fabric they couldn't resist fingering. I felt as though I toted around the Princess of Brooklyn."
I'd offer to loan out my copy, but I'm still savoring its presence. Fortunately, it's probably available at your local bookstore. It's definitely available on Amazon.
So thank you, Randy, for this rare gift; a view into an unknown world that leaves me grateful for my own happy upbringing but even more grateful for the chance to share the lives of Merry and Lulu. Maybe if you're very, very nice to me, I'll tell you which character is my favorite.