Year round, I enjoy two very different watersports on very different boats: Snipe sailboat racing (wherever wind and water are fairly warm), and stand up paddling (SUP) on my home waters of Narragansett Bay (which is only warm in the summer). Over the years I've refined my seasonal clothing choices for both, so I thought it would be useful to share what's currently on my "best gear" list, and why.
(For my specific cold weather gear list, read Cold Weather SUP: Dress for Success)
Important Feature #1
No matter what season it is or whether I'm sailing or paddling, the most important feature to me is a wide temperature range. Our bodies heat up or cool down depending on how hard we are working, how wet we are getting, and a whole host of other variables outside our control. It's really annoying—and sometimes completely impossible—to peel off a layer, only to put it back on again five minutes later. And too hot or too cold will increase fatigue, so a piece of clothing that covers the widest temperature range is always my first choice.
Important Feature #2
The second most important feature for me is range of motion. I sail the best when I look around a lot, and I won't do that if my neck is locked in place by a sticky dry top seal. Likewise, I make better adjustments to trim and steering if my arms aren't restricted by a bulky spray top. Gear that is designed for movement eliminates a big distraction.
Favorite Brands: Zhik, Kokatat, Patagonia
There are plenty of great companies out there, but I stick with these three because they all make top-end products, stand behind them with excellent customer service, and have slightly different specialties. One of their three logos is on most of the sailing and paddling gear I own.
Here's a little background, as well as my favorite item from each company.
Zhik
I started wearing Zhik (pronounced "Zike") gear about five years ago, which makes them the newest addition to my wardrobe. They began as a performance sailing gear company and have since expanded their line to include street clothes, offshore gear, and even a few paddling-specific pieces for both men and women.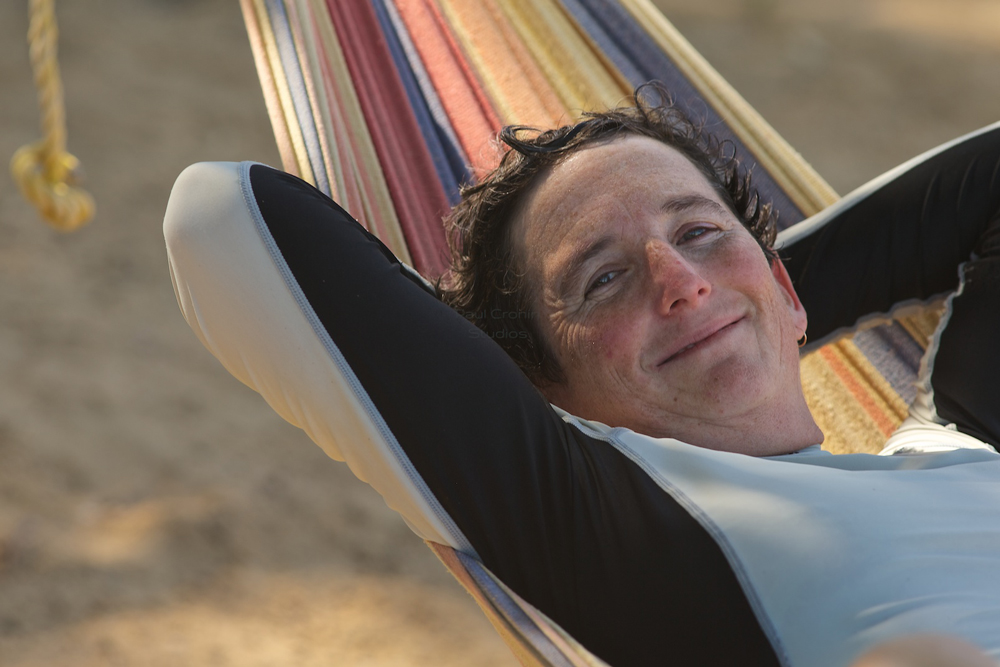 Zhik's skin-tight performance gear has become a standard sight on the Olympic circuit. Designed to keep you warm when wet, it has a wider temperature range than traditional neoprene because it's never clammy. That's thanks to fabric that is so fleecy soft and stretchy, I've even worn it while lounging in a hammock. I'd never been a huge fan of skin-tight gear, but once I got used to wearing tops that didn't billow around me with every puff or arm movement, it was hard to go back.
Favorite Zhik item: Hydrophobic fleece top. This is my "most worn" piece of gear, because it has the widest temperature range of anything I've ever put on before—and that range is just as wide whether it's wet or dry. It's the first piece of gear I put on for sailing or SUP when the temperature drops below bathing suit level, and I use it as a base layer no matter how low the thermometer goes. An unplanned late-October swim off my paddleboard was a non-event thanks to this top; I never got cold or even felt damp.
There's a lot of information on the Zhik website, though you'll have to search around a bit to find specific pieces of gear.
Kokatat
Kokatat is based in the Pacific Northwest and their focus is the kayaking industry. All of their tops have an excellent range of motion, as well as fantastic fit and durability—though many have waist seals meant to meet kayak skirts. The only reason I no longer own one of their fantastic drysuits is because I can now restrict my sailing to warmer climates; if you're planning a cold-weather regatta, get one of their front-entry Gore-tex suits. You'll be toasty and comfortable and raring to go no matter what the weather throws at you.
Favorite Kokatat item: Gore-Tex Paddling Jacket. This lightweight spray top isn't the warmest one I've ever worn; that would be their heavier Gore-Tex dry top, which is no longer on their standard product list. But it covers a wider range of temps than you might think, given its lightweight compactness. The large neck opening makes it easy to cool down, and the neoprene waist keeps out the cold water and keeps in the body heat.
Because they specialize in paddling-focused products, not everything Kokatat sells will translate to sailing/SUP. Their website is easy to navigate.
Patagonia
Patagonia needs no introduction. My most memorable purchase was in 1994, when I finally treated myself to a set of their classic salopettes. (I'm still wearing them twenty-two years later, though only around the house.) I've amassed quite a collection of their gear since then, and most of it is still in use. When a piece does wear out, if I can bear to part with it (unlike those salopettes) I send it back to Patagonia to be recycled.
The company specializes in layered insulation (and the softest fleece ever). I have several generations of their base layers; the original 1990s expedition stuff stinks as soon as I start sweating, but it still makes a great winter base layer. The newer gear doesn't retain body odor after washing. The Regulator series is very warm for its weight when moving. For less activity, go with the appropriate weight of capilene or wool.
Picking a favorite Patagonia item is hard, because it depends on the temperature. But if I look at my regatta gear bag, I'd have to vote for the capilene lightweight long-sleeved top since I pack one for every day of sailing. Its excellent sun protection makes it cooler than bare skin on hot days, so I use them as my default warm weather base layer for both sailing and SUP. They are low enough bulk (without being too skin tight) that I can add on the Zhik Hydrophobic fleece top when necessary. And the fabric also accept logos well, so we can show off our sponsors.
The Patagonia website has a lot of background about the company and some great writing about conservation and sustainability.
Worth its weight
One final important factor for selecting gear: its weight. For small boat racing, the less extra gear we carry, the better. So whenever possible, I test out potential race clothing on a practice day. That way I can make sure it fits well, is easy to pack away under the side deck, and is worth its weight in warmth.