This past June was bookended by two very different Snipe clinics. The first took place the day before a regatta in Annapolis; the second was a stand-alone weekend event on Mystic Lake (a hill-surrounded pond outside Boston, known for its "mystical" windshifts).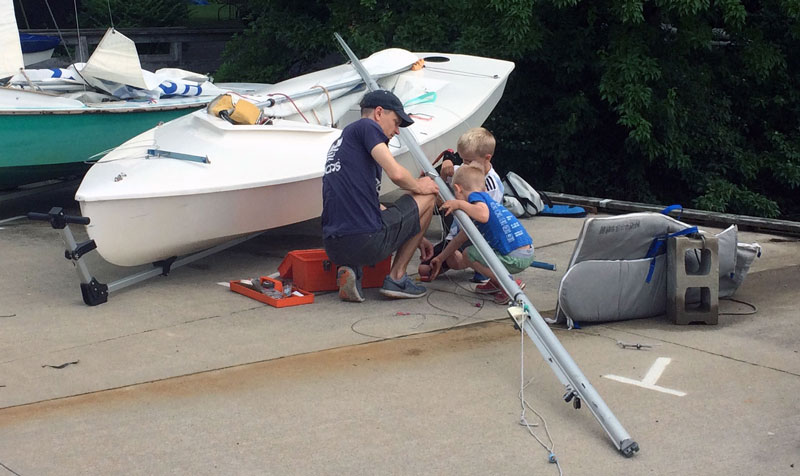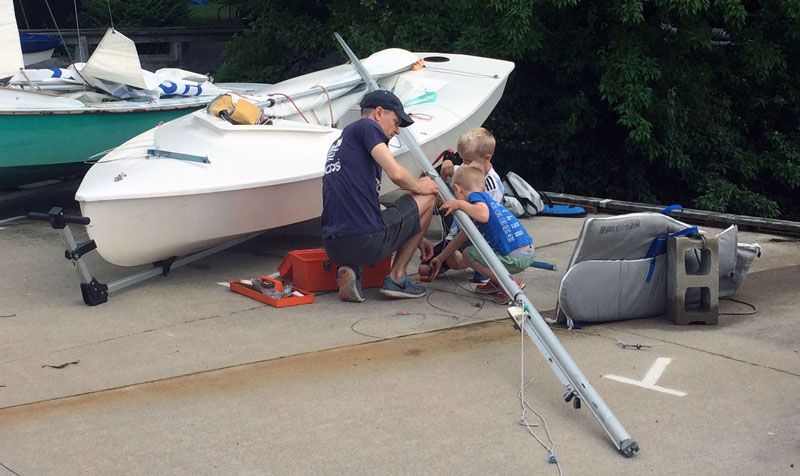 I admit, I don't train very much for sailing anymore. I do show up for regattas at least a day early, but those practice sails are usually focused on remembering which lines to pull rather than learning something new. Three days at the beginning of the racing season to focus exclusively on education, rather than worry about who beats whom? That had never been an option—until this year.
When I realized that I was the only sailor to attend both events, it seemed like a good opportunity to (as my least-favorite high school English teacher would've said) compare and contrast. But first, let me point out the similarities. The goals of each were: Build boathandling and racing skills across a very wide range of sailors and Snipe abilities. Learn more about how to make our quirky fifteen foot boats go just a little bit faster. And, of course—since the Snipe class motto is Serious Sailing, Serious Fun—laugh with friends both old and new. (This probably should've been listed first.)
Benefits of variety
One of the many reasons sailing is such a challenge (both to understand and to do) is that local conditions determine what's important—and priorities may invert from one moment to the next. What matters on the open waters and longer courses of Chesapeake Bay are boat speed, keeping the boat going through a washing machine's worth of powerboat chop, and avoiding the wind shadows of other boats. I'll have to ask one of the locals what really matters on Mystic Lake, but I know one thing: it's a totally different list, topped by avoiding windless holes, staying in phase with the fleet, and being ready to tack.
Each clinic rightly focused on its location's particular strengths. In Annapolis, a coach from Severn Sailing Association spent most of the afternoon running drills. Because there was a very concrete goal for each drill, success or failure was instantly obvious. On Mystic Lake, most of the time on the water consisted of short-course racing, with in-the-moment Snipe-specific coaching. In both cases, failure taught us more than success, and we were usually able to apply lessons to the next repetition.
Format matters
Recently I helped edit, design, and lay out a book for USSailing called Sailing Drills Made Easy, so even while at my desk I've been thinking about how best to train for sailing. In an excellent Foreword, Grant "Fuzz" Spanhake reminds us about the benefits of breaking things down into smaller pieces: "Master the individual components, then put them together to develop the total skill." (This is quite similar to The Power of Personal Planning.)
After experiencing two very different clinic formats (drills and short-course racing), I agree with Fuzz that drills are a more efficient use of learning time. Mystic Lake's short-course racing felt less like junior sailing, but as soon as the warning signal went, I reverted to my racing habits rather than trying anything new. The "component" approach encourages us to stack up building blocks of simple tasks, and then repeat them until they become a new habit. Short-course coaching is more of a firehose approach, requiring us to prioritize between sometimes conflicting lessons.
Definition of Success
So, did I achieve those common goals of building skills, learning more about making the Snipe go fast, and having fun? That's a "roger." Two days after the Annapolis clinic, we used some of our new skills to win that weekend's regatta. (Read the nitty-gritty explanation in Denial: a Sailing Allegory.) On Mystic Lake, I learned how to evaluate (and adapt) sail shape to the conditions—even if we couldn't necessarily put those lessons to work immediately. The Snipe is such a complicated beast that it continues to intrigue and attract some of the very best brains in the sailing world—so we are never in danger of running out of things to try.
As for fun—that is a most definite "YES." Snipe clinics, like Snipe regattas, feel like the very best family reunion: replaying old memories, making new ones, and laughing our way to learning.
As you read this, I'm sailing the Snipe Nationals in Beverly, MA, a race course that rewards skills from both of these two very different clinics. So responses to comments and email may be delayed… but please share your thoughts and I'll get back to you as soon as I can. Meanwhile thanks for reading, and happy summer!