One of the many things I love about my chosen sport is that there's such a wide range of sailing craft. I've written before about how lucky I feel to embrace Whatever's on Now, but today I want to share how spending time on one specialty unexpectedly helped me exceed my goals in another.
(Athletes call this cross-training.)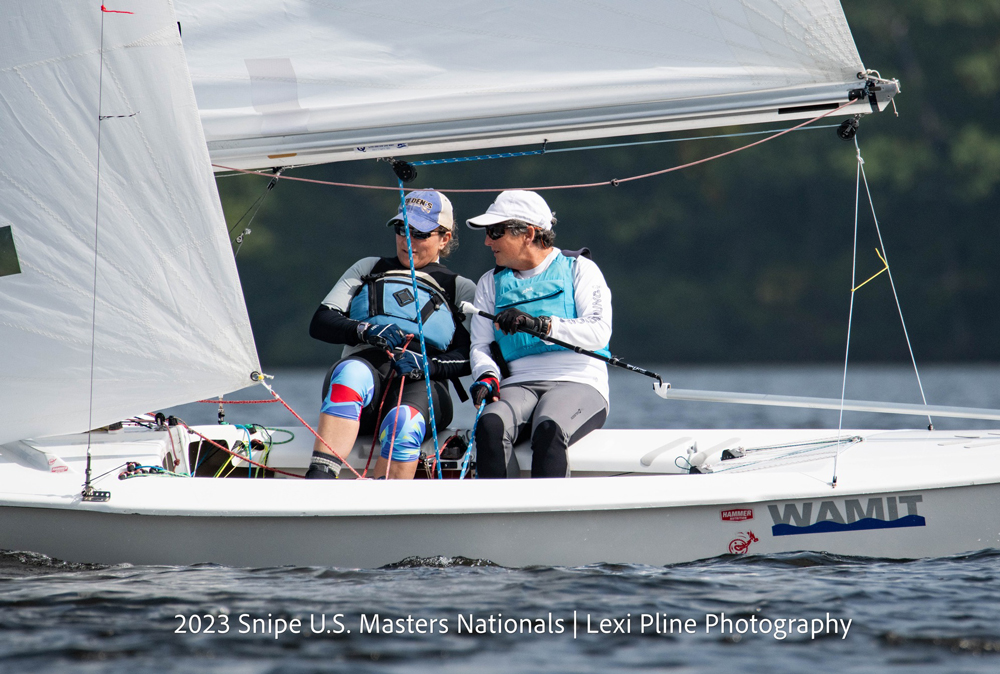 A few weeks ago I went to the Snipe Masters Nationals, my first dinghy regatta in four months—and I'm still shocked that supercrew Kate Fears and I blew right by our (unstated) goal to finish at the tippy top of the results. I've written before about the frustrations of, and lessons from, sailing on Mystic Lake, a small body of water outside Boston surrounded by trees and hills; the nicest thing I can say is that it definitely does NOT play to my personal strengths. But after three days and nine light-air races, Kate and I ended up tied for first with the regatta favorites—beating out 39 other teams! 
It wasn't until the day after the regatta, when Paul and I adjusted our work schedules to the forecast and snuck out for some Monday morning wingfoiling before a streaky northerly died, that it suddenly occurred to me: I'd spent the mostly light-air summer searching out puffs and dodging lulls, in order to get up—or stay up—on the foil. Honing that skill was what had helped me post my best finish ever on a small lake. 
The biggest key to "success" in light air, regardless of craft, is to accurately read wind on water and then figure out how to "connect the dots." Getting up on the foil requires 9 knots of breeze (and more is easier); 8 doesn't cut it. In the Snipe, the difference in speed between a five knot puff and a four knot lull is equally significant to race results. Without realizing it, I'd been training for this regatta all summer.
Kim and I have two more regattas in 2023, so I'll have plenty of opportunity to figure out how much my breeze-sniffing foiling skills actually help once waves return to the mix. Until then, I'm going to revel in the knowledge that "just for fun" wingfoiling definitely helped my Snipe results—at least on one tiny and very Mystical lake. 
Got a cross-training story that led to unexpected success in your sport of choice? Share it in the comments below, or send me an email. I read every single one, with gratitude.
Results and more photos (thanks to Lexi Pline)