I heard someone ask, "Why isn't the Boston Globe here? This is an EVENT."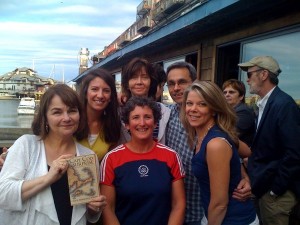 On Thursday, July 1 2010 we launched Cape Cod Surprise. The weather was perfect; sunny but not too hot, and not a speck of humidity (by Boston standards at least). The Sail Loft generously provided their delicious chowder and appetizers. And so many writers and sailors bought books and helped us celebrate, I lost count. Thanks to everyone who came to launch CCS into the world, especially to USSailing President (and blurb writer) Gary Jobson. He has probably figured out by now that Boston is NOT on the way from Newport to New Jersey.
Of all the decisions we made while planning the event, the best one by far was to make it a benefit for Piers Park Sailing Center. MC Maureen McKinnon-Tucker made everyone feel welcome, even when I was occupied signing books. The blue-shirted staff created a very friendly atmosphere (especially while hawking raffle tickets to people who'd just stumbled into the Sail Loft for a drink or two). And volunteer Steve Jewett played raffle host, inspiring the purchase of more tickets with his listing of the great prizes available. Lots of nice folks won some great stuff and went home happy. And even those that didn't win supported a great cause.
When I first thought of combining the launch party with a fundraiser for Piers Park, I didn't realize how much we had in common. Now everyone will know, thanks to the video short "Where Books Meet Olympic Spirit: Learning Life Skills through Sailing." Produced by Paul Cronin of WhiteCap Video, the five minute piece talks about the common goal shared by PPSC and my books. Thanks to Paul for creating a legacy piece, and thanks to Maureen for her patience with the extra takes. It shines through that we had fun putting it together, and I look forward to more joint projects in the future.
The day after the party passed in a glow of nice emails and tweets from those who had been there and others who'd heard secondhand about the successful event. The best compliment I received was via fellow author Nicole Bernier. Thursday had been a very special day for Nicole too; her book sold to Random House. But she still found time amidst her own celebrations to send the following:
"What a stellar night. You were beaming. My kids were fighting over their copy of the book, and I had to break out one of the others I bought for friends."
Thanks to everyone, and if you didn't catch it Thursday night, check out the video to relive some of the great inspiration.